Spring is the perfect time to see countless rainbows, so what better time to learn about them in your homeschool? Below you'll find resources for a free unit study, exclusive rainbow printables and other rainbow themed resources for your middle schooler.
We've compiled various online resources including; videos, tests, games and more. You'll also find free printables and lapbooks below.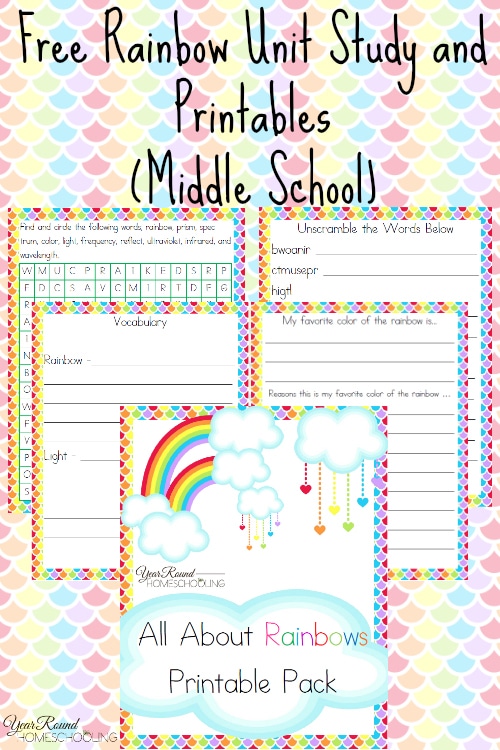 To get you started in planning your middle schoolers rainbow unit study, be sure to sign up below to receive our free middle school rainbow printables. Inside you'll find notebooking pages, vocabulary worksheets, games and more.
Be sure to check out our other free rainbow printables here. 
To receive our Free Middle School Rainbow Printables you MUST sign up to receive our emails below.
Be sure to check your spam for the freebie. It will be coming from [email protected]

Making Light of Science (Article)
The Lighter Side of Color (Article)
All Those Seeing Color, Say Eye (Article)
The Science of Light Spectrum (Article)
Seeing Color (Article)
The Science of Rainbows (You Tube Video)

7 Create a Rainbow Experiments


Somewhere Over the Rainbow (Guitar Lesson You Tube Video)
Somewhere Over the Rainbow (Piano Lesson You Tube Video)

Fun Rainbow Facts (Article)
Rainbow Quiz (Online Resource)
Light Spectrum Quiz (Online Resource)