Your star wars fans will have a blast learning all about their favorite movie with this free star wars unit study! Below you'll find resources for a free unit study, exclusive star wars printables and other star wars resources for your middle schooler.
We've compiled various online resources including; videos, biographies and more.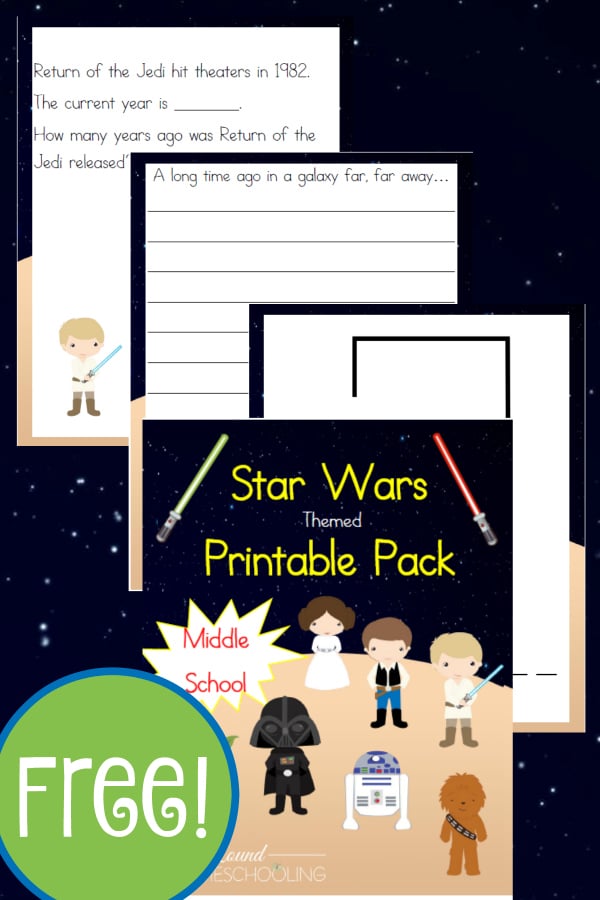 To get you started in planning your middle schoolers star wars unit study, be sure to sign up below to receive our free star wars printables. Inside you'll find notebooking pages, vocabulary worksheets, games and more.
To receive this Free Star Wars Printable Pack you MUST sign up to receive our emails below.
Be sure to check your spam for the freebie. It will be coming from [email protected]

30 Piece of Star Wars Trivia (Online Article)
May the Facts Be with You (Online Article)
10 Facts About Star Wars Characters (Online Article)

History of the 6 Star Wars Teaser Trailers (Online Article & Videos)
Galactic Star Wars Timeline (Online Article)
The Crazy History of Star Wars (Online Article)
How Disney Bought Lucas Films and It's Plan for Star Wars (Online Article & Videos)

Han Solo – Harrison Ford (Online Article & Video)
Luke Skywalker – Mark Hamill (Online Article)
Princess Leia – Carrie Fisher (Online Article)
Obi-Wan Kenobi – Alec Guiness (Online Article)
Yoda – Frank Oz (Online Article)
Obi-Wan Kenobi – Ewan McGregor (Online Article)
Anakin Skywalker – Hayden Christensen (Online Article)
Chewbacca – Peter Mayhew (Online Article)

John Williams Biography (Online Article & Videos)
About the Force Theme (Online Article)
About the Star Wars Theme Song (Online Article)
About The Imperial March (Online Article)
Free Star Warms Theme Piano Tutorial (You Tube Video)

How to Draw Darth Vader (Online Tutorial)
How to Draw C3PO (Online Tutorial)
How to Draw R2D2 (Online Tutorial)
How to Draw Storm Trooper (Online Tutorial)
How to Draw Star Wars Characters (Online Tutorials)

Molten Lava (Recipe)
Rescue Han Solo Experiment (Online Tutorial)
Yoda's Bubbling Slime Home (Recipe)
Star Wars Blaster Sound (Online Tutorial & Video)

Cardboard Bobo Fett Helmet (Printable Tutorial)
Milk Jug Storm Trooper Helmet (Online Tutorial)
Tin Can Lanterns (Online Tutorial)
DIY Lightsaber (Online Tutorial)

Free Star Wars Rebels Activity Pages

Free Star Wars Online Jigsaw Puzzles
Free Star Wars Character/Quote Game
*Please note there are affiliate links below. For more information please see our disclosure policy.*