Field trips are a great way to make learning come alive for our children! When they have the opportunity to see up close and personal…to experience what they're learning during their homeschooling, they will understand on a deeper level what we've been trying to teach them!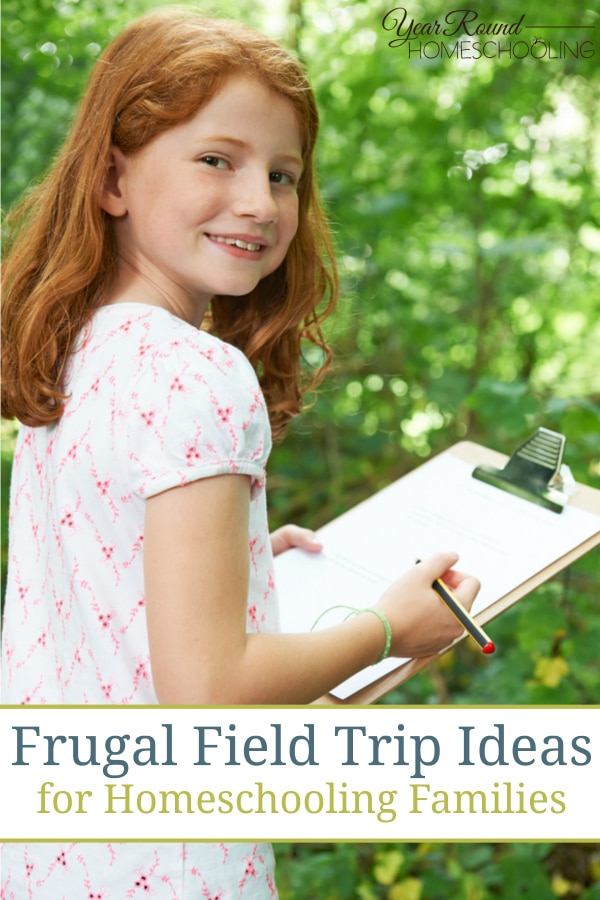 Sometimes homeschool families avoid field trips for many reasons, often it is due to either finances or traveling distance. I know those are the two reasons that I struggle with taking my children on field trips. We live in a rural part of Maine and there isn't much up here besides the lake, woods, moose, ducks and fish. Our field trips often include nature and the outdoors, but there have been other opportunities that we've found over the years and have enjoyed immensely!
Growing up my mom took my brothers and I on lots of field trips, especially when she was the Field Trip Coordinator for our local homeschool support group. It was a great experience for us and I have tried to ensure that my children have had the chance to go on quite a few field trips that were out of the norm for us. I wanted them to see the world outside of our little circle and discover that there is more happening out there than they see from day to day!
Finding frugal field trips isn't always easy, nothing is free these days it seems, but if you're diligent you can find a lot more than you'd expect! You just have to know where to look before you give up in frustration!
Your local historical society is full of information that will help you teach your kids all about the geography and history of your area! They often offer tours of any historical museums in your area, walking tours through historical areas, etc.
The children's librarian in your library will be a great resource for you! During the summer many libraries host reading programs that homeschoolers are welcome to join, others have Lego® clubs, book clubs, nature activities and much more! Beyond the activities at the library you'll find information about concerts, museums, plays and more while you're at the library too!
Recreation departments often host summer sports and nature activities for all children to enjoy! Sometimes they even offer classes and camps that your kids can attend with their friends!
If your children love the outdoors, take a moment to look into what a local nature center has to offer. Many nature centers offer hikes, classes on animals in your area, day summer camps and more!
Children need to know about the history of the United States and what an impact the military has made on our lives throughout time. Military Parks and Museums provide quality history lessons and everyone will walk away changed by what they've learned.
Field trips to the farm are a great way to teach our children that food doesn't just appear in the grocery store. They'll be amazed to see what exactly goes into growing the food they eat!
Learning about our court system is an important part of government class for our kids. Some courthouses allow kids to sit in on real cases, while others provide the opportunity for students to meet a judge and have a Q&A session with him.
There are over 6,000 State Parks in the USA, all of which provide valuable educational experiences for everyone! Whether you take your children to explore the Grand Canyon or your kids learn about the history of your state, visiting State Parks in your area are a must for your homeschool!
Wildlife refuges provide an educational experience that will allow your children to learn about the wildlife that they can see where they live!  They often offer environmental classes that cater to the wildlife in your area.
Many local orchestras offer student concerts that cater to kids! We went to one that was all about John Williams and when the Star Wars theme song came on, my son (who wasn't thrilled to be there) lit up!
Be sure to check and see if your local ballet offers matinee performances or even student performances that are free. The ballet is a wonderful experience that everyone should see at least once in their lifetime.
Getting outdoors and learning about the birds in your area is a wonderful nature field trip for your kids! They often offer bird walks, educational workshops and much more for reasonable prices!
Digging in the ground and playing in the dirt is a lot of fun for kids and adults! At your local botanical garden you'll likely find classes about flowers and plants in your region, the bugs and insects that live in the area and much more!
Your kids will love having their homeschool year filled with field trips! This frugal field trip ideas list is by no means exhaustive, it is my hope that you'll use these ideas to get started and that you'll find more to cater to your homeschool!
What are your favorite frugal field trip ideas?