In our homeschool, we are currently studying Australia!  We have used My Father's World Exploring Countries and Cultures as the base of our curriculum.  It has been an amazing year, and I highly recommend this curriculum for families who homeschool using a mix of Charlotte Mason and Classical Education philosophies!  Anyhow, my children (and I) have been learning about the geography of Australia this week.  It is our "last stop" before we move onto Antarctica.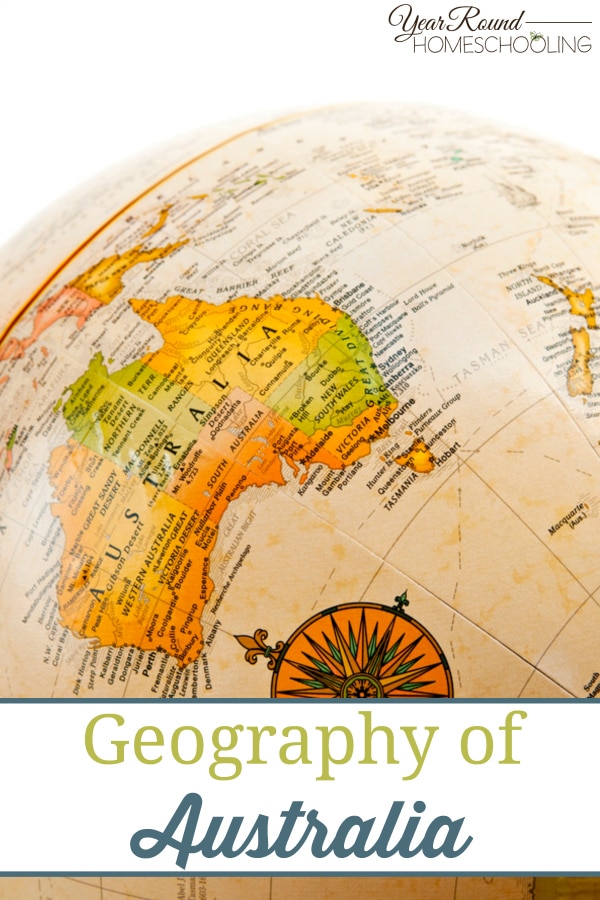 Australia is a country that consists of the primary continent of Australia, the island of Tasmania, and several smaller islands.  Besides Antarctica, it is the only continent that is entirely in the southern hemisphere.  Many people call Australia, "the land down under," because of this.
Some interesting areas of Australia include Kakudu National Park, Shark Bay, and the Gondwana Rainforests of Australia.  Rivers can be found in Australia as well.  The River Murray is the longest river in Australia, at 1,800 miles in length.
Most of Australia is desert, or outback, and an amazing rock formation called Ayers Rock is located in the heart of this area.  The aboriginal people of the area call it Uluru, and it rises 1,142 feet above the flatlands that surrounds it.  If you visit Ayers Rock, you will find deep crevices as well as cave paintings.  This rust-colored geography feature is breathtaking.
Mount Kosciuszko is the highest mountain on the continent of Australia.  It is 7,310 feet above sea level, and can be climbed in one day.
Finally, one of the most amazing geographical features of Australia isn't on land, but in the sea.  The Great Barrier Reef is the world's largest coral reef, and is considered one of the seven natural wonders of the world.  It is the only living organism that can be seen from space.  How long is it?  Over 1,200 miles!
I hope that you've learned a new fact or two to share with your children.  Happy Homeschooling!
What do your kids love most about Australia?