When middle school rolls around, students discover that writing is a big part of their curricular demands, and not just for English class. History, science labs, and even fine arts courses require more writing as students enter the secondary years. Homeschool students begin doing more independent work in these years as well, and we have to be careful not to demand too much from our young teens. When kids are younger, we tend to do more fun types of writing, like nature journaling, copywork, field trip and book reports, and poetry. Once they begin more advanced studies, some tweens and teens think of writing as drudgery.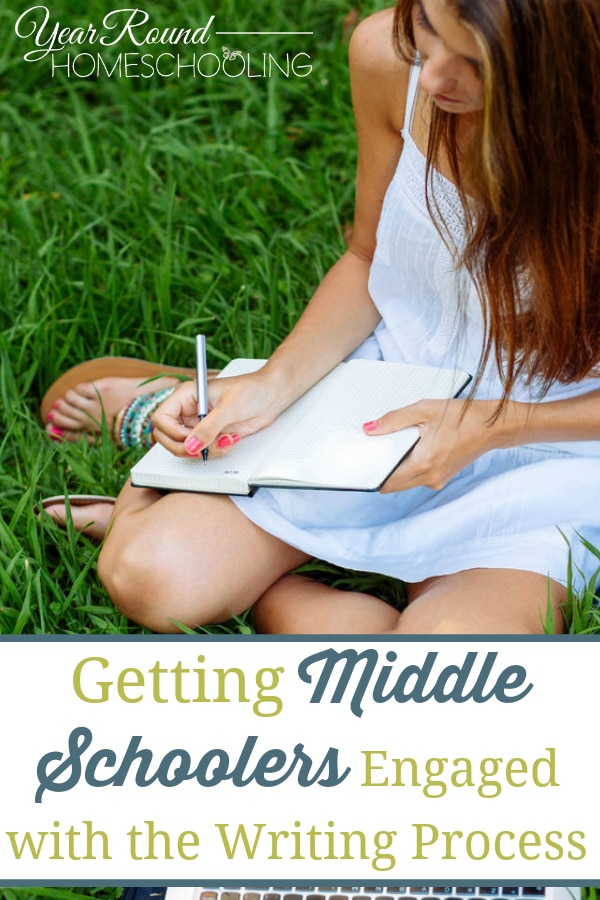 Middle schoolers are a unique and special bunch. One minute they are playing with toys, and the next minute, they are checking social media. This time of transition is when they can start good writing habits that will carry them through high school and beyond. The keys to helping them become confident writers are balance and finding ways to engage teens with the writing process.
In my experience with students this age, writing is not usually on their list of 'Fun Things to Do.' As the parent/teachers, our job is to engage them with the process and make it less intimidating for them. Just a side note–some middle school students still struggle with handwriting and may find it easier to type instead of hand-write their words. If a computer or typewriter isn't available, be willing to serve as your student's scribe or let them dictate into a recording device.
5 Tips for Getting Middle School Students Engaged with the Writing Process
Invest in a good writer's handbook. The MLA Handbook is a complete reference that students will use all the way through college for academic writing. Teach your students how to find information in the handbook and have them use it each time they write an academic paper. If they start now, they will be experts at documentation when high school rolls around. By giving them ownership of their work in this way, you are instilling good work habits and ensuring that plagiarism won't be a problem for them later on.
Focus on a few elements with each essay they write instead of picking apart their papers. A paper covered with red ink is a sure way to turn tweens off to writing. You might begin by focusing solely on content and organization, and then gradually expect more and more from them. Be kind when grading, and remember your overriding goal–raising a confident writer.
Teach your middle schooler that writing is a process. Though the final paper is important, look at it as just one element of all the work that goes into it. Give equal importance to the other stages of writing, and if you give grades in your homeschool, grade each part of the process: brainstorming/notetaking, research, outlining, drafting, editing/proofreading, and the final polished paper.
Encourage creative writing.  Tweens and teens can start a writing journal, and they should spend time with it for at least fifteen minutes each day. This creative writing outlet will help hone their writing skills. Give them the freedom to express their ideas without worrying about grammar and punctuation rules. The goal of journal writing is to synthesize ideas without being stifled by rules and mechanics. Get a free download of my list of 75 Writing Prompts for Creative Writing here.
Continue to do some 'fun' writing. Ideas include: making a comic book, poetry, nature journals, scriptwriting, NaNoWriMo, songwriting,  Chopped, movie reviews, letters, top ten lists, and old-fashioned book reports. Don't forget that writing can be (and should be) fun!
How do you make writing more fun than work for your middle schoolers?
---
---
Anne Campbell, a former classroom teacher with a BA in English, is a writer, editor, and homeschool consultant. Homeschooling for 15 years, she recently graduated her first son, who learned at home from K5 to college. Anne enjoys customizing learning experiences to meet the needs of her 3 boys as they embrace the lightbulb moments of discovery every day. She teaches other homeschool teens through literature study, research paper writing, and living history experiences. Visit Anne's blog, Learning Table, for help navigating everything homeschool, from early learning to college admission, at www.MyLearningTable.com. Follow Learning Table's adventures on Facebook and Instagram, and Pinterest.