Getting started with notebooking is easy, once you know what it is. This beginner's guide to notebooking will help you understand all the things surrounding notebooking.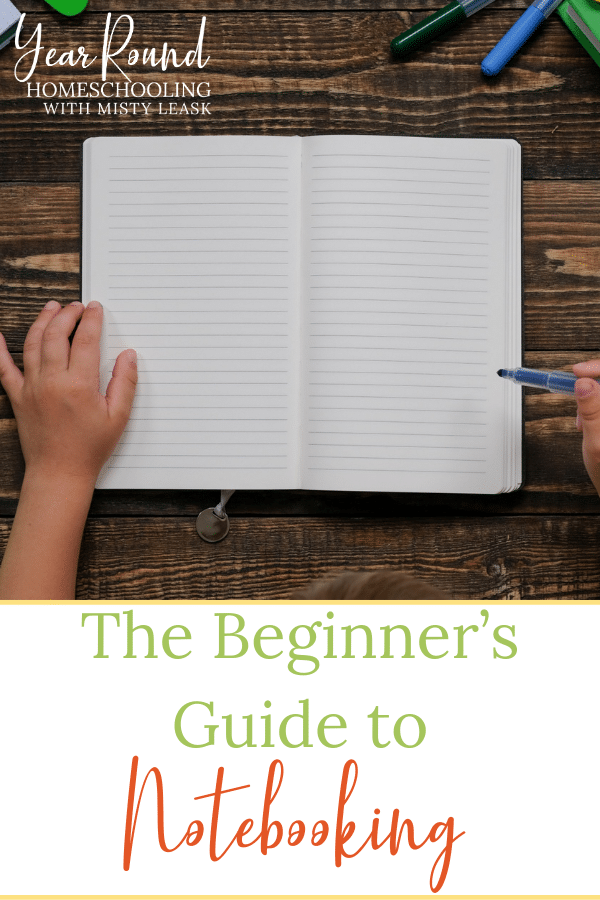 Notebooking has gained popularity in homeschooling and for good reason. You can use this simple tool in nearly any lesson. Notebooking can be a great way to teach your child how to take really good notes, a skill that will serve them well in the future.
The Beginner's Guide to Notebooking
What is notebooking?
Notebooking. The dictionary doesn't include that word, so what exactly is it?
Notebooking is a simple and effective way for your child to track their learning and make wonderful presentations that can be used for studying. It can be as simple as filling a journal as they work to go all out with photos, stickers, and printouts to create amazing study tools they can look back on later.
Notebooking helps your child to focus on details, remember them more clearly, and show documentation of their learning. A valuable addition to their portfolio if your child needs an evaluation as part of homeschooling in your state.
How can notebooking be used in your homeschool
Notebooking can be the base of your child's learning as they study. This will allow you to make the most of your studies with limited time.
It can also simply be a fun study aid to build after you have completed lessons to help them remember them better.
Your child can do notebooking completely on their own. It is a great activity for creative kids who tend to love to show off what they can come up with.
For kids who struggle with creativity and need a bit more help to make things work, you can help your child with notebooking by finding a ready-made template online.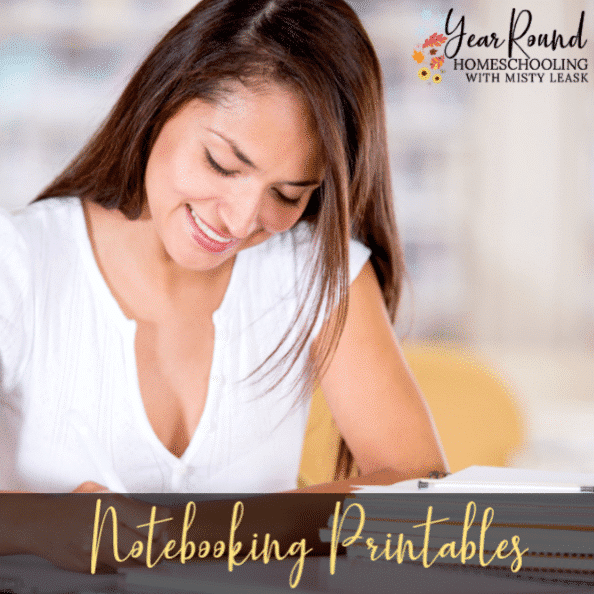 How to get started with notebooking
As mentioned above, there are a couple of different options for notebooking.
Getting started with notebooking can be as simple as printing ready-made notebooking pages.
This is typically how we have used notebooking in our homeschool. My children enjoyed having fun notebooking pages to help inspire and encourage them to stay focused on the subject at hand.
Owning a family business, being a professional blogger and homeschool mom, made printable notebooking pages a gift for me.
There are many free printable notebooking pages online making it easier for kids that do not do well with open-ended lessons.
If your children enjoy being creative, give them the opportunity to create and customize notebooking pages on their own.
Start off by gathering file folders or a notebook for them to use as a base. Thick paper sketchbooks can hold a lot of information on a complete subject. File folders make it easy to store away single subject or lesson notebooking pages.
Next, gather art supplies. Include a wide range of supplies from colored pencils and crayons to glue and stickers. A great way to build up a collection of fun art supplies that your kids can use for notebooking is to gather items you find on sale, on clearance, or at resale shops.
Additional resources that your children can use for notebooking could be; images from old magazines or online and photographs you or your children have taken and printed.
6 Reasons I Love Notebooking
Notebooking is easy and anyone can add this tool to their homeschool no matter what curriculum they use.

Kids of all ages, grades and abilities can utilize notebooking.
It can be as easy as print and go.
Notebooking pages can be used for any subject or topic.
They can inspire and encourage any child to write.
It is a fun and frugal homeschooling activity.
Getting started with notebooking really is very simple. For your first time using notebooking in your homeschool, I recommend starting with printable notebooking pages. This will allow you to get started quickly and see if your kids enjoy it.
Once you've tried a printable version, grab some of the supplies I mentioned above and let your creative kids design their own. If they didn't particularly like the printable version of notebooking, be sure to let them try designing their own before nixing the notebooking idea altogether.
I found notebooking to be very beneficial to a busy homeschool mom, especially for organizational and reporting matters. I never had to guess or even read the papers usually to know where I wanted them to go. A simple glance at the notebooking pages determined what subject or topic was being covered. This made filing for storage or organizing a portfolio easy and quick.
The best homeschool activities are those that are easy, fun and frugal. Notebooking is all of that and more!