Nothing says fall quite like a large, round pumpkin. Kick the fall season off in a fun way with this exciting and educational pumpkin unit study.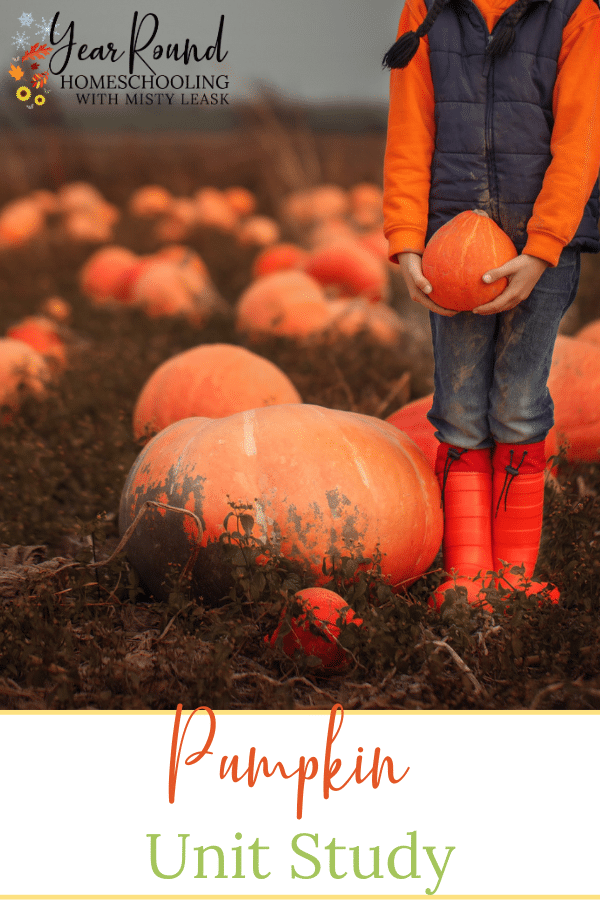 The pumpkin season lasts for all of fall, from September – November.
We spend the 'ber months decorating with pumpkins and gourds of every size and shape.
Visit pumpkin farms, cook and bake with pumpkins and enjoy the season's pumpkin spiced…well, everything.
Thanksgiving dinner with a traditional pumpkin pie, grandly declares that pumpkin season is officially over.
Pumpkin Unit Study
Did you know that there are over 150 different varieties of pumpkin plants ranging from miniature to large?
There is even a kind of pumpkin called the Cinderella pumpkin that looks like the carriage Cinderella rode in the fairy tale.
Articles
Literature

Videos
Art
Crafts
How to Make Halloween Pumpkin Salt Painting with Kids
How to Make Yarn Pumpkins Using Balloons
Pumpkin Toilet Paper Roll Craft
STEM Challenge Pumpkin Patch Paper Plate Marble Maze
Science
Pumpkin Science and STEM Challenges
What Happens to a Rotting Pumpkin
How to Grow a Pumpkin Inside a Pumpkin
Food
Easy Pumpkin Homemade Pancakes
Pumpkin Chocolate Chip Muffins
No-Bake Pumpkin Oatmeal Energy Bites
Games and Activities
Race to the Pumpkin Patch Board Game
Free Printables
Pumpkin Decorating Activity Pack
Free Pumpkin Preschool Learning Pack
Free Pumpkin Kindergarten Learning Pack
Free Pumpkin Middle School Learning Pack
Fall, Pumpkin, and Apple Themed Adventure Pack
Free Pumpkin Game Pack (3rd-5th)
Pumpkin Manuscript Handwriting Pack