As the weather cools, it'll be time for farmers to start harvesting the crops. We live in the South, so we see a lot of crop fields around, especially those used for growing cotton and corn.
Here are some resources to help you put together a harvest unit study with your kids! This unit study includes writing, science, math, reading, and geography, but you can always add more subjects as you choose.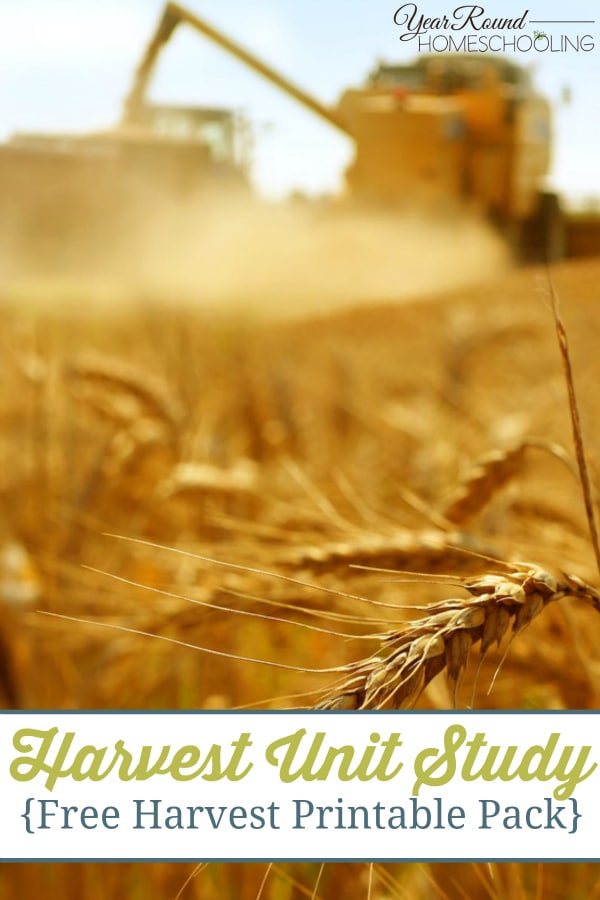 Exploring Harvest Crops
To help kids learn about harvesting equipment, read the information at this link:
http://www.epa.gov/oecaagct/ag101/cropharvest.html
Ask the kids to name five pieces of equipment used to harvest crops. You might want them to write them down so that they can practice their handwriting. (Answers: baler, grain cart, cotton harvester, forage harvester, combine, tractor)
To help kids learn which crops are generally harvested in the fall, read the article here:
http://localfoods.about.com/od/whatsinseason/a/FallFruitVeg.htm
Have the kids name five fruits that are harvested during fall. (Answers include: apples, figs, cranberries, pears, and limes)
Then ask them to name five vegetables that are harvested during fall. (Answers include: broccoli, cabbage, turnips, cauliflower, garlic, pumpkin, and sweet potatoes)
Be sure to ask them which fruits and vegetables are their favorites! If there are some on the list that you haven't tried, pick one and try to cook it as part of a meal this week.
How are Crops Harvested?
Watch a video on how corn is harvested in Ontario and then answer the following questions:
https://www.youtube.com/watch?v=IiuaakvX6jw
Corn makes up what percentage of Ontario's annual grain harvest? (Answer: 63%)
Name two other grains harvested in Ontario. (Answers include: soybeans, wheat, oats, canola, and barley)
How many tonnes of corn did Ontario produce in 2013? (Answer: Nine million) Bonus Math Activity: A "tonne" is equal to 1,000 kilograms or a metric ton. (http://grammarist.com/spelling/ton-tonne/) Use this converter to find out how many tons are equal to nine million metric tons. (http://www.convertunits.com/from/metric+tonnes/to/tons)
How many bushels of corn make up one tonne (metric ton)? (Answer: 30)
How much corn per acre is produced by farms in Ontario? (Answer: 155 bushels per acre)
In Ontario, 60 percent of the corn produced is used in food. How is the other 40 percent used? (Answer: Industrial products)
Books about Harvest
To read about harvest with your kids, check out these great harvest-themed books: