Every October we celebrate Columbus Day, this is the day that Americans remember Christopher Columbus's discovery of the Americas in 1492.
If you're studying Early American history, are interested in doing a unit study, or are just looking for a good book and craft on Columbus, then hopefully this round-up post of books, crafts, and activities is just what you need!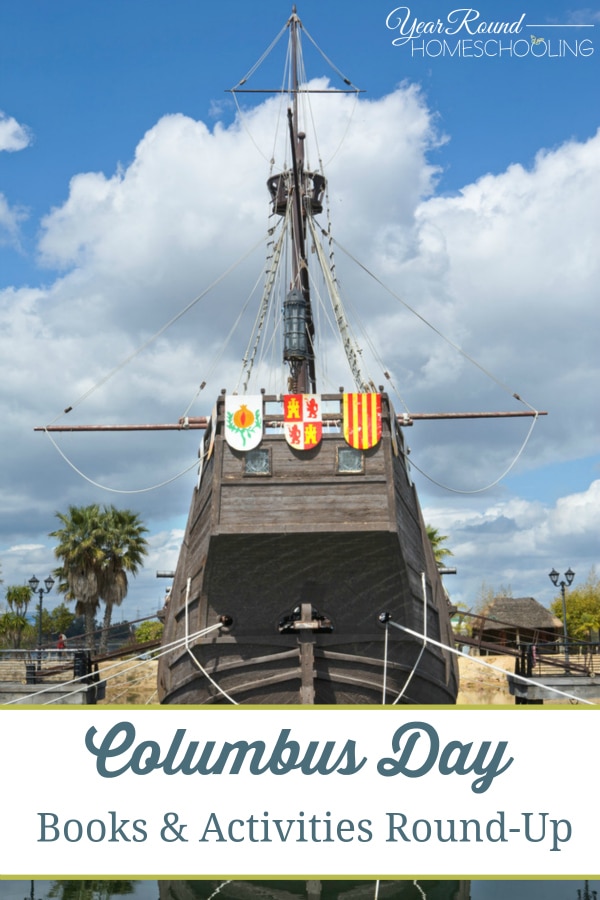 Columbus Day Books

In the two years we've been homeschooling, we have read a few books on Christopher Columbus. These are a few we have really liked.
Columbus by Edgar Parin D'Aulaire (Ages 6 & up)
Forget textbooks. This beautifully illustrated book brings the story of Columbus to life in a way that captures who he was and exactly what he did. Plus, with historically accurate details, your kids will learn pertinent facts about the explorer in an interesting, not dry & boring way. We're using this book in our study of Early American History this year.
A Picture Book of Christopher Columbus by David A. Adler (Ages 6 & up)
Adler has a series of historical picture books for children filled with great illustrations and providing a nice overview of the life of the explorer. Adler's book about Columbus emphasizes the struggles he endured learning how to sail, procuring funds, and making the voyage, all of which paint a picture of persistence and strong work ethic.
Follow the Dream: The Story of Christopher Columbus by Peter Sis (Ages 3-7)
Perfect for elementary-age children, Peter Sis's Follow the Dream offers a mixed media of illustrations, from oil to watercolor and ink, in a variety of rich hues. The text reads like a biography of Columbus's life — a short but sweet account from boyhood through the time he discovered the Americas.
In 1492 by Jean Marzollo (Ages 4-8)
Simple yet historically accurate, this book is a great introduction to Christopher Columbus and his voyage to America. Marzollo's account is written in verse form, which is appealing to young children. She begins with the famous lines:
In fourteen hundred, ninety-two / Columbus sailed the ocean blue
Children will also love the beautiful watercolor illustrations. I read this book last year to my 5 and 3-year-olds, and they really enjoyed how it reads like a song.
Where Do You Think You're Going, Christopher Columbus? by Jean Fritz (Ages 7-9)
Fritz is known for her series of biographies of American history makers including What's the Big Idea, Ben Franklin? and Can't You Make Them Behave, King George?. What makes Fritz's account of Columbus so compelling are the unique details that bring history to life and her sense of humor:
On the way to Hispaniola, Columbus checked new islands for gold, but instead found cannibals. (He didn't linger.) And pineapples. (Delicious.)
Columbus Day Crafts, Worksheets, & Activities
In addition to reading a few good books about the famous explorer, here are some fun & educational activities to do with your children: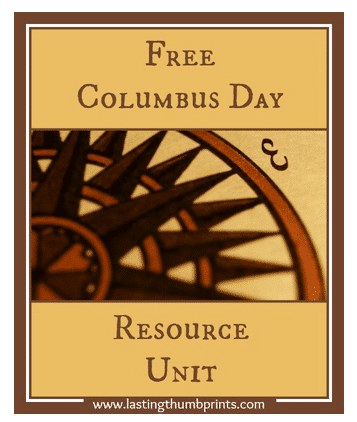 A free resource unit from Lasting Thumbprints that includes 25 Columbus resources including links to printables, lapbooks and notebooking pages, unit studies, ebooks & audio, videos & online resources, crafts and activities for children of all ages.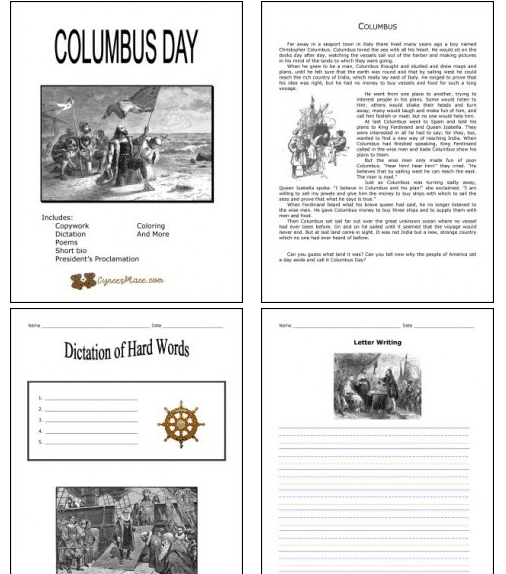 If you're looking for copy work and dictation, Cynce's Place has a free 33-page download that also includes a biography of Columbus, poetry, and scriptures.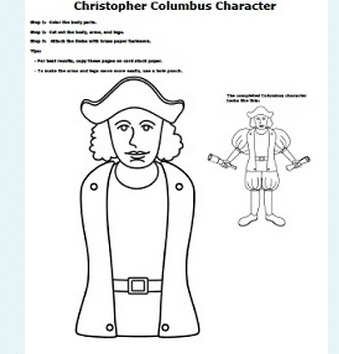 We did this Columbus craft last year, and it was a big hit. All you need are crayons or markers, scissors, and brads.
This free 30-page packet of Columbus printables for children ages 2-7 from 3 Dinosaurs includes the following:
3 Part Cards, Beginning Sounds, Matching Cards, Read Write the Room, Which One Is Different, What Comes Next, Pre Writing Practice, Pattern Cards, 10 Piece Puzzles, 4 Piece Puzzles, Size Sorting, Writing Pages, Color by Number, Color the Pattern, 2 Small Books Color, Puppets for Story telling and more.
There's also a Tot Pack that includes:
Basic Prewriting, 2 Part Puzzles, Matching, Coloring the Map, 9 Piece Puzzle
I'm planning to use this packet for my girls ages 2, 4, and 6 this year.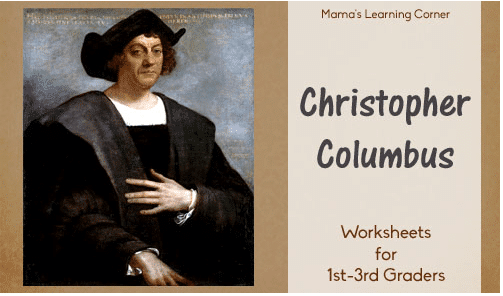 This worksheet packet from Mama's Learning Corner includes the following:
Columbus-themed writing prompts
Fill-in-the-blank and true or false biography questions about Columbus
Columbus word problems
Map skills based on Columbus's 4 voyages
Cut-and-paste Columbus-themed definitions
Columbus word search
At only $1.99 this packet is a great deal for your young learners (1st-3rd grade).
For more activities, books, videos, and crafts related to Christopher Columbus and Columbus Day, follow my board on Pinterest.
What are your favorite Columbus-related books and activities for kids?