High school can be overwhelming for teens. The schoolwork load combined with the questions that everyone seems to be asking are enough to make many high schoolers stress out. While I believe that teens should be prepared for the future that lies ahead of them, I also know that education opportunities have changed over the years.

Online learning is an incredible thing. Anyone can enroll in classes online to refresh themselves on a particular subject or to see if they're truly interested in that course of study.
The ability to study online opens the door for high schoolers around the world to take their time figuring out where to go, what to do and who they want to be.
Some high schoolers may be ready for dual enrollment. Others may take a gap year or two.
Either option is perfect for someone. If they aren't sure if they want to go to college, don't load them up with a college prep course load.
High schoolers are still children. I fear we often forget that.
We need to let them grow up in God's timing. After all, isn't His way always best?
Whether your teens are heading off to college for sure or don't know just yet, fun learning opportunities are a must for any high schooler.
I created this high school shark learning collection to allow teens to take a break from their normal homeschool activities…to enjoy learning about these amazing creatures of the sea.
High School Shark Learning Collection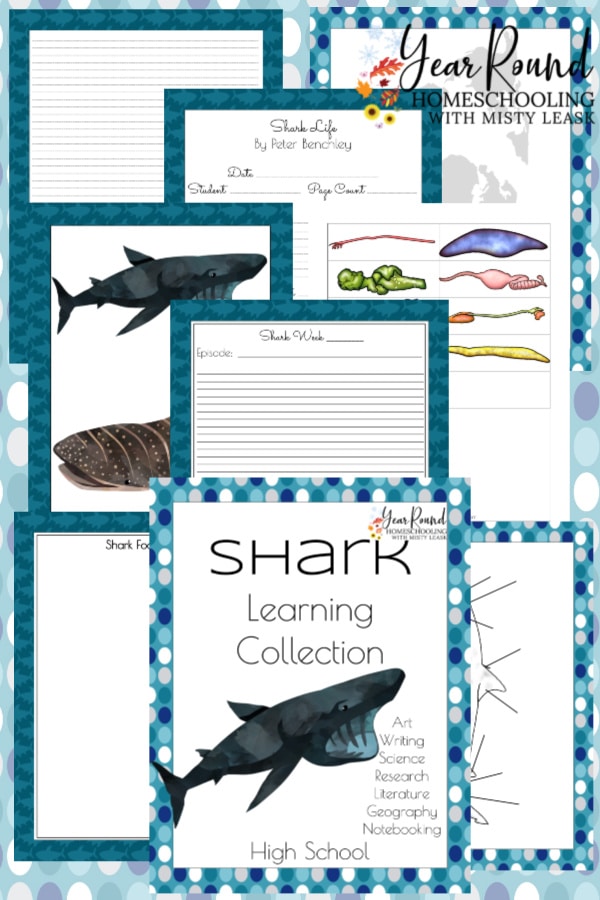 Sharks are fascinating creatures of the deep that are a perfect study for your high schoolers. Your teens will enjoy learning about sharks while completing activities covering; art, science, geography, writing, literature and much more.
There are several shark-themed learning activities for your teen to enjoy! Inside you'll find over 40 pages including…
Science Activities
Research Pages
Writing Exercises
Literature Reports
Geography Project
Notebooking Worksheets
and much more!
Encourage your teen to enjoy learning by providing them with fun and educational studies that they are of interest to them. The activities included in this collection were designed with them in mind. They can complete all of them on their own. Independent learning is a great way to give your teens the freedom that they enjoy.
Teens that are interested in marine biology or sharks, in general, will enjoy using the High School Shark Learning Collection. It doesn't require textbooks, hours of working at a desk and includes fun activities geared towards high schoolers.
Your high schoolers will have the opportunity to use Shark Week to complete reports as part of this collection. This unit study is a great resource to use prior to watching Shark Week.
Homeschooling doesn't have to make your teens feel like it is taking away their days, it can actually add to them! This collection will give your teens the opportunity to continue learning while studying sharks.
$5 for the entire High School Shark Learning Collection! (But hurry this is a limited time offer! The sale ends August 8th!)