If you are homeschooling a high schooler, or planning to homeschool a high schooler, kudos to you!!
Many homeschool moms find the idea of homeschooling high school so intimidating that they don't plan to do it. Believe me, at times it is tempting to send teens off to a brick and mortar building. However, I am here to tell you that not only is homeschooling high school possible, it is almost easier than the earlier years.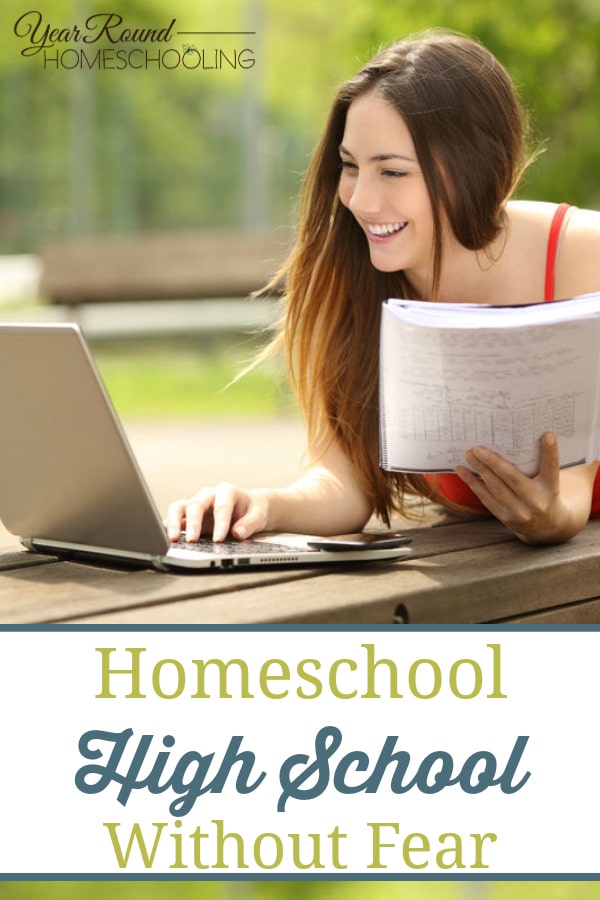 You Can Homeschool High School Without Fear
You see, when your teens enter the high school years, they begin to hone their interests and gain ownership of their education in many ways. They become more independent with their schoolwork, and you can use all of this to your advantage. Plus, teens are really delightful to have around, and the bonds you build during these years are priceless. They leave the nest all too soon!
A great way to start off is to plan a 'meeting' with your teen and work together to figure out a curriculum plan that meets their needs.
Freebie for you!
For a limited time, you can get my High School 4-Year Plan for free ($6.99 value). Click here to download.
Choose Coursework with the Future in Mind
These are the years when you can let go a little and give your teens the responsibility of doing what they need to do to fulfill their future plans. If they plan to go to college, they will need to consider a rigorous college prep course of study, and they will have to put in the work. If you have  entrepreneurial teens, they can pursue an eclectic mix of traditional courses and apprenticeships. If their plans are to go straight into the workforce after high school, they can use their high school years to get a general education along with training and certification in areas that will make them more marketable in their initial job searches.
Choose Curriculum that Meets Mom's Needs
If you are a more hands-on mom and have a teen that needs more help with their schoolwork, find a curriculum that has a good teacher's guide and resources, like grading rubrics, pre-made quizzes, and answer keys. Sonlight is a well rounded curriculum that offers tons of resources.
If you have younger children, or are just too busy to spend a lot of time teaching high school, choose curriculum that is written to the student and serves as an independent study. There are many wonderful curriculum choices that do this, like Lightning Literature from Hewitt Homeschool and Dr. James Stobaugh's History courses from Master Books.
Outsource the Hard Stuff
Things I have done to survive high school include: finding a good tutor for things like algebra and foreign language, cooperative learning classes, trading teaching duties with other moms for certain subjects, and dual enrollment classes. Ask around, join a good homeschool support group, and check with your accountability association. There are tons of resources out there–you just have to ask.
Remember to Have Fun
You can still plan field trips, movie days, and cultural events in the high school years. Remember that you are still homeschooling, and you have the flexibility to do lots of alternative activities that count as school work. Visit historical sites, watch the film version of Romeo and Juliet, attend a play, volunteer at an animal rescue facility, go to a Renaissance fair, visit an art gallery or build something. There are many, many opportunities to make high school enriching and hands-on.
Enjoy the high school years! They will be over before you know it!
What steps do you take to homeschool high school without fear?
---
Anne Campbell, a former classroom teacher with a BA in English, is a writer, editor, and homeschool consultant. Homeschooling for 15 years, she recently graduated her first son, who learned at home from K5 to college. Anne enjoys customizing learning experiences to meet the needs of her 3 boys as they embrace the lightbulb moments of discovery every day. She teaches other homeschool teens through literature study, research paper writing, and living history experiences. Visit Anne's blog, Learning Table, for help navigating everything homeschool, from early learning to college admission, at www.MyLearningTable.com. Follow Learning Table's adventures on Facebook and Instagram, and Pinterest.