Delight-directed homeschooling has been working well for us for almost ten years now. I have to admit that I wondered how this would work when it came time for high school, though. What about high school credits? What about making a transcript? Let's face it, homeschooling high school can sound intimidating, but I can say from experience that it doesn't have to be — and you don't have to throw out the relaxed, delight-directed approach to accomplish your goals either.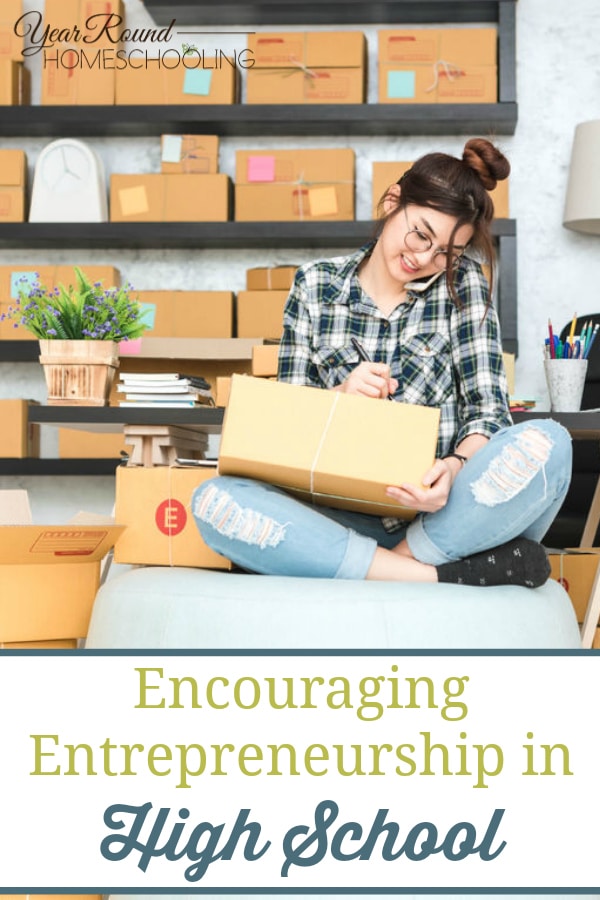 Sometimes people are concerned that relaxed or delight-directed homeschooling won't be "enough" for the high school years. I counter this with the idea that the high school years are the ideal time to start trying out the possibility of future careers and what they may like to pursue as a major in college if and when they go. It's also a great time to encourage the entrepreneurial spirit so they can earn some money!
Homeschooling and Entrepreneurship is a Natural Fit
Since homeschoolers tend to be out-of-the-box thinkers in the first place, it only makes sense that they're also more likely to become entrepreneurs. Whether it's an in-between job for the summer selling their own t-shirt designs on Zazzle or Amazon Merch, or a full-blown career as a writer/blogger or web designer, homeschoolers shouldn't be afraid to break the mold with entrepreneurship. It's a huge blessing to be your own boss and manage your own business at a young age. It's good experience whether they continue down the entrepreneur path, go on to college, or get a job working for someone else eventually. Building the skill set of responsibility, creativity, and business acumen is invaluable in any future endeavor.
Micro Business for Teens
Carol Topp has written a series on this topic, which was also produced for television by PBS. I highly recommend using her course if your teen is interested in starting his or her own business. Carol holds a BS in Engineering from Purdue University and is also a CPA. Beyond that, she was a stay-at-home homeschooling mom. I love to hear stories like that! The titles in the series include:
Money and Taxes in a Micro Business
Micro Business for Teens Workbook
High School Entrepreneurs
I'm not going to sugarcoat anything. Homeschooling high school can be a bit overwhelming. Now that my daughter is in her sophomore year, I'm learning to go with the flow and collaborate with her primary interests to tailor her studies to what she needs to achieve her future goals.
This year, that has meant getting her into online classes for computer coding, creative writing, web design, and 3D animation. She has also started her own blog and designed her own logo and brand for her business. It has required thinking ahead to her ultimate plans for a career. She's not just dreaming about being an entrepreneur one day, she's starting now!
I would encourage all homeschool parents to have in-depth discussions with their kids about what they are passionate about, what they dream about for the future, and how you can help them reach those goals. Homeschooling high school is about more than just checking boxes on a transcript. It's time to prepare them for life and equip them with the skills they need and allowing them the freedom to try their wings. Encouraging entrepreneurship is a great way to do that.
How have you encouraged entrepreneurship in your student's homeschool high school journey?
_________________________
Sara is a homeschool mom to three girls from ages 8-15. She's been blogging at Embracing Destiny since 2008, sharing ideas for creative learning, purposeful living, and delight-directed homeschooling. You can find her on Pinterest, Twitter, and Facebook. She is also the owner/editor of The Homeschool Post.