When I think back over my years of homeschooling (from 1989 to 2009), I smile. Does that mean that my children were always joyful, eager students, no. However, I am grateful for all of the blessings, opportunities and lessons it afforded our family.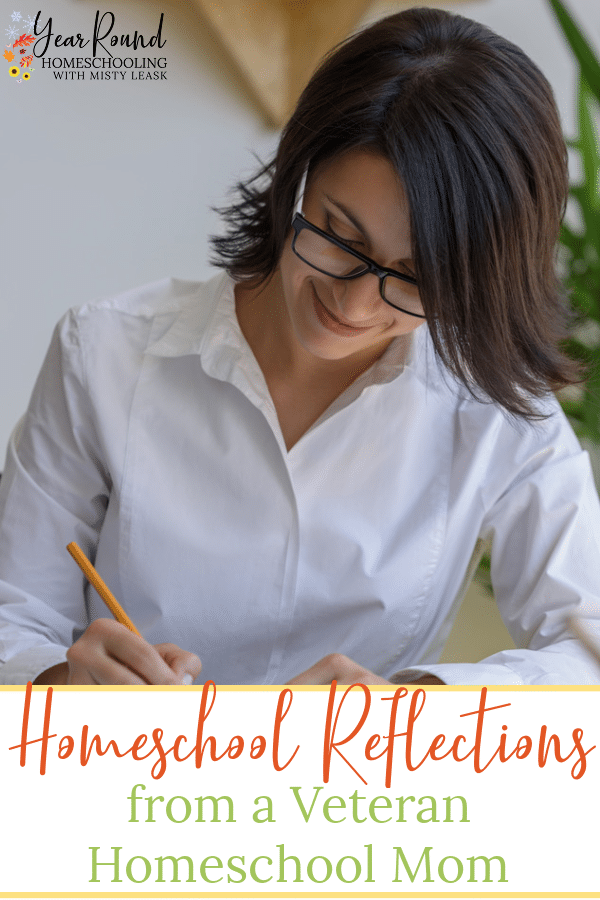 We were not a wealthy family; we were a single-income military family. We started homeschooling the year before my husband joined the U.S. Navy (we had already been married seven years), so we were not rolling in the dough.
We had to be very frugal in every area of our life, that included our homeschool material purchases. We chose a re-usable, traditional textbook because we had three children and felt that this was the best way we could be stewards of the money the Lord had given us (some of our grandchildren still use those books). Even so, we didn't know where the approximate $80 (for school books) was going to come from (in 1990), but we knew that God had it under control.
Before we were in the Navy, we lived in the country and our phone service was through a Co-Op. Before joining the Navy, we had never received a dividend payment from the Co-Op. However, in 1990 when we needed it God provided.
It was June and we knew we needed to buy a curriculum but had no funds. A check came in the mail (from the Co-Op) and it was exactly what we needed. Over the next 20 years, we received a check from them every year in June.
As our need grew, so the checks grew and as our need diminished, the amount of the check diminished. God proved himself faithful to us in every way. We were called to homeschool our children and we were obedient, even when we didn't know where we would get the money. God blessed our obedience.
Another blessing from having limited means was all the family time we had together. I researched and used every resource available to me (before computers) to find free things to do throughout the year.
Hiked the woods (with a guide), learned so much about God's creation, got exercise and made many friends. (Science, Physical Education and Social Studies)
Picnicked, canoed and fished at an old sawmill. (Biology, History, fun)
Played neighborhood games such as, basketball, rock climbing, monkey bars, swings, and slides (many kids in the neighborhood whose dads' were deployed, congregated in our yard -my husband, was blessed to be home our first three years in the Navy)
Went to concerts at the local academy and had picnics on the football field, under the stars (astronomy) while listening to music.
Took trips to hear Chamber Music
Saw plays put on by the local academy (at discounted prices for schools) -The Music Man, Brigadoon
Visited the library – (Reading; Dewey Decimal System)
Went to Museums – (History, fun)
Explored Forts – (History, PE, fun)
Went Sledding – (PE, fun)
Served in the community – soup kitchens, nursing homes (read, skits, sing, visit)
Watched the 4th of July fireworks, while listening to music, choreographed to go with the display (Music)
We had friends who participated in a living history group, they reenacted the French and Indian War period. They invited us to join them on a few occasions, what great fun we had and we learned so much in a very real way.
Oh, what memories. It doesn't get any better than this!
Over the years, our involvement in support groups varied. When the children were very young, we met with six families from our church for group activities. We went on field trips, had family days, did science experiments and even put on a Thanksgiving Day play (from a book I purchased at a local antique/thrift store for $2, published in 1920). The oldest child in the play was ten years old and the youngest was two. Every child had lines and they did a great job. They helped make decorations, food, build the set and costumes. It wasn't elaborate, but it was a wonderful experience!
As the children grew older, the need of a more organized support group was required. God, through the Navy, moved/placed us right where we needed to be. There was an established support group of 30-40 families. They met bi-weekly for family days at a park and they had some field trips scheduled, but not much else.
This is where I am going to tell you to use the gifts God has given you and benefit from the gifts God has given others. I am an organizer, so I became the Field Trip Coordinator. We had themed field trips – one year was all modes/means of communication – newspaper, TV, magazines, telegraph, telegram, telephone, radio and music… another year was the history all around us… the next year was nature – flowers, ocean, wildlife, animal preserves…then museums – science, history, aquariums, zoos, and the planetarium.
We implemented the President's Physical Fitness Program & Test, had science fairs, talent shows, fall festivals, classes offered by parents and brought in special speakers. Ensure that you set no limits on what you can do and use all the resources around you.
It was a very busy and exciting time in our homeschool experience. We were on the board of a new regional homeschool group, helping to put together two conferences and book fairs. The whole family took part and helped, together we learned so much.
During our five years, stationed there, I had been the field trip coordinator, president of the group (2 yrs.), Regional Group Secretary and Book Fair Coordinator (2 yrs). My children had enjoyed and experienced so much, but they were ready to have mom to themselves.
So, at the next duty station – we decided that a homeschool support group was not a good fit for us. Don't be afraid to change what you are doing, go where God wants you, and let someone else use their gifts. Rest…hear from God. We had friends who homeschooled at this duty station, and we met occasionally to do things together with no set schedule!
During this time our children's educational focus became geared towards personal ambitions such as; piano, violin and specific group organizations (Cub Scouts, Boy Scouts, Cross Country Track, Bible Clubs/Competitions and Choir Coordinator). This was one of those times we made sure to benefit from others' gifts and they benefited from our children's gifts as well.
We met a homeschool family that are Olympic and Hall of Fame, cross country runners. They started a homeschool running club. What a blessing and a wealth of knowledge they were to all of us.
Through friends, we learned of a violin teacher, she was a member of the NY Philharmonic Orchestra and our daughter took lessons from her. God blessed us with amazing Scout leaders (we served as well) and our boys learned so much, one became an Eagle Scout and one Life Scout.
In the midst of all this activity, we still had traditional school to accomplish. I learned on my oldest, that I had the freedom to make decisions about my homeschool (after almost a year of rote mathematics in 3rd grade with approximately 100-200 math problems per day).
I recalled that I had never actually finished one school book in my 15 years of education. So, we began to change things as the need arose throughout the years (taking extra time in math usually). We did Weaver for two years, my boys loved it, but my daughter hated it. She thrived in independent study.
There is no perfect way to homeschool, that is what is so great about it…. adjust and change, according to the needs of the child or the family.
I would love to say that all my children loved school, but it wouldn't be true. They all had certain aspects of school that they loved and others they couldn't stand. Still, I tried to teach according to their needs/interests and my ability.
None of them went on to college upon graduation, (that wasn't the focus of our homeschool journey), but they are all successful in their jobs, lauded for their work ethics and their ability to lead & accomplish tasks. I am proud of each one of them and what they have achieved in their lives.
We homeschooled because we wanted to make sure that our children were equipped to serve the Lord in their lives, wherever God took them (that was our primary focus).
Have their journeys been perfect, no. Was I a perfect example/teacher, no. Yet, God has proven Himself faithful and truly capable of overcoming my failures. I trust that He will continue to be the God I know Him to be… provider, merciful, gracious, powerful, longsuffering, strong tower….and my faithful Lord and Savior.
I am thankful God allowed and provided for us to homeschool our children. I wouldn't have wanted to do it any other way. If I could offer any advice it would be; that you can teach everything out of the textbooks, Bible lessons and doctrines, your children can make good grades, but the work that matters most is what the Holy Spirit does in their hearts… Pray, pray, pray. That is the most important work you can do for your children.
God's blessings on your journey,
<3 A Retired Homeschool Mom (Misty's Mom) <3