I often refer to our eldest son as "a tornado full of boy" and it's such a perfect description. He never stops moving, whirling, and buzzing. He also never stops talking. He is, hands-down, the loudest child I've ever known.
My son has sensory processing disorder, struggles with attention and executive functioning, and has a dash of anxiety thrown in for good measure. This combination of factors makes for one high energy child.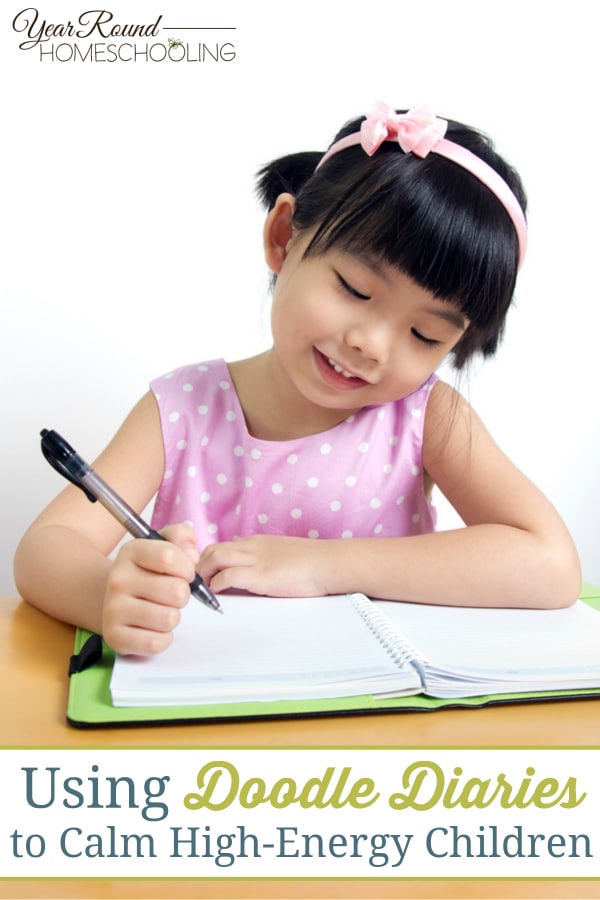 He is impossible to keep up with. I get tired just watching him.
It can be incredibly challenging to get him to calm down… especially when I most need him to calm:
Early mornings, at breakfast
Transitioning from one activity to the next
Dinner time
Bedtime
Isn't that always the way? Kids, especially those with special needs, tend to ramp up when we are least prepared. It is during those moments when are preoccupied with getting meals on the table, or trying to corral and calm siblings for bath time, that these kids up the ante.
And they can always up the ante, can't they?
Well, I'm happy to report that I have discovered a strategy that works to calm my son almost every time.
Using Doodle Diaries to Calm High-Energy Children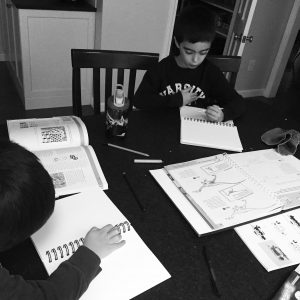 I stumbled into this strategy quite by accident, actually. You see, we had a too-crazy September over here. We spent most days running around, feeling behind, and feeling like we were drowning. I did it to myself. I had said yes to far too many things. I was suffering from a classic case of being overextended.
Naturally, my son picked up on this and what did he do? He upped the ante.
September was not a good homeschooling month for us. There were squabbles, power struggles, and lots of tears.
In an effort to calm myself down, in order to be a better mom and homeschooler, I picked up a sketch pad and started doodling.
I doodled to distract myself from the frustration I felt with my son.
I doodled to help fight that drowning feeling.
I doodled in hopes it would cheer me up.
Do you know what? It worked! Not only that, but my children saw me doodling and they wanted to do the same.
Monkey see, monkey do.
September was feeling like a total failure and I saw this as an opportunity to at least cross off one homeschooling item: art. We went to the store that very afternoon and purchased a simple sketchbook. We would later refer to these sketch books as our Doodle Diaries. 
The kids wanted to use them immediately, and so I pulled out some colored pencils and fun pens and we got to work.
It was the most peaceful moment we had had all month long. As soon as pencils touched paper, the energy in the room changed.
At first, I thought it was a fluke. I figured it was a novel experience and, over time, the kids would lose interest.
But I was wrong.
Every time I would pull out our Doodle Diaries, my children would calm… even my tornado-full-of-boy oldest. It was amazing!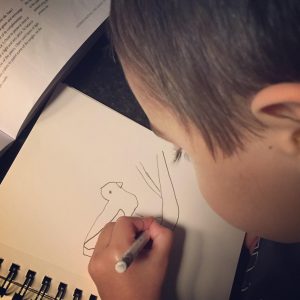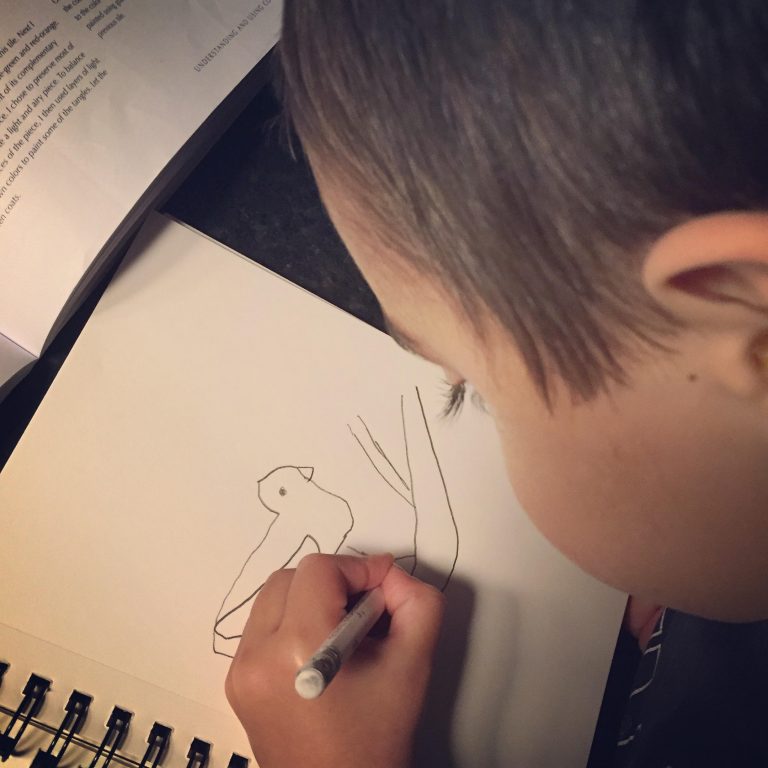 Soon, I began to use our Doodle Diaries strategically:
I'd place them on our kitchen island before the kids came down for breakfast, as an invitation.
I'd pull them out when the kids were hyped up and I needed to transition to a different activity.
I'd make space for our Doodle Diaries after dinner and before bedtime, as a way to transition and calm before bed.
I'd use our Doodle Diaries to stop a bad day in its tracks.
I saw a decrease in squabbles and power struggles and tears. The time we would have spent arguing, we were spending together peacefully.
Here we are, in May, and our Doodle Diaries are filled with art! Nowadays, we love to work on our Doodle Diaries while listening to music, or an audiobook, or Sparkle Stories.
Sometimes, something that evolved out of pure frustration can turn into a beautiful family tradition that actually helps with those tricky behaviors. Doodle Diaries have helped my son to calm down at times throughout the day when I need him to calm down. Best of all? This is a strategy that has helped our entire family. We all feel better after spending time with our Doodle Diaries.
Tell me: How do you help your children calm down? Have you ever stumbled into a strategy that works wonders? Share here!