Do you want to know a secret, one that may change the way you homeschool high school?  What if I told you that it is possible for your high schooler to graduate from homeschooling high school having completed one or even two years of their college career?  That also means that they can opt out of taking an ACT or SAT test because they would effectively be a transfer student to whatever college they chose after graduation, rather than being an incoming Freshman.  Now for the clincher…what if you knew how to do this for free?  Yes, you read that right, for free.  As in you didn't pay for the classes taught by a professor at a college but rather your state paid for it and your student reaped the benefits.  Have I got you hooked yet?  Okay, let me share this secret with you…it is called Dual Enrollment.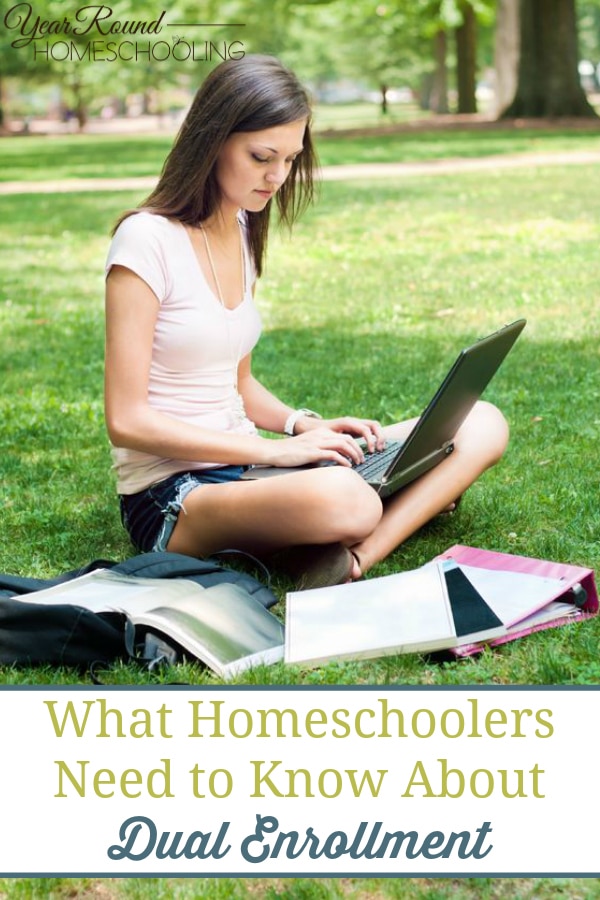 Dual Enrollment essentially means that your child is enrolled in two places at the same time earning credit.  For homeschoolers this means being enrolled in their high school homeschool and college simultaneously.  This looks a little different for each state with some having different requirements and others requiring a partial enrollment in a public school, so you will have to do your detective work for your respective state.
Dual Enrollment Tips for Homeschoolers
Where do I start?
Begin with your state's Department of Education website and look around until you find something like Dual Enrollment, Post-Secondary Option, or College Credit option.  Once you locate the information start considering the requirements for homeschoolers, most states should have a separate section on their site for homeschoolers.
What will they have to do?
In some states your child will have to apply and take the basic entrance test for the school they are accepted into, but there should be a dual enrollment coordinator at the college you choose who can walk you through the application and enrollment process.  Most of the time there is no requirement of any formal test scores (ACT and SAT) just simply the college's own assessment test for placement of your student.
What classes will they take?
Your student should be able to enroll in general education classes and here is where you will love it, you don't have to teach these classes and your student gets credit for them at the college level.  Think English Composition, Art History, General Sociology these are all classes that would cover credits in areas such as electives, social studies and English but will also be knocking out your student's general education requirements for almost any career path.  It is helpful to have an inkling of what your student may be interested in pursuing their degree in and it can be broad at this point.
When can I start?
You should start your research early as some states require applications to be filled out the year before the student plans to enroll in college classes. Students can typically work at dual enrollment from their Freshman year through their Senior year in high school. It is never too early to learn about how your state handles post-secondary dual enrollment for high schoolers so bust out your laptop, make Google your friend and get to work.
What about dual enrollment interests your student (or you!) the most?