Hi, I am the son of this fine establishment's owner, Misty Leask. I would like to share with you a child's point of view regarding high school homeschool.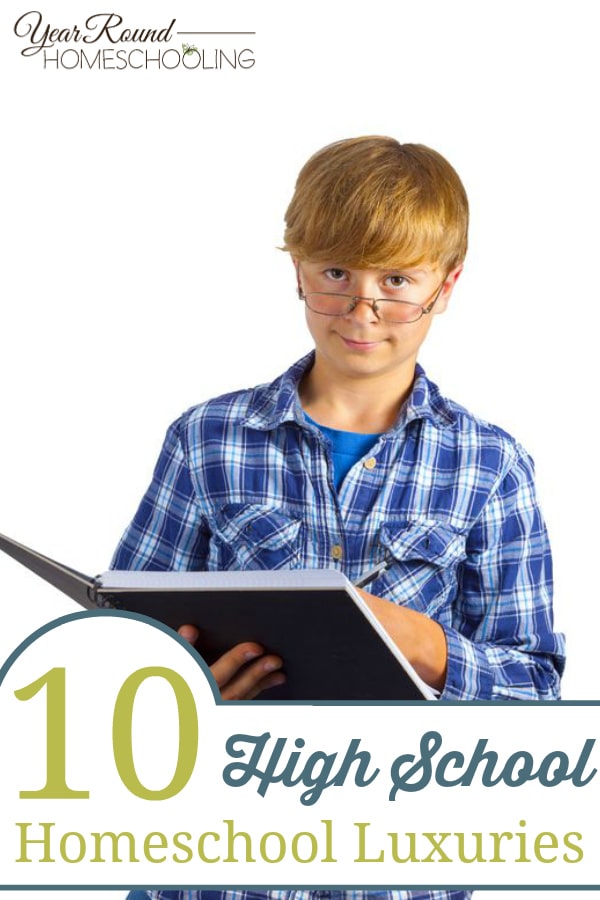 I know I am a homeschooler and trying to list points on public school may seem a little strange. However, I did go to private school for a year, so I know a little what it is like to learn with other kids. I have 10 High School Homeschool Luxuries to list, so feel free to grab a snack like popcorn or something before you read on.
High School Homeschool Luxuries from a Teen
1. You never have to leave your home.
If you are one of those kids who like to stay cooped up in your home with no one bothering you, this is the thing for you. No other kids asking the teacher questions when you are trying to focus. No kids throwing spit balls. In fact, no noise at all. Just Peace and Quiet. AMAZING.
2. No bullies.
Trust me I have seen some mean ones and it is not fun to get pushed around. I was the smallest kid in class, but I visited a few years later and I was taller then all of them. They stared at me like I was a giant. Now who is laughing?
3. No homework!
I hated homework when I was in private school. Worst thing ever. I went to school. Came home. Did homework. Ate dinner. Went to bed. Boring! No time to anything which brings up my next point.
4. Lots of family and fun time!
Yay! When you are in public school the only time you get a break is the weekend or vacation. When you are homeschooled, you have family time every night.
5. You can stay in bed clothes all day (if you want to).
Why change into nice school clothes when you can wear sweat pants and a t-shirt all day?
6. You get sick less!
We all know the common cold. Nasty little thing. Well if you are in public or private school there is a higher chance of catching it because there are more kids around.
7. You get to choose your own school books.
All kids like to choose what they want to do so why not let them pick their school books?
8. One teacher!
Mine is my mom. She is the best teacher ever, in my opinion.
9. You get to sleep later!
Every teen loves to sleep in (Parents, I know you love to sleep in as well). I mean who can resist a later wake up time (Other than toddlers, babies, and kids ages 5-12. So, half the population).
10. More time to study God's word.
The most important thing of all is to study God's word and to learn more about Him. Without Him, we would not know a thing or even be real, so we need to give Him as much time as possible.
I hoped you enjoyed this post. I worked really hard because my Mom asked me, so I wanted to do my best and it is what God would want me to. My God bless you and your family. See you later alligator!
___________________
D. West is a homeschool high school student who thrives on reading, video games and talking with his best friend on the phone. He also enjoys ice fishing, kayaking, snowmobiling and skiing. Making people laugh and playing jokes on his family and friends are among his favorite things to do.