I'm tired. More tired than I have been in a long time. We are just coming out of our family business' busiest season and then tragedy and heartbreak hit. I didn't push myself to get back to homeschooling right away, I took a couple of weeks off to grieve and then took on a full homeschool week. I thought I was ok to get back to homeschooling, but after just one week of a full time homeschool schedule I'm realizing that I'm not. It isn't that I'm not ready for the schedule or that I don't want to teach my children. I'm just too tired.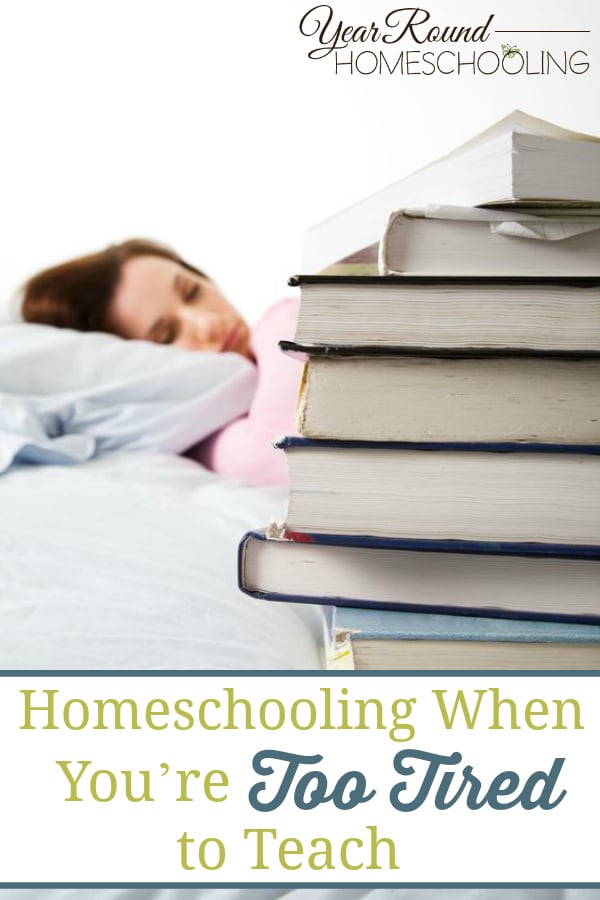 When I chose to homeschool my children it wasn't just to provide them with a textbook education. Homeschooling for us is about much more than what can be found inside any curriculum. I want them to become passionate Christians that are kind, loving, honest and hard working. Most of the attributes that I hope to see in my children when they are grown can't be taught through a textbook.
Right now, as I'm struggling to sleep at night, striving to keep my home tidy and preparing for a vacation that I really don't want to take, my children are watching. They can see the dark circles under my eyes and hear my tired spirit throughout the day. I can't hide how I'm feeling because it is written all over my face and visible in my daily actions.
I'm simply too tired to teach.
Yet, I know that homeschooling must go on. How is that possible?
A few years ago we began to embrace a child led homeschooling method. That decision has been one of the best that I've made as a homeschool mom. My children also love to read, that makes homeschooling them even easier. As child led homeschoolers, I have been able to give them the opportunity to learn on their own without my constant supervision about topics that they're interested in and/or love.
Lately, my son has been researching different types of pets that he is considering for himself. He has been learning all about Pac Man frogs, Bearded Lizards and Guinea Pigs using his Kindle Fire to research them online. Math and Science have been being studied and completed without him even realizing that he's learning.
My daughter has decided that she wants to open a dog grooming business. When we were at the library last week she borrowed every book that she could find on the topic and read them all. Then, she went online and began to research and compare the prices of the items that she would need to get started. Once again, Math and Science have been studied and completed without her even know she was doing school.
The funniest part? Math and Science are probably the two least favorite subjects for both of my kids. So, that makes it even more awesome that my children are continuing to learn when I'm simply too tired to teach.
Reading is a daily activity in our house. My daughter just finished reading about Anastasia and Her Sisters as part of her history class and will probably re-read all of the books again because she loves them so much. My son is starting to read the Left Behind series again after finishing the Lord of the Rings series.
After dinner we tend to play games or watch Netflix together before the kids head to bed. Often the games that we play allow my children to practice even more school, memory work and more. When we watch Netflix we enjoy watching history or geography shows together, so school continues to be completed even after "school hours".
My children don't need me to sit down and work through our homeschool schedule to learn. They don't need me to have a full night's sleep every night in order to help provide them with an education. In fact, they are learning even more than I would normally be teaching them. By choosing to let them lead their own education when I'm simply too tired to teach they are learning that sometimes life doesn't happen like we plan, so we have to be flexible. They're also learning how to be helpful and compassionate when someone is dealing with pain that they know they don't understand.
So, while I am not sitting down with my children and our homeschool planner each day. We are still homeschooling when I'm too tired to teach.
How do you continue homeschooling when you're too tired to teach?