As homeschool moms we tend to hold ourselves to very high standards. Whether we're concerned about fulfilling all of our state's homeschooling requirements, ensuring our children have the education they'll need to be accepted to ivy league colleges or proving to extended family members that we can give our children a better education than public schools can provide. Homeschool moms around the world have specific standards for their homeschooling journeys. Yet, life happens and sometimes unexpected events happen during the homeschool year.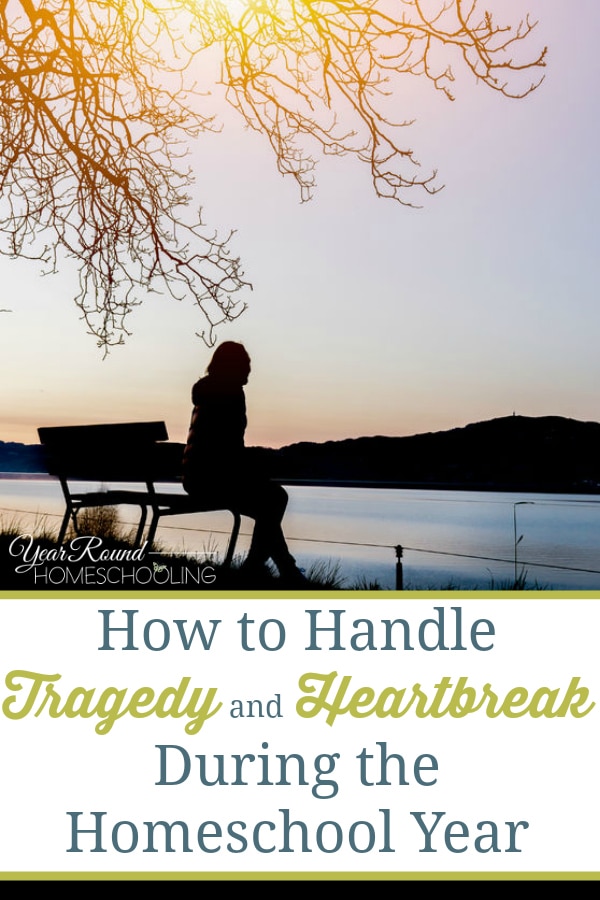 It can be difficult for homeschool moms to know when it is "ok" to take a break from homeschooling our children. We feel pressure to keep moving forward no matter what because it is our responsibility to educate our children. After all, their future success is greatly determined by what they learn in Math, English, History, Science and Music class. While this is true, that is not what homeschooling our children is all about.
When we choose to homeschool our children their education is not typically the only reason we make the choice to keep them home and teach them ourselves. Beyond education most homeschool families are committed to instilling character traits that can't be taught through textbooks. Compassion, faith, integrity, honesty, hard work and dedication are a few of characteristics that I believe are more important than anything I could teach them from a textbook.
In order for homeschool parents to teach their children about the more important things in life, things found outside of the pages of a textbook, we have to teach them how to handle life as it happens. When the unexpected happens and affects our family, will we push through because we "have" to or will we take time to process the events that have come our way?
Recently tragedy and heartbreak hit me unexpectedly…hard. The pain was so intense that I couldn't breathe…I couldn't think. All I could do was cry…and I couldn't sleep…at…all… 
I had an entire week's worth of homeschooling plans laid out. I could have pushed myself and my kids through the homeschool week because we still have days to complete for our state's homeschool requirements and an upcoming vacation will take time off during the homeschool year that I hadn't originally planned for. But I didn't.
If I had pushed and continued homeschooling without taking time to process the tragedy and give myself time to mourn for what I'd lost then I would have missed the opportunity to teach my children how to grieve properly, to have compassion and care for someone they loved. These lessons are far more important than anything found inside of a Math, English, Science and History class.
I don't know what occupation my children will have when they grow up. So, I strive to provide them the most balanced education that I can. However, I do know that no matter what they do in life they will need to cling to their faith, be compassionate, work hard, be honest and at some point in time they will face tragedy, heartbreak and/or grief. It is just as much my responsibility to teach and prepare them for these things as it is to ensure that they receive an education. 
Today, I'm giving you permission to put homeschooling to the side when tragedy and/or heartbreak happens during the homeschool year. You have the OK to set aside your children's education while you process and grieve. 
While tragedy and heartbreak will likely be life changing for us, (it has been for me), we can't put off living life, homeschooling and caring for our loved ones for to long. When I made the choice to put our homeschooling plans aside while I grieved I knew that it couldn't last forever. I knew that I couldn't rush getting back to life, but that I had to get back to life. My husband needed me. My kids needed me. Even I needed me to get back to some semblance of "normal".
By taking time to process and grieve without the pressure of homeschooling my children every day I truly believe that I was able to get back to my new normal in a much more timely manner. 
My heart still aches. I still cry. At times I still can't sleep.
Grief will always be a part of me. It shows up in cycles. I will take them as they come.
But if/when tragedy and/or heartbreak happens during the homeschool year again, I will not hesitate to put the homeschool plans away.