I taught ninth grade English for six years, and for the first two, teaching writing was torture. There was a curriculum I had to follow, one with grand rules and unmentionable words. I followed those guidelines down a path paved with five paragraphs.
The results were anything but good. My students' work was awful. My motivation? Completely gone. Here I was, a writer myself, teaching students how to put words in a box. I was jaded and suspicious and altogether miserable.
Until I started using the Writer's Workshop.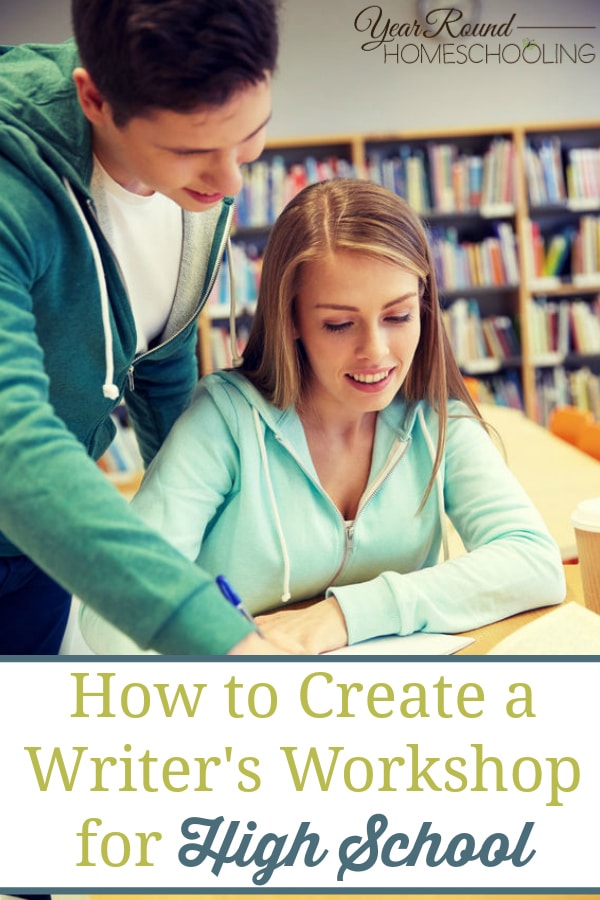 What is a Writer's Workshop?
A writer's workshop is a think tank. It's a place where young writers and their mentors come together as equals under a common goal: thinking, writing, revising, and improving.
Every person in the workshop bears the title of author; each author bears responsibility for the quality of her response. Authors come to the workshop with a list of thoughts and questions:
What needs work in the fifth paragraph?
Where are the strong points in the story I tell?
Where should I go from the end of this paragraph?
They share it all among the gathering of their peers.
Why is a Writer's Workshop Beneficial?
A workshop setting is not like a classroom. The authors are colleagues, not classmates, so the threat of performing is gone. Sharing sessions build confidence; response opportunities provide insight into differing views. Writers and mentors walk the same gentle path together, taking part in a collaborative effort to create, respond, and revise.
How do You Build a Successful Writer's Workshop?
You start with quality literature!
Strong writers learn best from good role models, and quality literature is the best place to find it. When you incorporate literature into your workshop, students gain:
A collection of resources for their toolbox.
Identifying, discussing, and analyzing the tools of the greats allows students to apply them to their own writing.
An example of the writing process.
Dickens didn't write 'A Tale of Two Cities' in a day. Authors benefit from discovering the processes of the greats.
An opportunity for critical thinking.
When students read good literature, they are able to compare the styles and voices of a variety of authors. They learn why authors appeal to certain audiences, and they develop that voice within themselves.
Then you teach habits of mind.
Most young writers come to the table with preconceived notions. To be open to the workshop setting, students must be willing to view writing not as a means to an end, but as a means to discovery.
I encourage new workshop mentors to follow the advice of pioneers like Peter Elbow. His gentle approach encourages the act of process over product and refinement over instant perfection.
Next, you provide solid guidelines.
A Writer's Workshop is not like peer editing, where students trade papers and look over the work of their friends. In that model, you get basic responses:
"It's good."
"I liked it."
"Nice job."
And not much else is said.
A Writer's Workshop depends on more substantive responses, and the student writers need solid guidelines for the responses they ask for and give. Peter Elbow's Summary of Ways of Responding is a good starting point for discussion. Once they're familiar with the terminology, participants can craft their own specific questions about the elements of their piece.
Prepare to be a role model to your students.
Role play is key when beginning a writer's workshop, as is practice and frequent review of the skills. Bring a piece of your own writing to the workshop and lead your writers in a model response group.
Be sure to employ creative techniques.
Writer's workshops don't have to be sedentary. Try some creative, active techniques for engaging your student writers. The more opportunity for movement and deconstruction of their writing, the stronger the finished piece.
Finally, encourage performance and publication.
Writers need an audience. At the end of the workshop, hold an open mic night for parents and friends. Provide information about publication opportunities throughout the course of your workshop, and discuss ways to let your voice be heard.
When I transitioned to a Writer's Workshop model, my students came alive.
Our space was a place of laughter, conversation, and reflection, where the essence of writing – communication – stood at the center.
Teaching writing doesn't have to be torture. It doesn't have to be something we dread. It can – and should – be an opportunity for discovery.
You just need to follow where your writers have led.
What do you find most interesting or enjoy most about a Writer's Workshop?
_________________________________________
Ginny Kochis is a Catholic wife and homeschooling mom to three gifted and special needs kids. A former high school English teacher and Adjunct Professor of Developmental English, Ginny now teaches writing from home and blogs about faith, homeschooling, and gifted parenting at Not So Formulaic. You can find her on Facebook, Instagram, and Pinterest.