Learning all about 'The Gem State' is easy and fun using this Idaho State Study with your kids for geography!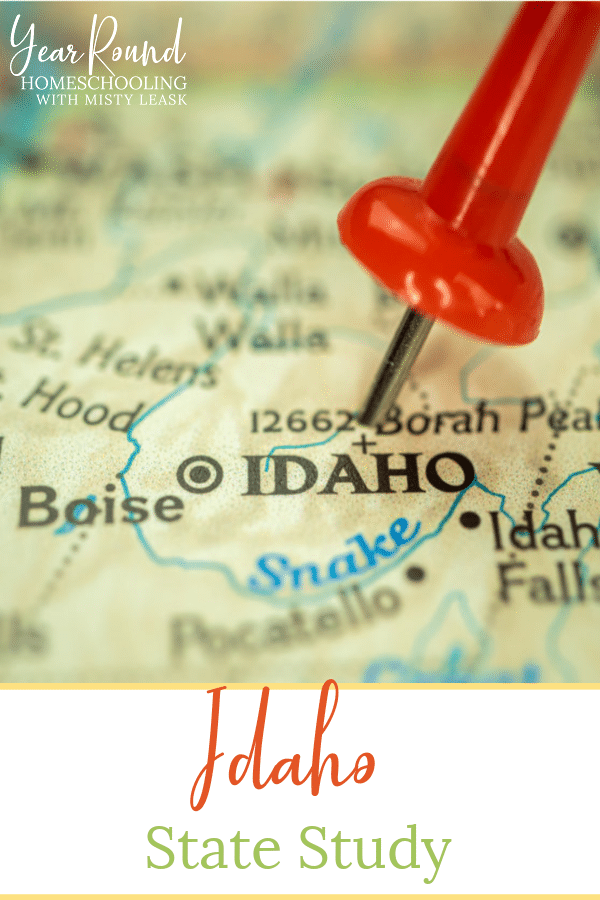 Idaho isn't a state that I have ever really wanted to visit. Eventually, I'd like to have visited all 50 of the states in the US, but Idaho isn't one I've particularly looked forward to visiting. However, my husband would probably really like to visit because of the state's history of gold mining.
While completing the state study of Idaho, I found it interesting that you can sail to the Pacific Ocean from Idaho! Also, I didn't realize that Hells Canyon was in Idaho.
I designed this Idaho State Study to make learning about 'The Gem State', both fun and educational experience. I've included videos, articles, literature options, state facts, famous landmarks and more to provide thorough learning opportunities for your children.
Idaho State Study
History of the State of Idaho
Idaho Literature and Research Resources
All About Idaho
Year Idaho Became a State
July 3, 1890
State Capital
Boise
State Abbreviation
ID
State Population
1.787 million (2019)
State Size
83,572 square miles
State Name Origin
The word Idaho was thought up by a mining lobbyist, George M. Winning. He originally suggested the name for the state we now know as Colorado claiming the word was of Shoshone origin and meant "gem of the mountains". Several American Indian tribes including the Shoshone were consulted, and no word similar was ever found. Eventually, the name Colorado was chosen for that territory. Three years later when the territory of Idaho came up to be named by Congress, they simply went with the previous suggestion, Idaho, completely forgetting that it has no American Indian origin.
State Motto
Esto Perpetua, meaning "be eternal", was adopted as part of the State seal in 1891.
State Nickname
Idaho was given the nickname, 'The Gem State', because of its many natural resources.
State Song
In 1931, 'Here We Have Idaho' was chosen as the official state song of Idaho. It was composed by Albert J. Tomkins, McKinley Helm and Sallie Hume Douglas.
State Flag
The Idaho state flag depicts the state seal on a blue background under which are the words 'State of Idaho' in gold on a red band. The flag was adopted by the legislature in 1907. The state seal was designed by Emma Edwards Green and is the only state seal in the United States which has been designed by a woman.
State Bird
The mountain bluebird was chosen as the state bird by the General Assembly in 1931.
State Tree
In 1935, the western white pine was chosen by the General Assembly as the state tree.
State Fish
The General Assembly chose the cutthroat trout to be the state fish in 1990.
State Horse
In 1975, the appaloosa was chosen by the General Assembly to be the state horse.
State Insect
The monarch butterfly was chosen by the General Assembly in 1992 to be the state insect.
State Raptor
In 2004, the peregrine falcon was chosen by the General Assembly to be the state raptor.
State Fossil
The Hagerman horse fossil was named as state fossil in 1988 by the General Assembly.
State Gem
The star garnet was designated as the state mineral by the General Assembly in 1967.
State Flower
In 1931, syringa was chosen as the official state flower. It comes from a bush for which Native Americans found many uses, in fact, soap has been known to have been made from its bark and leaves.
Geography
Major Cities

Boise City

Meridian

Nampa

Idaho Falls

Pocatello

Caldwell

Coeur d'Alene

Twin Falls
Rivers

Bear River

Big Wood River

Blackfoot River

Boise River

Bruneau River

Coeur d'Alene River

Clark Fork River

Clearwater River

Fall River

Henry's Fork

Jarbidge

Kootenai River

Lemhi River

Little Salmon River

Little Weiser River

Little Wood River

Lochsa River

Lost River

Malad River

Moyie River

North Fork Owyhee River

Pack River

Palouse River

Payette River

Pend Oreille River

Portneuf River

Potlatch River

Priest River

Raft River

Sailor River

St. Joe River

Selway River

Salmon River

Snake River

Teton River

Warm River

Weiser River

Lakes

Alice Lake

Alturas Lake

American Falls Reservoir

Anderson Ranch Reservoir

Arrowrock Reservoir

Bear Lake

C.J. Strike Reservoir

Cocolalla Lake

Coeur d'Alene Lake

Dworshak Reservoir

Hauser Lake

Hayden Lake

Hells Canyon Reservoir

Henry's Lake

Hunt Lake

Independence Lakes

Island Park Reservoir

Lake Cascade

Lake Cleveland

Lake Lowell

Lake Pend Oreille

Lucky Peak Lake

Magic Reservoir

Market Lake

Palisades Reservoir

Payette Lake

Priest Lake

Redfish Lake

Sawtooth Lake

Spirit Lake

Stanley Lake

Twin Lakes

Warm Lake

Williams Lake

Yellow Belly Lake

Forests
Highways
Interstate 15 – North and South

Interstate 86– East and West

Interstate 90- East and West

Interstate 184- Northeast and Southwest

Interstate 84– Northwest and Southeast
National Parks
State Parks
Famous Landmarks
Famous People
Sacajawea

(May 1788- December 20, 1812) was an American Indian woman of the Lemhi Shoshone tribe. She was born near Salmon, Idaho and is well known for helping the famous explorers Lewis and Clark in their expedition. She traveled with them from North Dakota to the Pacific Ocean aiding them in establishing contact with other American Indian tribes.

Lillian Disney

(February 15, 1899- December 16, 1997), born in Spalding, Idaho was an ink artist and the wife of Walt Disney. She is most well known for being the one who suggested to him the name "Mickey Mouse" (instead of his idea, Mortimer Mouse).

Andy Benoit

(May 27, 1986- Present) is a sports journalist born in Boise, Idaho. As a child, he loved to write football books so much that he was nicknamed "The NFL Kid". Currently, he is assistant to Sean McVay, head coach for the LA Rams.

Gutzon Borglum

(March 25, 1867- March 6, 1941) was born in St. Charles while Idaho was yet a territory of the United States. He was the son of a Danish immigrant woodcarver. Although Gutzon was enrolled in college, he only studied for a brief time and later apprenticed at a machine shop. In his 30's he began sculpting and creating other works of art that were very well received. Many of his monuments can be found throughout the United States perhaps the most famous being Mount Rushmore.

Sara Palin

(February 11, 1964- Present) was born in Sandpoint, Idaho and is an American politician of the republican party. She became governor of Alaska in 2006 and ran as vice president to John McCain in 2008. Since that time, she has continued to be instrumental in various movements and campaigns.

Picabo Street

(April 3, 1971- Present) was born in Triumph, Idaho and is a former World Cup ski racer and Olympic gold medalist. Among the many awards she has acquired she won a gold medal in the World Cup in 1995 and 1996 for downhill skiing. At the World Championship, in 1996, she brought home the bronze for the Super G and gold medal for downhill skiing. Two years later she won the gold medal for the Super G at the Olympics. She is currently retired and has two sons.

Jake Plummer

(January 14, 1974- Present) was born in Boise, Idaho and was extremely athletic in high school playing baseball, basketball, and football. He went to college on a football scholarship and was drafted by the Arizona Cardinals in 1997. He played with them until being traded to the Denver Broncs in 2003. Plummer retired from the NFL in 2006 and works as a studio analyst for college football.
Interesting Facts
Most of the United States' trout comes from Idaho

Idaho was originally called the Colorado Territory.

The deepest river gorge in North America is Hells Canyon in western Idaho.

There are two time zones in Idaho. Part of Idaho belongs to Mountain Time while part belongs to Pacific Time.

Idaho has the 2

nd

lowest obesity rate in the US, yet it is known for its huge potatoes, the Idaho spud!

The star garnet (a semi-precious stone) is found only in two places in the world, India and Idaho!

Idaho has almost as many women as men (a population of almost 1:1).

The only capital building in the US heated by geothermal energy is in Idaho.

Idaho sports is the only US seal designed by a woman!

The Pulaski ax, an ax/adze tool used by firefighters was invented by an Idahoan forest ranger, Edward Pulaski, after the Great Idaho Fire of 1910.

Cottonwood, Idaho sports a beagle-shaped B&B called Dog Bark Park Inn.

The farthest inland port on the west coast is Lewiston, Idaho. From there you can sail to the Pacific Ocean via the Snake and Columbia Rivers.
Idaho Learning Resources
What did your children enjoy learning the most about the state of Idaho?