My kids have the most amazing imagination! So we have been talking about ways to be creative and use our imagination in our art lately.  As artists we all tend to use our imagination a lot so it should be super easy to create artwork based on those fun things that we imagine!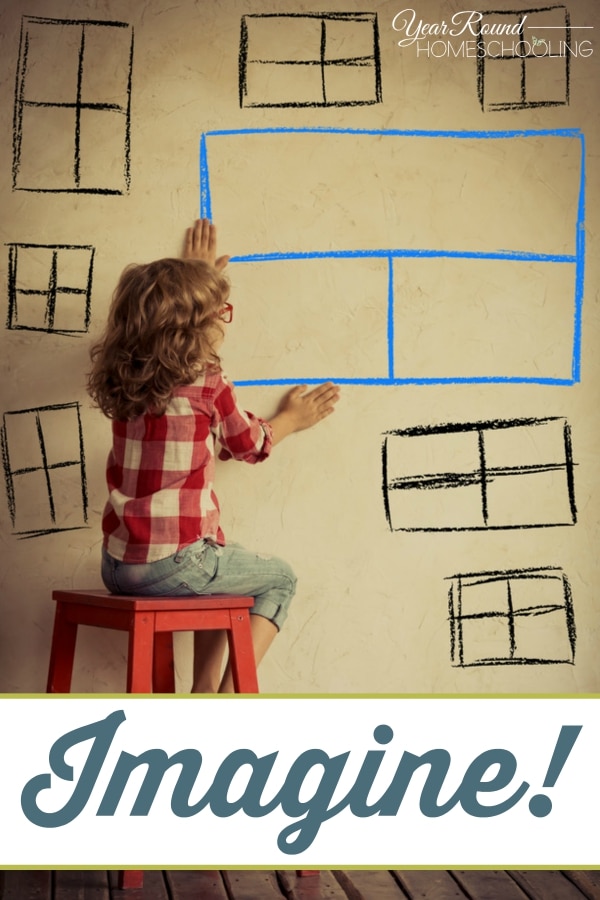 Marc Chagall did that in act. IN his famous painting, Birthday, he painted how he felt at the time rather than exactly how it was. What a great exercise in how our imagination and our feelings can work together!
Isn't this work of art amazing? We talked about how the idea of his man in the painting floating above the ground could be his way to sharing that he was so happy he was "lighter than air" as they sometimes say.  It seems he received a sweet gift of flowers from this young woman; in the afternoon perhaps? Certainly he was overjoyed to be with her for his birthday. Maybe we even feel this way at a certain time?  On a birthday or holiday that reunites us with that precious, far away family member or friend.
As we create we can express our thoughts and our ideas. We can share things that we see; maybe they are common things like flowers and trees, but what if we draw them as they make us feel? Perhaps we see that little daisy as the home of a lovely little ladybug family. Or how about that pinecone that is the treasure chest for a bushy tailed squirrel? There are so many ways we can draw the simple things we experience each day. Like an afternoon swinging at the park; my son says he is swinging on the moon!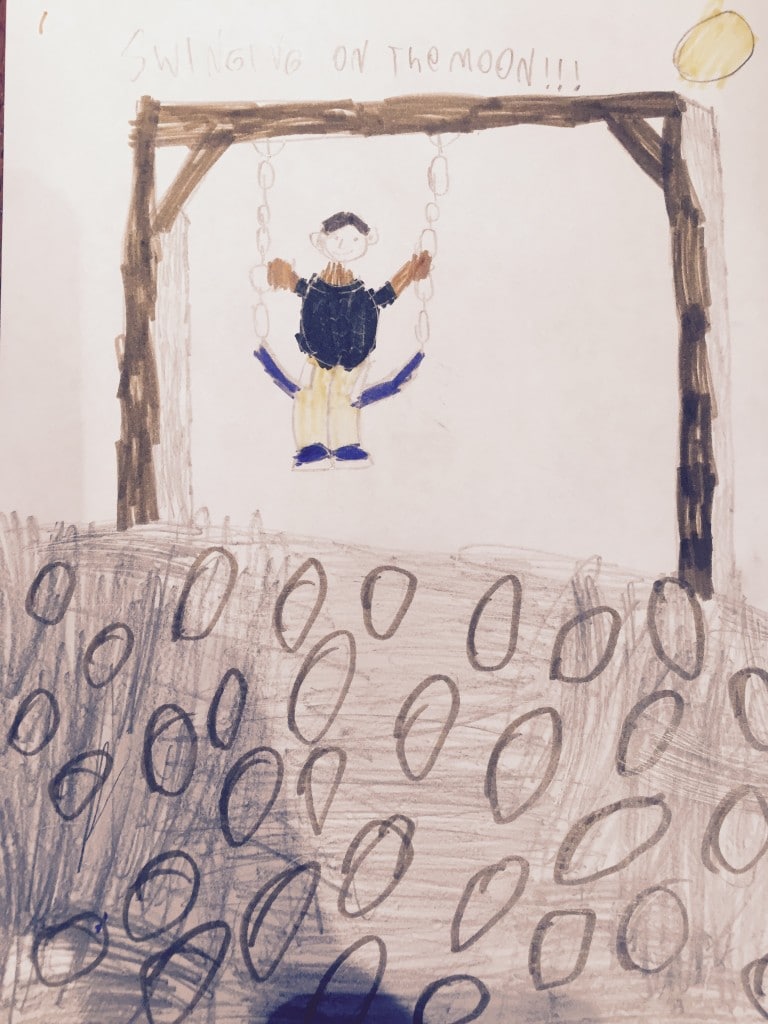 Kids truly have such great imaginations and we need to help them use it. What better way than encouraging them as we go about our day to day routine? Washing dishes can become a deep sea diving adventure. Perhaps as we mop the floor we are really cleaning the deck of the pirate ship that took us captive.
It all starts with an idea.  What do we see. What do we want to be. Then we simply draw it. We can even add to our drawing something extraordinary. A dragon going down the slide; our swing blasting off into outer space. Perhaps a small butterfly going by becomes a larger butterfly; one that we can ride all over the world!
If you aren't sure what to draw or need some ideas, just get outside!  Go for a walk or a hike. Take your bike around the neighborhood and see what is out there. My younger son likes to keep tokens as we go along; pinecones, special leaves, maybe a flower (often they are really just pretty weeds) or the shell of a nut found on the road. As we gather information, we talk about what we see and we come up with so many fun things to draw! Sometimes you can even bring your notebook and pencil and draw as you go along your way!
Draw what you see; create and imagine what you see. The sky is the limit!