I love nature study. I really do. As my kids will tell you, I can be a bit obsessive about it. I carry plant clippers, plastic baggies and a Sharpie marker in my car, so if we happen to come upon something interesting we can bring it home. I've been known to bring a dead bird home to show them the different kinds of feathers, and get a close look at the beak, wings and feet. I'm still learning all the hows, whys, and wherefores of nature study in a Charlotte Mason education (Simply Charlotte Mason has a lovely post on that topic here), but it's important for YOU to know that while nature study is important, it isn't complicated or difficult.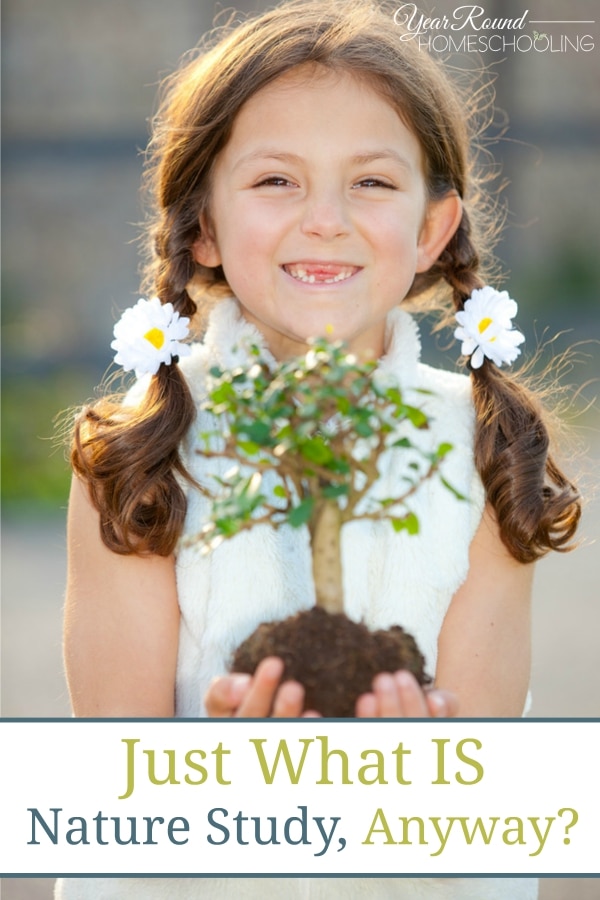 When I first started homeschooling and wanted to pursue nature study with my children, I didn't know what to do, was afraid of doing it wrongly, and so we did… nothing. However, when I gave up trying to be Perfect and achieve some ideal I'd set up in my own mind, we had more fun and learned a lot.
Nature study is, in its simplest form, going outside and observing nature.
Nature study is important for lots of reasons, but there are two that resonate particularly with me these days. First, science is more relevant to children when they've experienced it in the natural world, before reading about it in a book — even a living book. Secondly, and most importantly, it teaches them about God and inspires worship. My favorite Charlotte Mason quote says, "Perhaps this is one of the secrets of life–to know glory when we see it." Nothing introduces you to glory like creation. How then do you DO nature study?
Nature study has three basic steps:
Go outside (Mom AND children);
Observe stuff;
Record what you see.
When you go outside with your children, you show them that it's important. There's a big difference between Mom sending kids outside so she can have a break (which I do) and Mom going outside to enjoy nature. One way you can encourage children to observe things closely is to ask them to go find something and then come back and tell you about it. "I saw something over there!" doesn't get much response, but when they say something like, "I saw an insect on the red flowers I've never seen before! It is shaped like a bee, but I don't think it is one," might earn Mom coming over to look and see what's been discovered.
Encourage kids to draw what they observe. It's not about perfection, but about connecting with what you see. When you slow down long enough to notice details and draw something, you observe on an entirely different level, don't you think?
What are the necessary supplies for nature journaling?
We use sketchbooks like this one, though I usually purchase the Strathmore brand from craft stores like Michaels or Hobby Lobby. I usually wait until they have sales or take a 40% off coupon with me. I like the hard cover (it protects the pages when you bring it along in a backpack, as well as giving a firm surface for drawing in the field), and also the spiral binding allows it to lay flat.
We also use Prang washable watercolors, though you will need to get a different brush than the one that comes with the set. I've had good luck finding the tiny brushes we need at craft stores.
Pencils
Please note that every nature journal entry does not have to be a drawing. You could simply record the weather, or write a bit about what you saw. In her book, The Living Page, Laurie Bestvater commented, "Looking over reproductions of his [Gilbert White's] journals one sees surprisingly few illustrations and a wide variety of annotations." (p. 20) In the sample entry she shared from June 1770, he made notes on the weather, direction of the wind, Latin names for a tree and an insect observed, and stated that melons are beginning to swell. She noted there was only one drawing for the entire month of June. I'm sharing this so you don't feel undue pressure to draw ALL THE TIME. I think anyone would get tired of being told they had to draw something in their nature notebooks every single day, and I know my kids would pitch a fit. You can record observations with words. Each person, mom and kids, should make their notebook their own.
I hope this gives you a basic picture of what to do during your nature study time: go outside, poke around, and record your observations. Please let me know if you have any questions, and do come and visit me at Acorn Hill Academy for nature study, Charlotte Mason and book discussions!