Mars has been explored countless times by rovers, spacecraft and landers. You can learn so much about the planet Mars and these Mars Notebooking Pages make documenting it all easy and fun!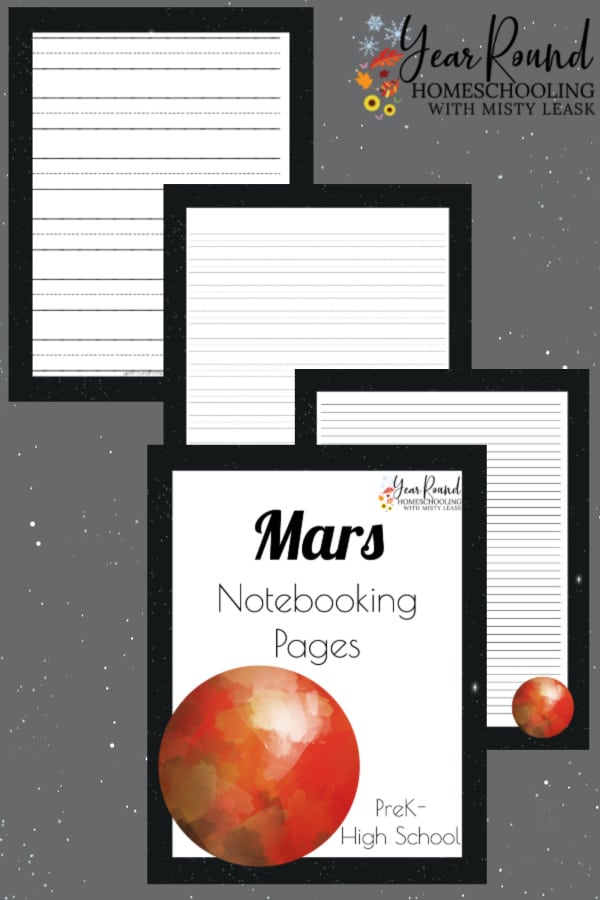 Did you know that there is a mountain in our solar system that is taller than Earth's Mt. Everest? There is and it is found on 'The Red Planet', Mars.
Even though I live in the North Woods of Maine, I don't like to be cold. So, life on Mars is not for me as the temperatures are always in the negative!
Every time I create or write a new resource for my homeschool or blog, I'm amazed at what I learn.
Teaching your children all about the planet Mars doesn't require a lot from you because I've already organized everything you'll need! My Mars Unit Study features a lesson, videos, online articles, literature options, art projects, games and much more!
You can pick and choose which you'd like to use, designing the perfect Mars study for your homeschool.
These Mars Notebooking Pages will make sharing what they've learned, papers or stories they've write or songs they've made up about Mars fun!
This pack contains Mars-themed lined pages for all your students from Preschool through High School.