These Composer Studies have been a huge hit with you all!! I am so glad you're enjoying them! If you ever think of anyone you would like to see, please feel free to Contact Us and let us know.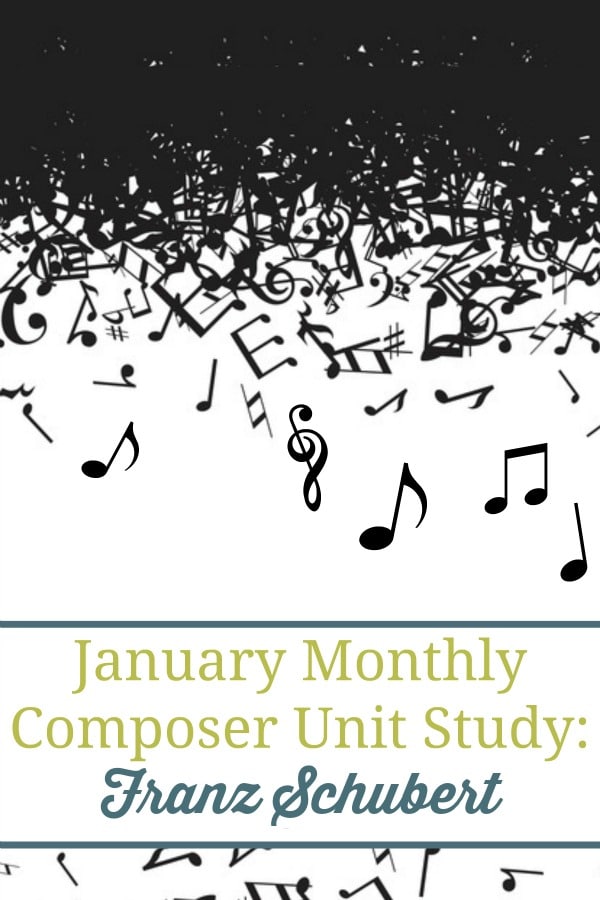 Franz Schubert might not be a composer you readily recognize by name, but his some of his songs are ones you have probably heard at one point or another. He died at a relatively young age, which may account for some of the mysteriousness around his name. However, his works speak for themselves. His most favorite composition, and one of my favorites as well, is Ave Maria. Read more about Franz Schubert in this month's composer study!
NOTE: You may see a discrepancy with the last name. Some spell it Schubert, while others Shubert. I did not find anything giving a definitive spelling, so I chose one that seemed more common in my searches.
Included in this pack:
Poster Page
Bio Pages
Word Search
Coloring Pages
Copywork (early manuscript, manuscript and cursive)
Notebooking Pages
Timeline worksheet
If you want more notebooking pages, don't miss the ones I made last year. They will work perfectly to study any composer as you go through the month of November. I've also gathered some great resources you can use while you're studying Franz Schubert next month.
Check out these songs by Franz Schubert. It takes a few clicks to get to the actual songs, but keep going – it's worth it!!
This YouTube recording includes 90+ minutes 0f a variety of the BEST of Schubert. This would be great to play softly while you're reading about him or doing other work, as a fun and easy way to introduce it to the kids. If you're in for the long haul, check out this FIVE hour selection of Schubert compositions.
BOOKS
NOTE: These books are merely recommendations for you to use along side your studies. Please review these resources before allowing your children to view, read or listen to them.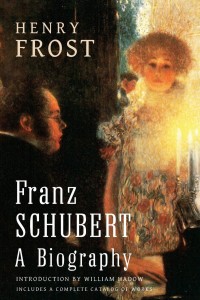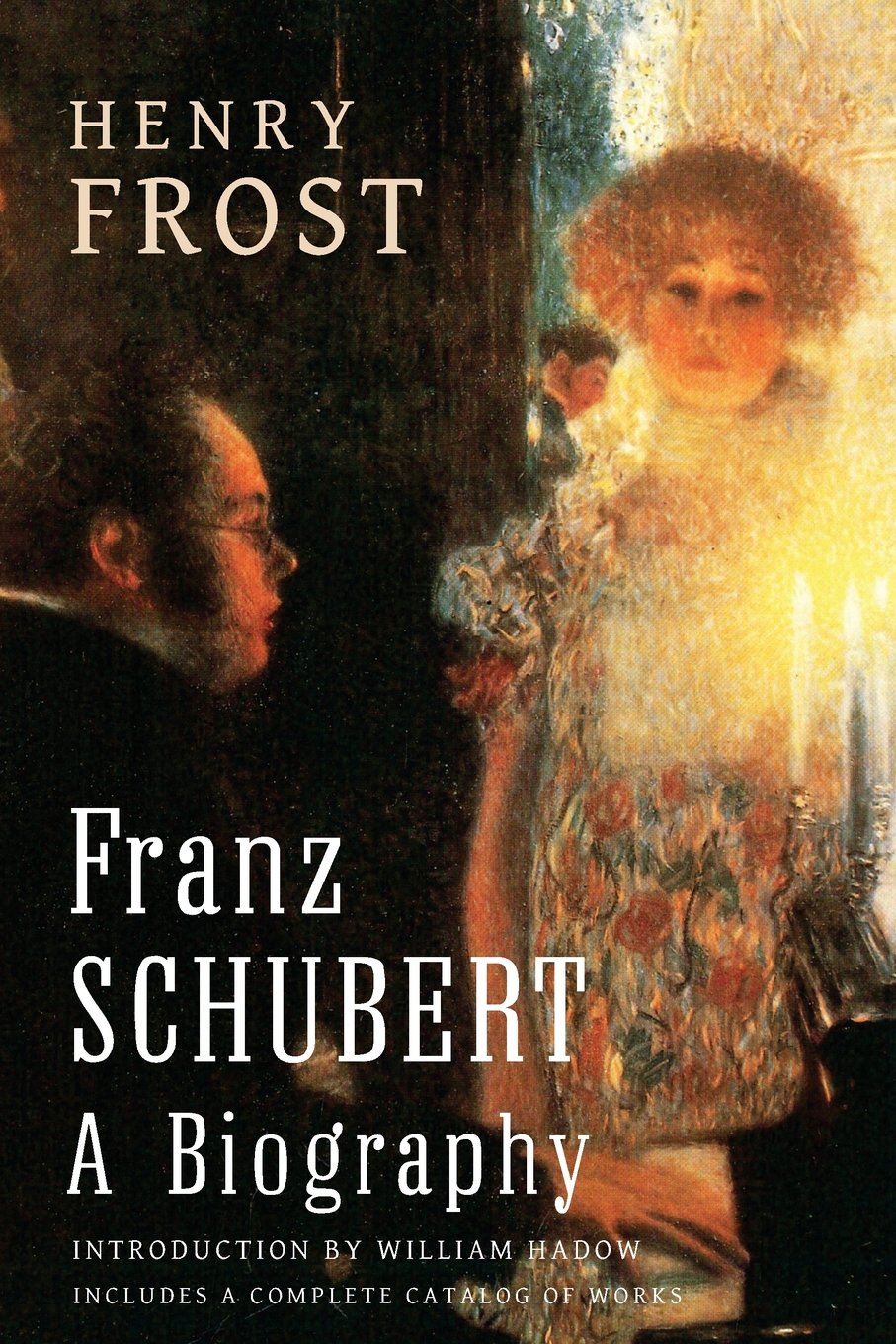 Franz Schubert: A Biography – Clarity of outline, conciseness, and formal beauty are excellent things in musical works, but an exquisite fancy, a noble imagination, and a lofty poetic spirit are of infinitely greater account; and no one ever possessed these inestimable gifts in richer profusion than Franz Schubert. This new edition of Henry Frost's 1892 biography of Franz Schubert has been edited and revised. The original references to pieces by Opus number have been replaced with the more commonly used D numbers. Many illustrations of places and people have been added throughout the text, and a complete catalog of Schubert's works has been included. "With faith man steps forth into the world. Faith is far ahead of understanding and knowledge; for to understand anything, I must first of all believe something. Faith is the higher basis on which weak understanding rears its first columns of proof; reason is nothing but faith analysed." – Franz Schubert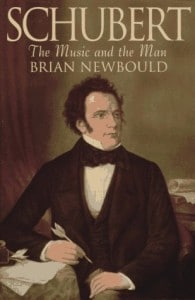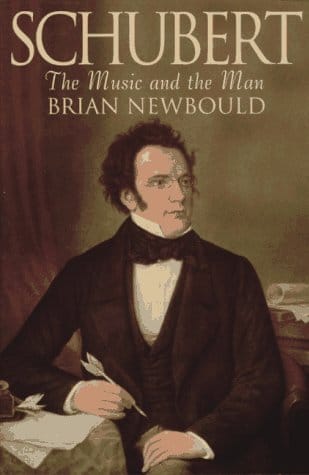 Schubert: The Music and the Man – Gifted with an intuitive know-how, coupled with a Mozartian facility for composition, Schubert combined the relish and wonder of an amateur with the discipline and technical rigor of a professional. He moved quickly and comfortably among genres, and sometimes composed directly into score; but many pieces required painstaking revision before they satisfied his growing self-criticism. Examining afresh the enigmas surrounding Schubert's religious outlook, his loves, his sexuality, his illness and death, Newbould offers above all a celebration of a unique genius, an idiosyncratic composer of an astonishing body of powerful, enduring music.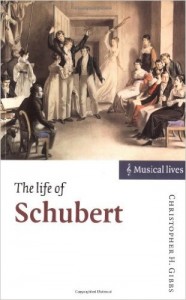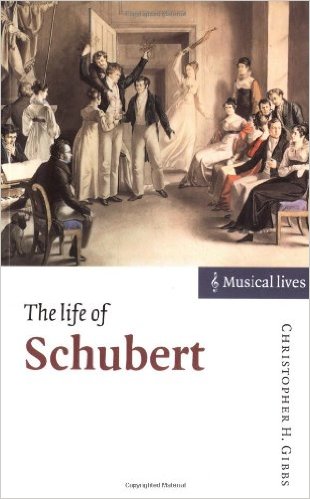 The Life of Schubert – Franz Schubert's tragically short life was lived in one of Europe's most richly musical cities: a Vienna that worshipped Beethoven and where Rossini and Paganini drew crowds. Christopher Gibbs considers how and what Schubert composed, taking a fresh look at this misunderstood composer, particularly the unfolding of his professional career, his relationship to Beethoven, the growth of his reputation and public image and his darker side of drinking, depression and sexual ambiguity. This searching and sympathetic biography questions the customary sentimental clichés and the recent revisionist views concerning this elusive genius.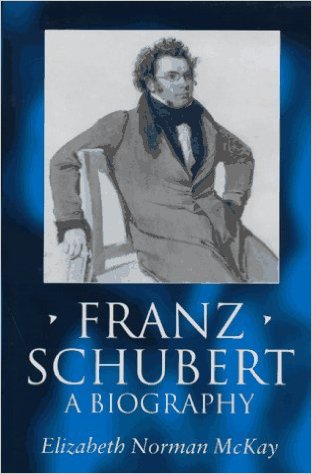 Franz Schubert: A Biography – In this new biography, Elizabeth McKay paints a vivid portrait of Schubert and his world. She explores his family backround, his education and musical upbringing, his friendships, and his brushes and flirtations with the repressive authorities of Church and State. She discusses his experience of the arts, literature, and theater, and his relations with the professional and amateur musical world of his day. She traces the way Schubert's manic-depression became an increasingly significant influence in his life, responsible at least in part for social inadequacies, professional ineptitude, and idiosyncrasies in his music. And she examines Schubert's decline after he contracted syphilis, looking at its effect on his music and emotional life.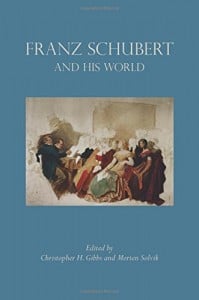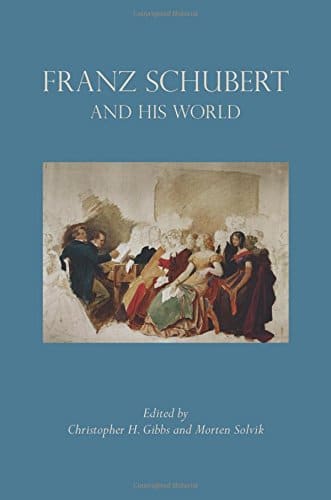 Franz Schubert and His World – Contributors explore Schubert's youthful participation in the Nonsense Society, his circle of friends, and changing views about the composer during his life and in the century after his death. New insights are offered about the connections between Schubert's music and the popular theater of the day, his strategies for circumventing censorship, the musical and narrative relationships linking his song settings of poems by Gotthard Ludwig Kosegarten, and musical tributes he composed to commemorate the death of Beethoven just twenty months before his own. The book also includes translations of excerpts from a literary journal produced by Schubert's classmates and of Franz Liszt's essay on the opera Alfonso und Estrella. In addition to the editors, the contributors are Leon Botstein, Lisa Feurzeig, John Gingerich, Kristina Muxfeldt, and Rita Steblin.
**NOTE: I recommend parents screen books & DVDs before allowing their children to view them. You know your children and what is appropriate for you kids, these are merely suggestions.
SQUILT is another fantastic resource to introduce kids to music and help them fall in love with the classics. Since Schubert is the bridge between the Classical and Romantic eras, he is covered in both the Classical Era: Volume 2 and Romantic Era: Volume 3.
Are you ready to get started? Download the monthly composer printable pack below.
Want more ideas? Follow my Homeschool: Music board on Pinterest!!
Follow In All You Do's board Homeschool: Music on Pinterest.