I absolutely love Christmas music. I would play it year round if my family would let me. Our oldest shares my affection for Christmas music and so this year I will be using that to my advantage in our musical studies!!
Since most people, including kids, enjoy Christmas music – now is a great time to get them really interested in studying music. Hopefully that will spark an interest in them that will encourage them to continue studying music and composers throughout the year.
But, how can you use Christmas music in your homeschool?
Well, first you need to plan ahead. There are so many great songs out there to listen to and utilize, that you need to start planning now so you won't be overwhelmed.
Next, pick out a few songs to listen to and analyze. You can analyze the lyrics, the rhythm, the composer, the lyricist – there is so much you can do with just one song! Here are a few of my favorites you can start with:
I Heard the Bells on Christmas Day
Auld Lang Syne (we sing this at New Year's, but it would work)
You could also learn about songs from a certain era of time.
Christmas Music from the Baroque Era
Christmas Music in the Victorian Era
Christmas in the Post-War Years
Or songs from a region or country! There are many great Christmas songs from other countries.
Welcome Christmas: Carols and Lullabies from around the World
Kids Sing Christmas Around the World
Christmas Carols from Around the World
Christmas A Cappella: Songs from Around the World
Have your kids learn and "perform" this play, Christmas Around the World, to learn more about Christmas in other countries.
Or do an extensive, in-depth study on one composer or singer and his songs.
There are so many options and combinations you can use to study music and notebooking pages are a great way to get started! So, here's a fun pack for you today! I created these fun Composer and Christmas Song Study Notebooking Pages for you! There are 18 different pages in several different styles in manuscript lines and plain lines.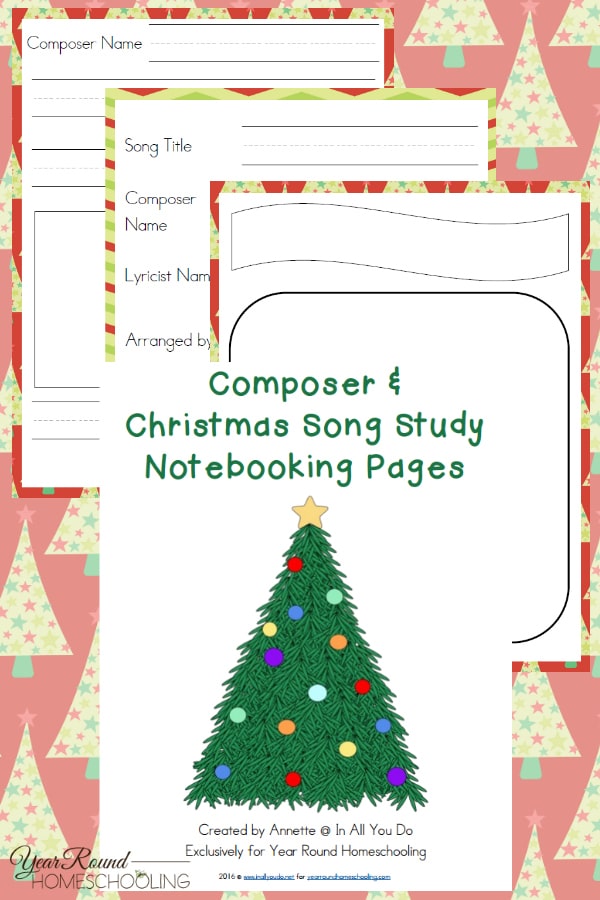 To receive this Composer & Christmas Song Study Notebooking Pages freebie you MUST sign up to receive our emails below.
Be sure to check your spam for the freebie. It will be coming from misty@yearroundhomeschooling.com
The following two tabs change content below.
Annette has been married to her husband and best friend for 10 years. Together they are raising their four children to follow the Lord's will, no matter what. Annette longs for the day when she will meet her 5 angel babies who have entered heaven before her. She enjoys creating 
FREE PRINTABLES
 for homeschool families and she gets her scrapbooking fix in by making 
Subway Art
 for herself and her readers. You can follow her crazy life at 
In All You Do
 where she blogs about homeschooling, gluten- and grain-free recipes (when she cooks), homemaking, the occasional DIY projects and maintaining her sanity. You can also keep up with her via 
Facebook
, 
Twitter
,
Google+
and
Pinterest
.