This Music Challenge is a fun resource for everyone in the family, whether you have a budding musician, a child that enjoys music but doesn't play or your entire family sings together.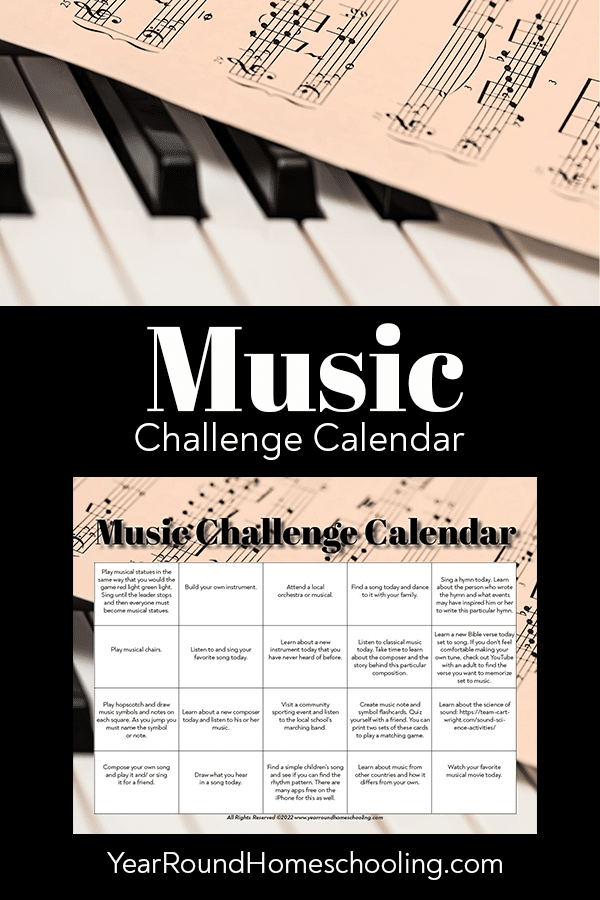 I love music. The style of music and how often and loud I listen to music have changed over the years, but I still love music.
That's why I believe it is important to introduce our children to different music genres. What they love and enjoy now, may not be their music style of choice in years to come.
Music class can be a challenging one to tackle, especially if you and/or your children aren't musically inclined.
However, there are many ways to be entertained and educated by music at the same time.
Over the years, my children completed more music history, composer and style studies than private music lessons.
While I personally love to play music vs. study music history, my children would rather listen to and learn about the history and composers.
Everyone can study and enjoy music in their own way. There isn't a right or wrong way to experience music.
If you're struggling or just need a few new ideas for your music class, this music challenge might be just the ticket!
This challenge will teach your kids to enjoy listening to a local band, dance to a favorite song, create a musical instrument, play musical chairs and much more!
You'll find more fun monthly challenges to use throughout the coming year, be sure to check out my store page here.