"Mom, I'm learning what love really means by watching Grandpa take care of Grammy," my son said as he came in the front door one morning. David was staying at his grandparents' house at night to help care for my mom during her final days. My dad was able to get some sleep. This grandparent/grandson interact taught a lesson, which I could have never designed a lesson plan for. That is what a lifestyle of learning looks like.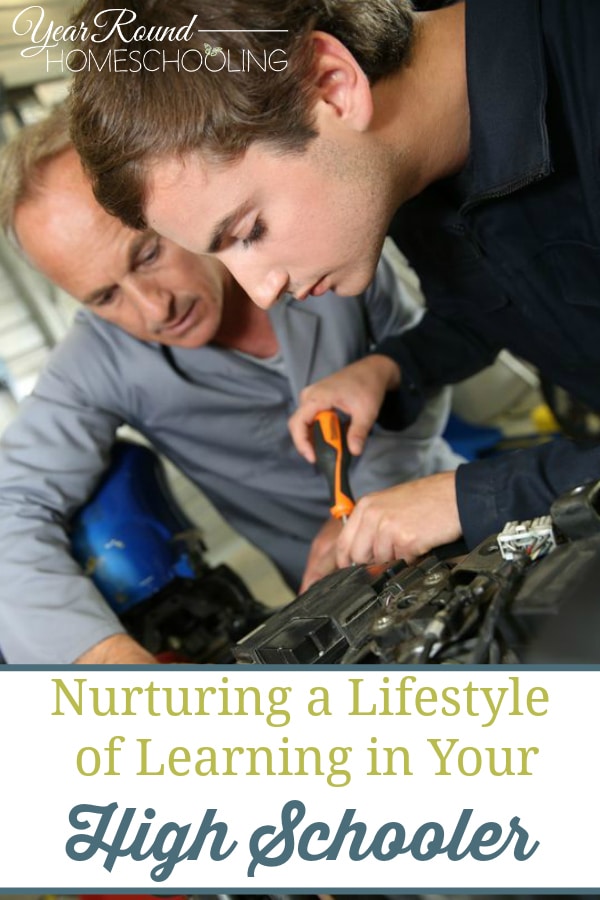 I stopped classroom teaching on a Friday and began homeschooling the following Monday. It was no problem, I assumed. After all, I had been to college, passed all of my teaching methods classes, and had teaching experience. All I needed was desks, textbooks, and lesson plans.
By the end of our second year of homeschooling there was no joy in our school. I slowly realized I had turned our homeschool into school at home. My kids were still struggling and we certainly didn't have the smiling family seen on the covers of magazines. As I watched my family, I began to notice that my children were more relaxed and still learning during "recess." (Yep, I had scheduled recesses.) I learned life had more to offer in curriculum than any of the companies.
There was a time I was so bogged down in lesson plans and schedules that when real life happened it got in the way of school. When someone called, I didn't have time for her. When someone came to visit, I was unnerved. I was more interested in checking off lesson plans than my children actually learning.
Do we want our children to learn to minister to someone in need or know the details of Pythagorean's Theorem?  Do we want our children to learn to enjoy a good book or view books as a burden they must get through? When we have a question, do we know how to find the answer? Do our children?
With a lifestyle of learning, or a learning way of life, our children learn in a way that compliments their learning style, their interest, and still covers typical required courses. Below are a few examples from our family.
On the road auto repair
I owned a mini-van that was a rolling automotive repair class. The classic lesson was when we were in Long Beach on a field trip. My older son learned to check and repair the water pump while on the phone with his dad. All three of my children know how to make minor car repairs that will get them to a garage because we did it on the road. No organized class could have taught them this.
Perfect stereo speakers
David was interested in music and sound. He took up the project to make "perfect" speakers. It involved weeks of study including interviewing, writing letters, learning geometry, the physics of sound, and drafting a plan for the speakers. David also had to earn the money necessary to build this project. He still has and uses those speakers in his home more than twelve years after the project. More importantly, he learned skills he's been able to use on the job.
Current events
Usually we think of current events as what is in the news. Certainly, there are a lot of lessons in the news. The daily news reports can reap lessons on geography, science, government, and even writing.
There are other current events that can spark learning. One example is movies. My younger son Jack is very knowledgeable on the French & Indian War. Not because we visited Ft. Ticonderoga, but because we watched the movie The Last of the Mohicans. It prompted reading of other Cooper novels, study of the French and Indian War and reading biographies of Ethan Allen and Benedict Arnold. When we did visit Ft. Ticonderoga, I listened as Jack gave a history lesson to our tour guide.
Many parents worry about not having a structured curriculum. They believe it won't be possible to show that there is actually learning. This is especially true for those homeschooling in states where reporting is required. There are ways to record learning without tests and grade books.
Keep a journal of everything done in a day. It's amazing to what learning is accomplished. Only keep notes; don't go into great detail. An example might be the weather. An entry on a snow day might be "shape of snowflakes, looked up snow in Bible, temperature of snow, major snowstorms in history and made perfect snowballs." It helps to record subjects and number of minutes on each topic. In the above example, science, geometry, reading, and history are covered.
We all want evidence of learning. Sometimes the homeschool program we're enrolled in wants some evidence. All it takes is a review of our journal. Use a scope and sequence or other list, check off the topics covered (which may not be in a nice neat order), and count up the hours. This can be monthly, quarterly, or a couple times a year, depending on requirements.
Grading is probably the toughest question. Since my kids never saw a grade, it wasn't much of an issue for me. Nor is for many parents who use this style of learning. However, grades on a transcript can be important. Using standards can help both parent and child know what the expectations are and grades can be recorded on a transcript.
This is how I did it:
Set standards for each subject.
Such as read three novels, write an essay about literary technique, write a letter to the editor and complete a science project.
Generally, 180 hours is considered a full-year course. Those hours, when translated from a traditional school schedule, are really about 120 hours. It's possible to set a specific number of hours, such as 120 hours of typing equals one year of typing. Sometimes it may take our children more than one school year to complete the number of hours.
What is an outstanding? What is average? What is below average? In the example above of reading three novels. Three classic novels may be outstanding, while three middler novels may be below average for our student. Average may be somewhere in between.
David didn't get much in the way of schoolwork completed while he was helping his grandpa. With a lifestyle of learning though, he learned lessons that he will keep for a lifetime.
How does a lifestyle of learning interest you for your homeschool?
_______________________
Known for practical solutions to real-world situations, Susan K. Stewart is a teacher, writer, and speaker. Susan is the author of three books,
including Preschool: At What Cost?, Science in the Kitchen: Fearless Science at Home for All Ages, the award-winning Formatting e-Books for
Writers and recently released Harried Homeschoolers Handbook.. Susan and her husband, Bob, began teaching their children at home in 1981 and are considered pioneers in the modern home education movement. The Stewarts lives in Central Texas with their three dogs, three cats, nine chickens, and a donkey. They have three children and five grandchildren. You can read more of Susan's practical solutions at www.practicalinspirations.com.