Homeschooling high school requires a lot of decision-making. Since one size does not fit all, the first thing you need to do is look at your child and determine his or her goals. Are they heading to college? To a vocational school? To the military? Are they special needs? Or highly gifted? There are so many important subject curriculum decisions to make, but one choice often gets overlooked. Let me encourage you to consider that no matter what your student's goals or giftings are, all high schoolers should get a fine arts credit.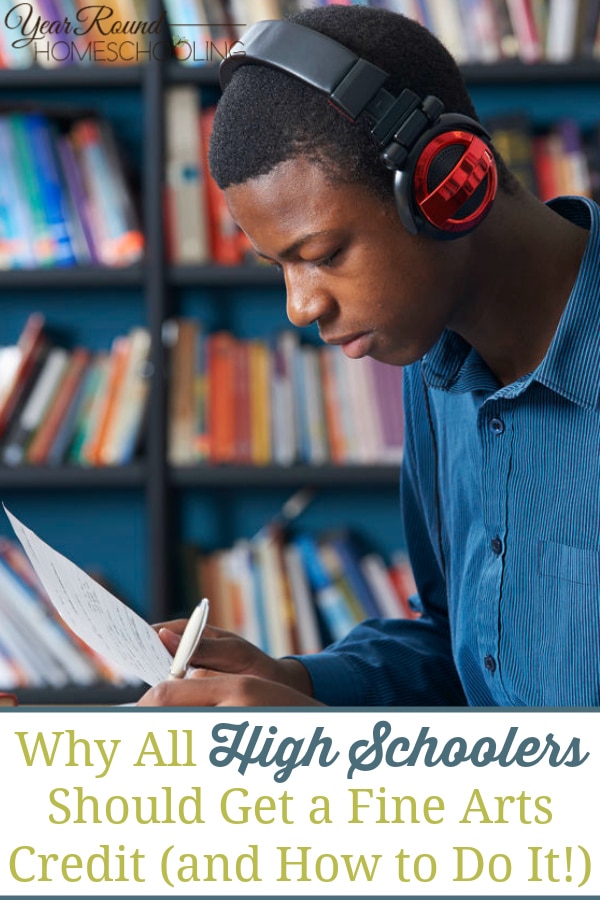 Why Pursue a High School Fine Arts Credit?
The fine arts tend to tie together the disciplines of history and culture. Thus, a course in fine arts helps your student develop an integrated approach to learning and a worldview maturation.
While there are numerous fine art credit opportunities (art or dance, for example), I recommend a course in music appreciation. It doesn't matter if your high schooler is musical or not. Students who learn music history will develop a better sense of history in general. Musicians and composers greatly influenced their contemporary societies in all eras. It's fascinating to see how music and culture influence one another as they press upon the greater societal and historical narrative of each time period.
For example, have you noticed the many references to classical music and composers in books, movies, etc.? Studying music history or music appreciation will also help your high schooler understand the integration of these various art forms.
Another reason to get a fine arts credit is that it's fun and fairly easy! We don't want our kids to only be taking hard courses during high school. Give them a breath of fresh air with a music appreciation course.
The Easy Way to get High School Fine Arts Credit
Study music history by studying the composers! It's that simple. Choose a composer. Learn about him and listen to his music. Then choose another. Do a few projects along the way, such as writing an essay or doing a Powerpoint presentation. Read about the composers, too. I have a list of my favorite music appreciation/music history books here.
What are the Best Composers to Study?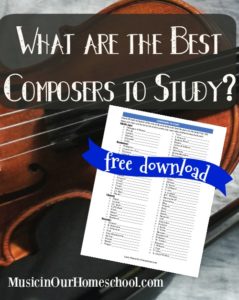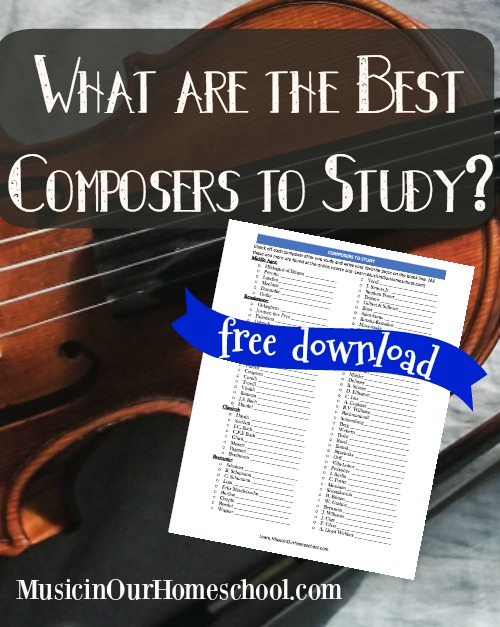 To help you out, I've compiled a list of some of the most studied composers of the Western music tradition. Download the free printable "What are the Best Composers to Study" here. You don't need to study them all . . . unless you want to! Print out a copy, check off the ones you learn about, and write down your favorite piece that you listened to of each composer.
Online Music Appreciation Courses
If you want some guidance in your fine arts Music Appreciation credit, I have created three self-paced online courses that I know you'll love. All the decisions are already made for you! The best composers are included, along with an interesting biography and wonderful videos of their music.
What's keeping you from having your high schoolers get their fine arts credit?
_______________________________________
Gena Mayo is a homeschool mom of 8 and music teacher for more than 20 years. She loves encouraging and equipping other homeschool moms to include music in their homeschools. Learn about resources, download freebies, and enter giveaways at Music in Our Homeschool. Find easy-to-use online courses at Learn.MusicinOurHomeschool.com.