Penguins are one of the most popular arctic animals around…and for good reason! Through this Penguins Unit Study, your kids will discover just how adorable, sociable, and interesting they are!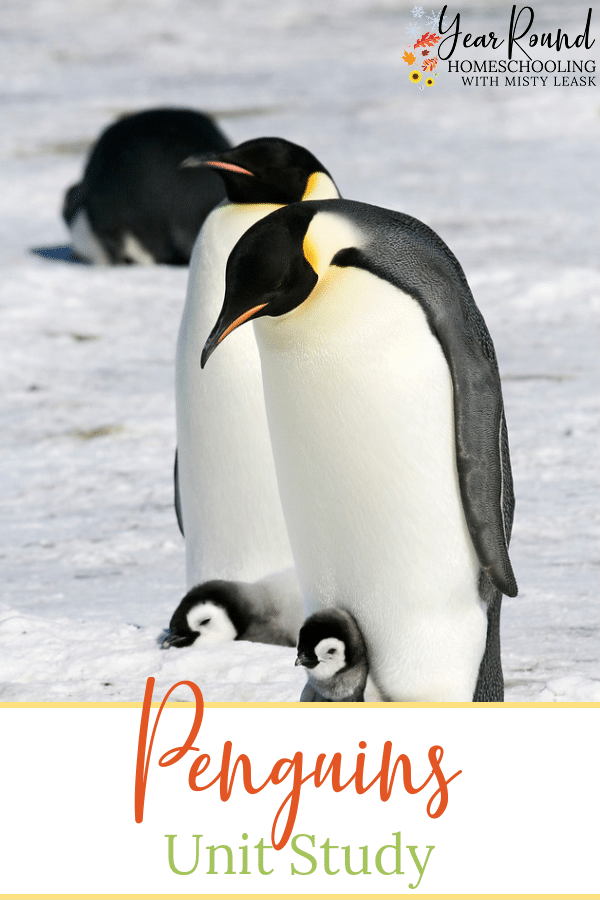 All About Penguins
To help your kids learn the basics about penguins, watch the YouTube video below and then ask your kids to answer the following questions.
Do penguins have teeth? (Answer: No. But they have spikes on their beaks that help them to get a grip on their food.)
Why do penguins swallow stones? (Answer: Scientists think they do this to help them digest food and add weight for diving underwater.)
How do penguins cool off? (Answer: By dog paddling, ruffling their tail feathers, and holding their arms away from their bodies.)
How long do penguins typically live? (Answer: Wild penguins live from 10 to 15 years.)
How much do penguins weigh? (Answer: From 2 pounds to 90 pounds, depending on the species.)
Penguin Crafts and Activities for Kids
Paper Heart Penguin Craft – Crafty Morning: This is a super cute heart-shaped penguin craft that's easy for all ages to make! Plus, it'd be an adorable wall or window decoration during the winter.
Free Polar Animals Notebooking Pages – Look! We're Learning!: Learn about all kinds of polar animals, including penguins, with this set of free Polar Animal Notebooking Pages!
Penguin Sensory Bin – The Chaos and the Clutter: If you try to use sensory activities in your homeschool, your kids will love exploring this simple Penguin Sensory Bin during your penguin unit!
Kids' Books about Penguins
These beautifully illustrated children's books about penguins are an excellent addition to this unit!
Featured Penguin Printables
For more penguin learning fun check out our Penguins Activity Pack! Inside you'll find the following penguin-themed activities; penmanship, math and notebooking pages for PreK through Middle School, matching games, bingo cards, spelling and vocabulary worksheets and mazes!