Even though the planet Mercury is the smallest in our solar system, there is a lot to learn about it. These planet Mercury Notebooking Pages provide your children a fun way to share what they've learned about the planet Mercury.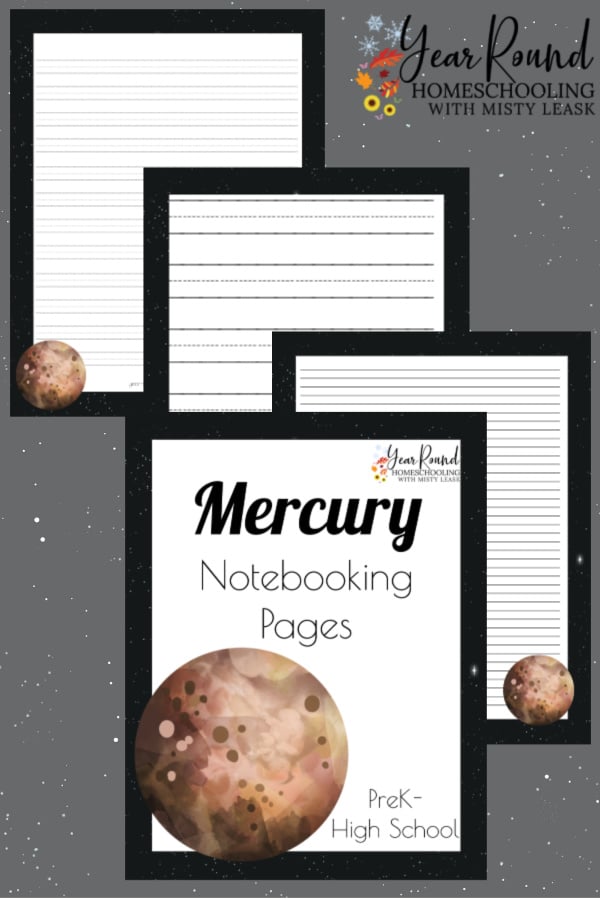 Mercury is the closest planet to the Sun. You'd think that would mean it was the hottest planet in our solar system, right?
Nope. It isn't. That is just one of the many things I learned while studying the planet Mercury myself.
I love to learn, that is probably why I enjoy being a homeschool blogger so much. However, I haven't always had time to write and create my own resources.
Teaching your kids about Mercury doesn't require a lot of work from you, in fact, I've already put together everything you'll need! My Planet Mercury Unit Study features a lesson, videos, online articles, literature options, art projects and much more!
You can pick and choose which you'd like to use, designing the perfect planet Mercury study for your homeschool.
These Planet Mercury Notebooking Pages are an additional resource that your children can use to share what they've learned, complete research, write stories and much more!
This pack contains Mercury-themed lined pages for all your students from Preschool through High School.