Do you or your kids know that Venus' nicknames? Can you see Venus from the night sky? There is so much to learn about Venus and these Planet Venus Notebooking Pages are a great way to record it all!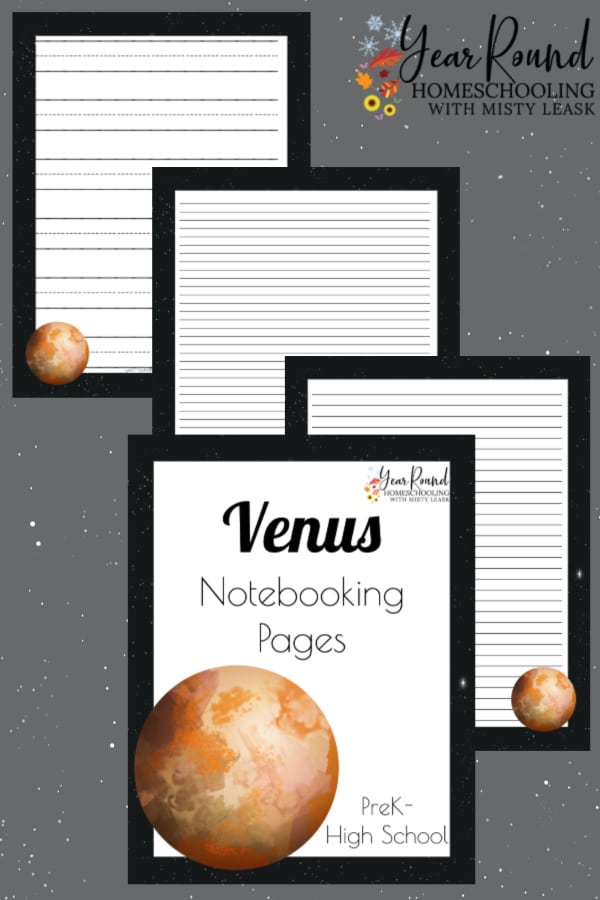 Venus isn't the closest planet to the Sun, but that doesn't keep it from being the hottest planet in our solar system.
The sun rises in the West and sets on the East on Venus because it rotates the opposite direction of almost all the other planets.
It is amazing what you learn as a homeschool mom (and blogger!) isn't it?!
Putting together a study on the planet Venus doesn't require a lot from you because I've already organized everything you'll need! My Planet Venus Unit Study features a lesson, videos, online articles, literature options, art projects, games and much more!
You can pick and choose which you'd like to use, designing the perfect planet Venus study for your homeschool.
Your kids are sure to enjoy recording facts, writing songs or stories about Venus, complete research projects and much more using these Planet Venus Notebooking Pages!
This pack contains Venus-themed lined pages for all your students from Preschool through High School.