My son will be entering 8th grade in just a few short months. I'm not sure how the time got away from me, but it is true. I've known that high school was coming soon, but somehow it really snuck up on me. The OCD, over the top planner in me is causing me to begin preparing to homeschool through high school, but I didn't know where to begin!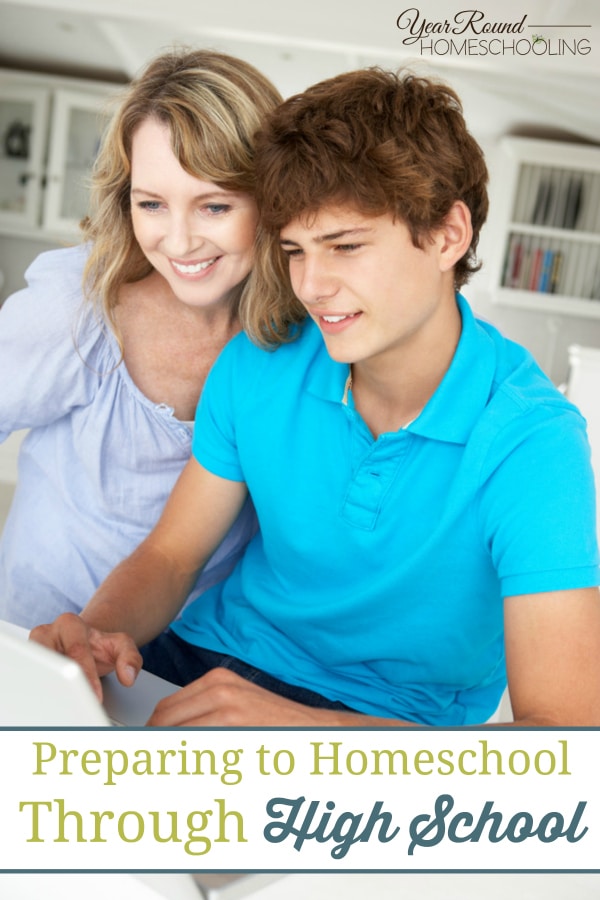 Since we run a family business that keeps us pretty busy year round and I have an online business that is busy year round as well, I knew that for high school I was going to have to do something different for my kids. I realized that I was going to need to have curriculum all ready to go for my kids, that I wasn't going to be able to put all of their studies together for them from scratch like I am right now. I had to accept that I was going to need help ensuring that my children didn't fall behind during their high school years.
Thankfully I am a homeschool graduate and I do not have to walk our homeschool journey alone. Anytime that I need help or advice, all I have to do is call my mom. She is my homeschool hero. After all, she successfully homeschooled both or my brothers and I and is a wealth of homeschool knowledge!
While we were in Texas on our recent unexpected trip, I took the time to sit down with my mom and discuss homeschooling through high school. While I knew what I studied in high school, I didn't know what all was "required" and I needed her to share some wisdom with me! I also wanted her to look at the curricula options I was considering using for high school. Our family life is much different than mine was growing up, so I knew that I would be stepping outside of what I knew about homeschool high school curriculum and I wanted another homeschool mom's opinion before I made the decision on what to use.
Before talking with my mom about high school curricula options, I had already narrowed it down to two options. One was more expensive, solely online, had a very "textbook" approach and is very well known. The second option was frugal, online and printable based and allowed for a more child led approach.
The reason that I was conflicted with which program to choose was because I was afraid that in the option I liked best that the resources were not going to be up to par. I knew that it was the best fit for my children's learning style, but I didn't want to hold my children back and cause them to not to be prepared for life outside of my home. I didn't want to fail my children during the last 4 years of their homeschool journey.
I pulled up both websites for my mom to look over and left her alone for an hour or so. She had my log in information for one site, so that she could actually look at the resources that my children would be using throughout their high school years. The other site she knew their curriculum because the publisher has been around a long time.
When she had finished looking over both websites and the curricula options they had to offer, so told me that the content on the site that I was leaning towards was actually more thorough and educational than what would be provided on the other site. She encouraged me to go with the more frugal site and ensured me that my children's high school education would be just fine by doing so.
Over the next year I will be delving through the required courses for high school and comparing them to the resources available on the site. Beyond that, my son will be able to choose his own electives each year, just like we do now! I never even thought about how following a child led homeschooling method in Middle School would prepare him for choosing his own electives in High School?!
I know you're probably thinking, well what curricula will you be using for high school?! The answer is, Schoolhouse Teachers! We started using their site a little bit over the last year and I even created one of the Middle School classes over there. Their site truly is a blessing to homeschool families as it truly is a frugal homeschool option, all of your children can use it with no additional charge! It is one rate for your entire homeschool family!
The best part!?! With your membership you'll have access to over 250 classes from Preschool through High School! There are NO added fees for textbooks or additional courses.
Their courses are organized by grade level and subject, which makes finding courses for each of your students extremely easy to do! You will not be disappointed by the courses, video streaming and more that you'll have access to with your membership!
An added bonus to your Schoolhouse Teachers yearly membership, you'll receive a gold membership to Applecore, a simple (but amazing!) online record keeping service! 
What curricula do you use for homeschooling through high school?