Finding a movie that the entire family will enjoy can be difficult. However, Prince Caspian is full of adventure that everyone will love. This Prince Caspian Movie Study provides questions that you can use for family discussion.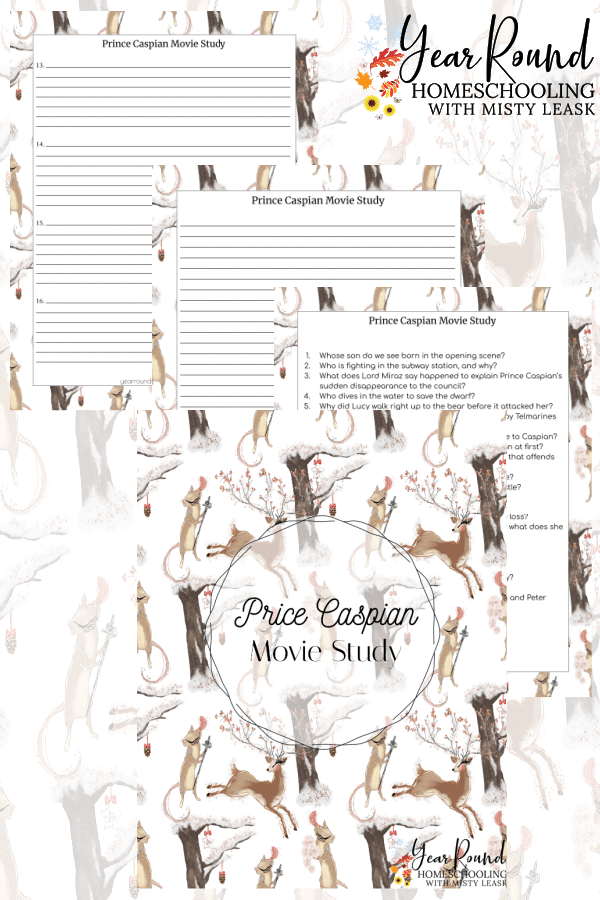 While visiting Narnia for the second time, the Pevensie children; Peter, Susan, Edmund and Lucy discover that the Telmarines have conquered Narnia. Even though it has only been a year since they first arrived in Narnia, hundreds of years have passed since their first trip to the magical world.
Alongside, Prince Caspian, the Pevensie children fight to free Narnia from the Telmarines rule and place the rightful heir, Prince Caspian, on the throne.
The Chronicles of Narnia is a series of classic literature written by C.S. Lewis. The series contains seven works of literature in all; The Magician's Nephew, The Lion, the Witch and the Wardrobe, The Horse and His Boy, Prince Caspian, The Voyage of the Dawn Treader, The Silver Chair and The Last Battle.
Movies have been made for three of the seven books; The Lion, the Witch and the Wardrobe, Prince Caspian and The Voyage of the Dawn Treader. At this time, there are plans for a fourth Narnia movie, The Silver Chair. When it will be filmed and released, remains to be seen.
Inside this Prince Caspian Movie Study, you'll find specific questions for your children to answer related to the movie and different style writing pages. Students can use the writing pages to answer the questions, put together a character analysis or write a movie review.
My love for all things literature is keeping me busy creating resources, so be sure to keep an eye out for new items in my store. With more resources for The Chronicles of Narnia specifically coming soon!