A trip to the rainforest sounds like an amazing adventure to put on a bucket list for someday! Meanwhile, this Rainforest Animals Study is a fun way to learn about the animals you might see on your visit!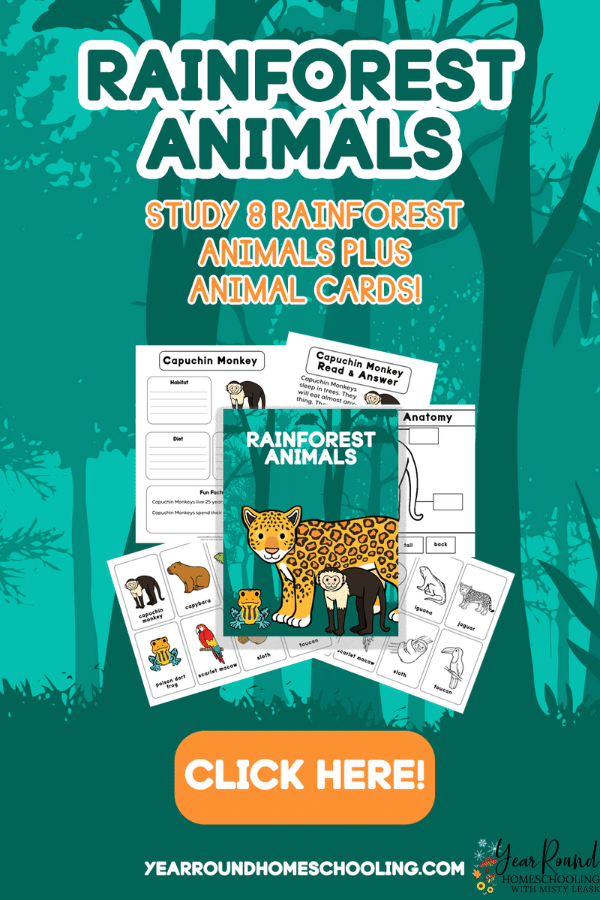 Growing up, Ferngully was the closest I ever got to the rainforest.
When I had children of my own, I introduced them to this "magical" world.
The one thing I remember about the movie today is that people were destroying the rainforest by taking the trees.
Living in the North Woods of Maine, I can attest to what that really looks like and how it affects the land and animals.
Perhaps the screenwriter wasn't too far from the truth in that movie after all.
It is often said, "If walls could talk.". More often, I wonder what animals would say if they could talk.
While that conversation might not be appropriate for your little learners today, I'm certain that they'll enjoy learning about the animals of the rainforest.
There are 8 different rainforest animals featured in this Rainforest Animals Study.
Your students will need to do their own research about each rainforest animal to complete the fact page, anatomy page and read/answer pages.
For a fun wrap-up of their study, your students will enjoy playing a matching game with the included color and black and white rainforest animal cards.