While homeschooling is quite possibly the greatest gift we could ever give to our children, burn out is a real issue that we must learn to combat. Burn out isn't simply something that we must watch for in ourselves. Our children can grow tired of the daily grind as well.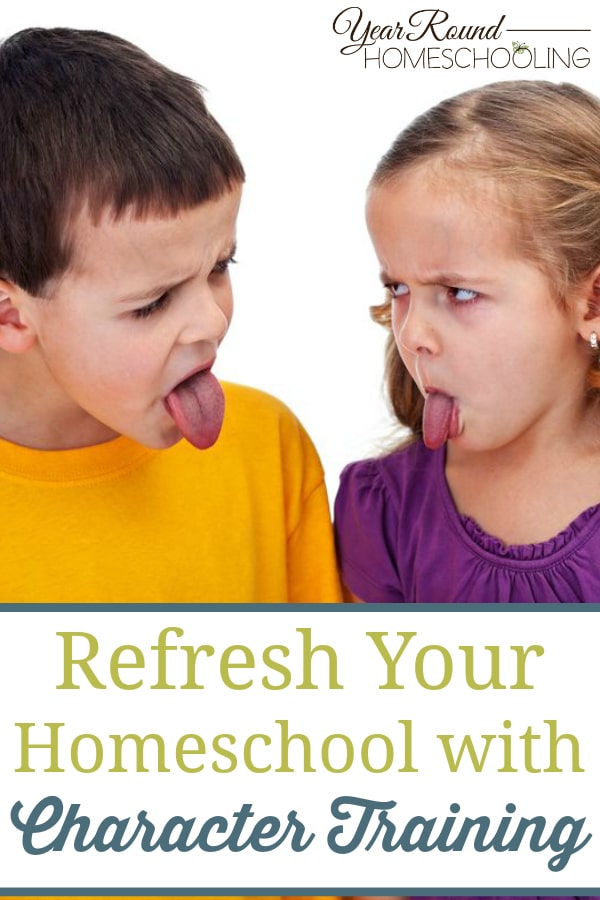 When our children grow tired, attitudes flair. I'm not talking about good attitudes, mind you. It is the bad ones. I'm a homeschooling mama of eight children, and I've seen my fair share of bad attitudes. When these attitudes begin to form into a daily pattern, I usually take this as a cue to step back and refresh our homeschool with character training.
Character is the backbone of who we really are. It will translate into each and every area of our lives, and the character flaws that take root in our children now will likely follow them into adulthood. Our children's character will effect our grandchildren, and even our great-grandchildren. The generational impact of character is huge, but don't despair! It is never too late to begin working on character flaws with the Lord's help.
In our family, I usually take a few days to pray and study before I begin making a few necessary adjustments to refresh our homeschool. Then I jump in feet first and get to work! Some steps that we follow include:
Take a break from academics. When we first began to homeschool, academics were always at the top of my list. Over time, I've realized that while academics are very important, the character of my children is even more valuable. If our homeschool has grown stale with bad attitudes, or poor character traits begin to rear their ugly head, I know that I must focus all of my attention on these issues for the time being.
Work on relationships. We can teach our children about character until we are blue in the face, but if we don't hold their hearts it will not stick. Our children need to know that we want the best for them, and that we are rooting for them to succeed. They need to know that they can trust in us. When these core principles are put into place, they will understand internally that the character training we are implementing is for their good. They will understand that their homeschool studies in general are for their good. Cultivating these relationships takes time, and we must be willing to put in the effort.
Look through character resources and stick to your plan. I understand what it is like to have a curriculum budget that must be adhered to. It is so easy to bypass character material in order to invest in traditional academics. While we of course must invest in academics, character training is equally important. Write down character goals for your children in your journal or planner to remind yourself why character material is a good financial investment. If your resources are truly tapped out, there is a wealth of information to be found on websites and blogs which are sure to help your family. Sometimes simply switching gears and introducing new material into your homeschool provides the refreshment you are looking for.
Be sure to model the character traits you would like for your children to have. We can buy the very best in character curriculum, but if we don't model the good behavior ourselves, it will be all for naught. Our children are watching us, and we must try our best to physically show them the type of character we would like them to have. If you have young children, be sure to smile and love on them often. Changes in character for the better can be rewarded in both old and young alike.
Don't become discouraged if you don't see immediate results. True changes in character begin with a heart change, and take time. While exterior changes in character are a good thing, simple behavior modification shouldn't be what we are looking for. Our goal should be true heart change, which will only happen with the Lord's help. Be sure to remain diligent, and give constant gentle reminders and reinforcement when good character is seen.
Once our children's character begins to take shape, they hopefully will begin to look at our homeschool in an entirely new light. Refreshing our homeschools with character training will take time. Yet in the end, the results will be great and should last a lifetime.
Have you ever taken a break from academic studies on your homeschooling journey to focus on character? If so, how did you do it and what was the outcome?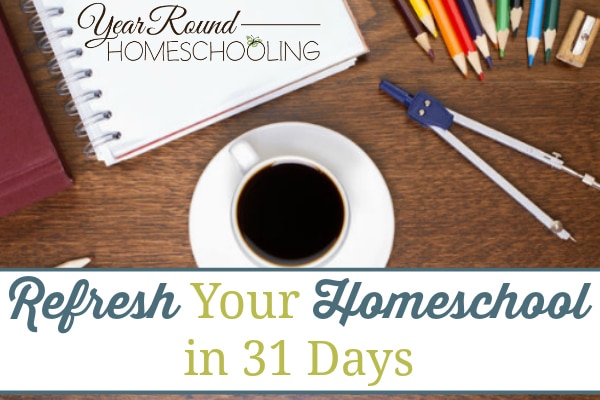 ---
NICOLE CRONE enjoys writing encouragement for moms in which God is glorified at her blog, Children are a Blessing. She is wife to Rusty, and mom to eight sweet children. Nicole has been a homeschool mom for thirteen years, and is currently a member of The Old Schoolhouse Review Crew.