Sometimes homeschooling is strangely similar to my classroom teaching days. Around the holidays I find this to be true. By mid-December I'm as ready for a break as my kids are. After a few weeks of messed up routines, too much candy and too many gifts to count, I'm ready to start back to school. Some years I've been pushing to start back before New Years- to the dismay of my kids.
Then, just like I did in my classroom, I begin January with fresh new lesson plans and fun ideas and even a few new reading books, perhaps. Yet, after a few weeks, things don't seem as fun and exciting. So, by the end of January, I've found myself barely hanging on.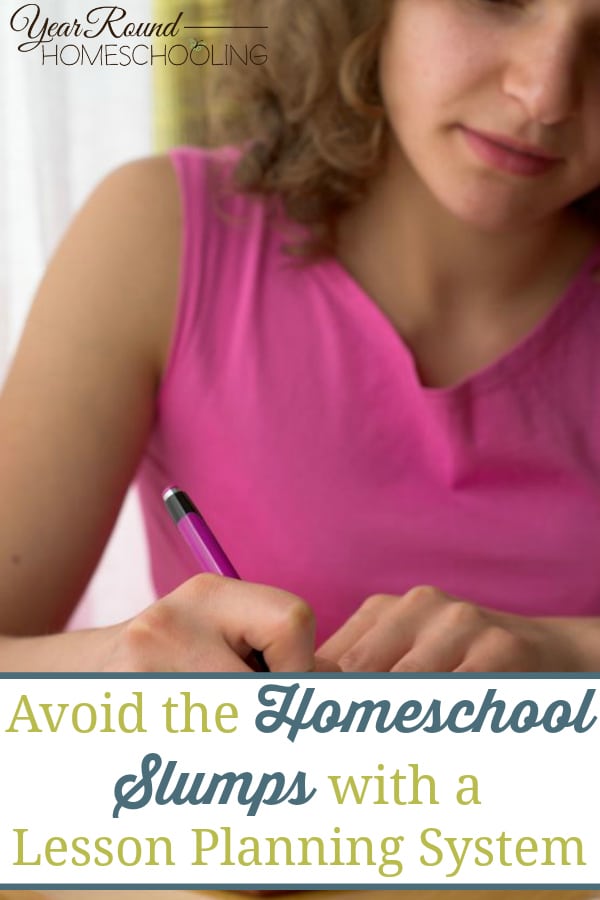 I'm not truly ready for another extended break, but I am ready for something new, something different. Instead we're still stuck with our same-old curricula, trying to get through this year's work, when honestly I'd sometimes like to stay in bed all day and not finish the current year at all.
Over the years that I've homeschooled- almost fourteen now!- I've come to recognize the symptoms of the coming January slump and understand how to prevent it- or at least be able to work through it. One of the most important things I've found to help me prevent the January slump and to keep on working through the current school year's work is to have my ducks in a row when it comes to lesson planning.
One reason that I used to become so frustrated by mid-year of our current homeschool year is that I didn't have a successful lesson planning system in place. Instead I would spend hours on Sunday nights deciding what we needed to do during the week, only to have to scratch out, pencil in, and change things because we really didn't accomplish what we should have. At times, worse still, I wouldn't take time to plan, intending to "figure it out as I went along." Needless to say, that was rarely successful.
I finally realized that having an effective system in place motivated me to keep going through our homeschool year even when things got a little rough.
You are probably asking yourself, how can a lesson planning help you avoid January burnout?
A lesson planning system keeps you accountable.
You know those cold winter days when it would be easier to stay in bed all day and let the kids watch movies and drink hot chocolate? That might work once in a while. Yet, after too many of those days, you find yourself feeling behind and frustrated. That overwhelmed feeling contributes to the January slump syndrome.
Having a lesson planning system that works for you keeps you accountable by giving you set goals to reach and set assignments to complete. Knowing that you have a working lesson plan makes it easier to get out of bed, put on something warm and fuzzy, and keep going even when you don't feel like it. All because you have a lesson planning system that you're going to (hopefully) look at for the purpose of checking off completed work. You're more than likely find that are little more motivated to actually do the work!
A lesson planning system keeps you focused.
I have a confession. I've already ordered at least some of the curricula that we'll be using for our next homeschool year. As in the year that won't start until August 2017 and at the time of my writing this post, it is not quite January 2017 yet. I tend to have shiny, new curriculum syndrome. Having an effective lesson planning system helps to keep me reined in- at least a little.
If you, like me, tend to begin curriculum shopping in December, having a working lesson planning system is going to help you stay focused on this year's work now. Instead of getting bogged down in the January blues because you're thinking of all the shinier, better, newer things you'll be doing come August, having that working lesson planning system to look to is going to help you stay focused on the here and now. Then, maybe you'll actually have fun with the remainder of this year's curricula, who knows?
A lesson planning system helps you feel productive.
There's lots to be said on the psychology of feeling productive. I'm not a psychologist, but I do know some things from experience. I know that if I have days and days of feeling unproductive, of feeling as if we've not done anything in the way of school, then it becomes harder and harder to get motivated to even try to be productive. On the other hand, if I check off some things I actually have accomplished- even if it is only a few- I feel more motivated to keep trying to accomplish more.
Come January, we often tend to face less-productive days. Kids are sick. We are sick. Plans that rely on other people are changed because they are sick. It is easy to get bogged down in the unproductive feeling. Having a working lesson plan can help you prevent this. If you're actively consulting your lesson plan and accomplishing even some of the things on it, that's going to motivate you to want to accomplish more. Instead of being bogged down in a feeling of being unproductive, you'll have proof that, yes, indeed, you've done something today.
A lesson planning system that works for you can be a big part of helping you to overcome the January slump. The key phrase there is "that works for you." Some people are super detail planners. They require a spreadsheet planner with specifics for every child and every subject. Some people are block planners. They prefer to schedule activities in blocks that might give more overview and fewer details. Some people love online planners. Some prefer pen and paper.
Some people- and this is where I fall- like to make specific long-term plans and then journal the detailed things that are accomplished each day. I couldn't find a written or online planner that really fit "my method" so I recently wrote and published the eBook Creating Homeschool Lesson Plans That Work. It is all about how to use the planning method that has worked for me for years and it includes free access to a Google Drive lesson planning system. If you're struggling to find a lesson planning system that works for you, I hope you'll check it out.
The system that works for you is the one you'll actually succeed in using and when you feel as if you have your ducks in a row, you'll have help overcoming the January slump.
How do you use a system to help you get through the wintertime slump?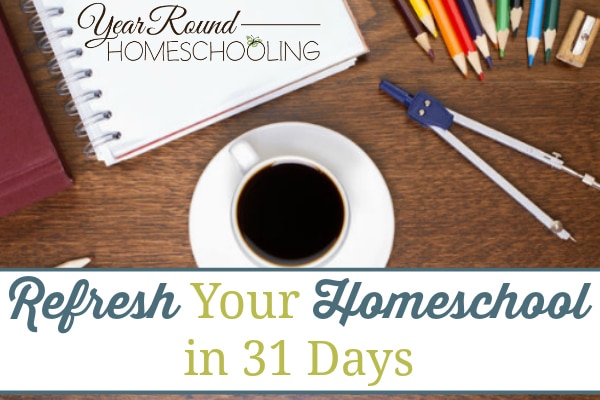 ---
Leah Courtney is a homeschooling mom of four. Her days are filled with being a mom, homemaker, and teacher. In her (very rare) free time, she enjoys blogging, reading, and reviewing books and curricula. These days she's learning the joys of being a mom of teens. You can read about her family and homeschooling life at As We Walk Along the Road.