Hello, January! For so many, this is the time of year when we are renewing our goals for life: health, finances, or maybe an even bigger change.
It is also when a homeschool mom begins to feel the slump. Maybe it is cabin fever for the kids, or the feeling of being "behind." The excitement of the holidays is over and it is time to be back on a productive schedule. Yet, somehow, you haven't got what it takes to get that ball rolling again.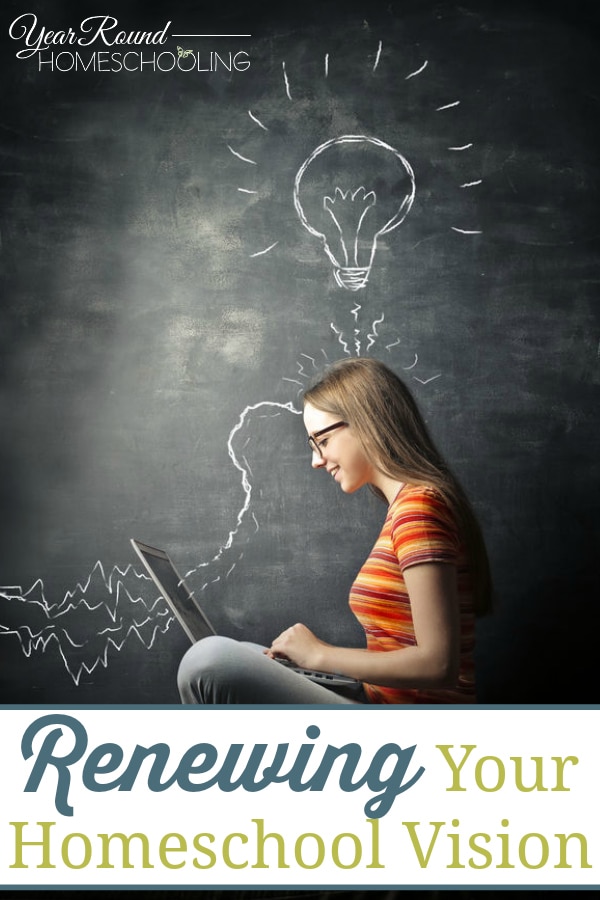 This is a perfect time to renew your homeschool vision.
vision is something every homeschool family needs. It is likely, you have one or at least, you had one when you began. There was something that compelled you to take on the duties of your children's education.
How to Renew Your Homeschool Vision
I always encourage new homeschool families to think about why they want to homeschool and write down their vision for what they want to accomplish. Have you done that? If not, now is a wonderful time to begin.
For some families, homeschooling was the plan from the birth of their first sweet baby. For others, it was a desperate attempt to help a child struggling with bullying, learning disabilities or health issues. Knowing and remembering your reasons is the first step to renewing your homeschool vision.
Our homeschool vision has a long list, but here are a few of our "whys"
We want to be the main influence in our children's lives, not the secondary influence.
We want our children to have a Christ-centered education and upbringing.

We want to keep our family relationships close by having the kids grow up 'together' instead of separated into different classrooms (or schools) all day.
We want our children to experience life as it happens, instead of experiencing 'school' and then 'after school.'
We want to be in charge of the content of our children's education.
Long ago, I sat down with pen and paper and wrote down all the things I wanted my children to learn (in big, basic categories). I wanted them to know all the histories, accomplish certain levels in math, to learn to read and write and speak well and to be able to defend their faith. I also wanted them to have the basic skills to run a home, manage finances, operate a car, grow food, make clothes, play music, and understand natural health and nutrition. Finally, I wanted them to be part of a close-knit family, to learn proper social skills and manners and to put God at the center of their lives.
Now that I had a basic idea of where we were going, I needed a map to get there. So I drew up a plan (again, very basic and broad). How would I accomplish these goals? Further, if I could only accomplish a few, which would be the priorities? And would my kids know what was most important?
Start a list like this for your family. Don't worry: you won't finish in one day. It is something that may take several days of prayer and thought, and it will evolve over the years. This is simply your starting point.
With these lofty goals in front of you, you'll either get excited or completely overwhelmed. Don't do the overwhelmed thing! After all, you've made it this far in your homeschooling journey! Now it is time to deliberately seek out encouragement for all the things on your list.
Start with scripture
Go to the source of strength, God's word for your encouragement:
If any of you lacks wisdom, let him ask of God, who gives to all liberally and without reproach, and it will be given to him. James 1:5
You shall teach them to your children, speaking of them when you sit in your house, when you walk by the way, when you lie down, and when you rise up. Deuteronomy 11:19
I can do all things through Christ who strengthens me. Philippians 4:13
Beware lest anyone cheat you through philosophy and empty deceit, according to the tradition of men, according to the basic principles of the world, and not according to Christ. Colossians 2:8
Read good books
Pick up an old book on homeschooling or seek out one you've never read before.
These are my top two favorites:
Educating the Whole Hearted Child by Clay and Sally Clarkson beautifully describes what a heartfelt, deliberate homeschool looks like. I think the only word to describe the environment is beautiful! This book has been the number 1 influence in my life for over 15 years.
You Can Teach Your Child Successfully by Ruth Beechick. If you need a back-to-basics guide to teaching your children the "three Rs" in a sweet, encouraging, inexpensive way, you'll find it here. Maybe your homeschool will benefit from a laid-back approach to the core subjects.
Attend a convention
Whether there is a large convention or a small meeting in your area soon, find a way to attend. These have been some of my best sources of encouragement and even excitement about the journey of homeschooling. Maybe you'll find a new book or curriculum or perhaps a certain speaker will have a message just for you. Getting away for a day or a weekend is usually a great refresher for the busy mom!
Form a support group
If you need encouragement, I'll bet those around you do, too! Consider forming a group for support. This could be in your local area, your church, or with ladies in your homeschool co-op. Get together weekly or monthly for lunch or coffee. Be willing to share openly and pray for each other. If you're in a homeschool desert region (ha!) consider an online homeschool support group. A Facebook group is a great way to reach out and join people from all areas of the country. You never know how you will be blessed by reaching out for your own encouragement!
Start Outlining Your Homeschool Vision Now
Outlining your vision is a wonderful thing to do with your spouse. See if you can arrange an evening out, or spend a Saturday talking and praying together. It may take 2 or 3 days to work out your list, your vision, and how you will accomplish these things.
Keep in mind that your children will grow, they may change, your family circumstances may change, and some of the things on your list will change. That's why a vision statement should be broad, and should be focused on the kind of people you are raising. Yet, the list will be more detailed, and maybe even specific to each child.
Having strong convictions about the WHY serves as a powerful reminder when your school day (or year) is not looking like you'd planned. Your vision will keep you focused. In our house, that means that if we have hard times, or difficulty learning a subject, or naughty behavior, my instinct will never be to 'just put them in school,' because that doesn't fit with any of our objectives. Instead, it helps us to look at the actual problem and tackle it as an individual problem, instead of as a homeschooling problem.
I hope you are encouraged to look at the new year ahead with all the possibilities! Remember: God gave you these children knowing you are completely capable of raising them. Are you ready to attack this new year with a renewed homeschool vision?
Do you have a homeschool vision? Why or why not?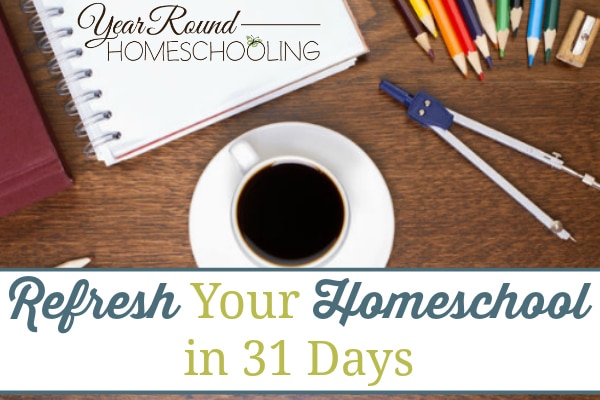 ---
Nicki Truesdell is a 2nd-generation homeschooler and mother to 5. She loves books, freedom, history, and quilts, and writes about all of these at nickitruesdell.com. She believes that homeschooling can be relaxed and that history is fun, and both can be done with minimal cost or stress, no matter your family's circumstances. Nicki is a member of the Texas Home Educators Advisory Board and The Old Schoolhouse Homeschool Review Crew.You can also find her on  Instagram, Facebook, Twitter, and Pinterest.