What is the right amount of education? Homeschooling your child is a big responsibility and you want to ensure that you're doing everything you're supposed to do. So, what is that precisely?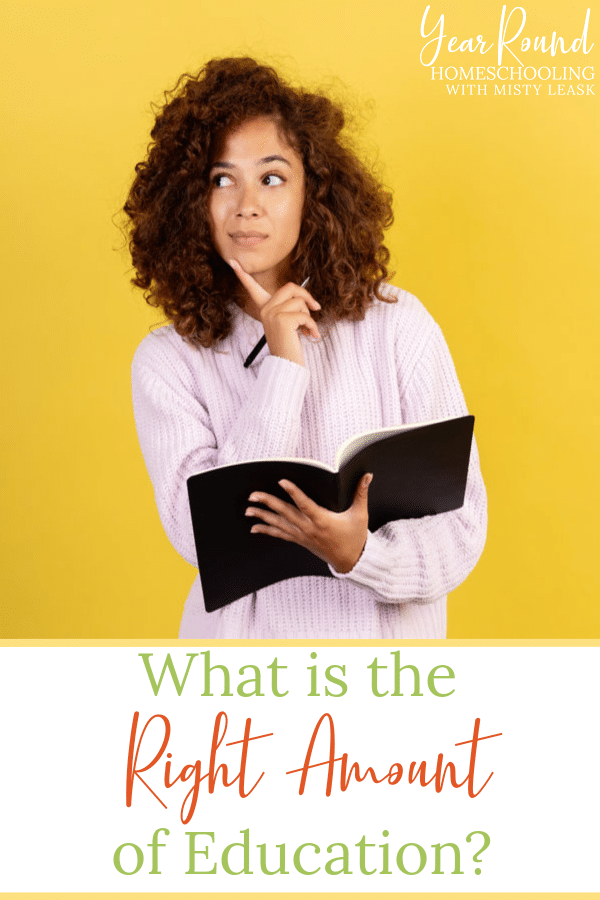 You've made the decision to homeschool your child. You know that it is the right thing to do for your family.
However, that doesn't mean that you're 100% certain of your ability to give your child what they need to be educated properly. To ensure that they receive the right amount of education.
These are all normal thoughts and concerns. So, take a deep breath and realize that you're not alone even though it may feel like it.
There are thousands of homeschool moms around the world concerned about the very same things you are.
What is the right amount of education exactly?
The right amount of education is dependent on the child.
Every child is unique. God's plan for each one is specific to them.
As parents, it is our responsibility to do our best to help them discover what that plan is.
How do I know I'm giving my child what they need?
If you're asking yourself this question, you're likely doing so already! Often we second guess ourselves instead of trusting the direction God has given us as homeschool moms.
I believe that the right amount of education is equal to ensuring that our children have the skills that they will need in life no matter what God calls them to.
Beyond that, I've found that a child is more willing to learn if they're given the ability to study things that interest them. Child-led learning will always increase the amount of education your child receives.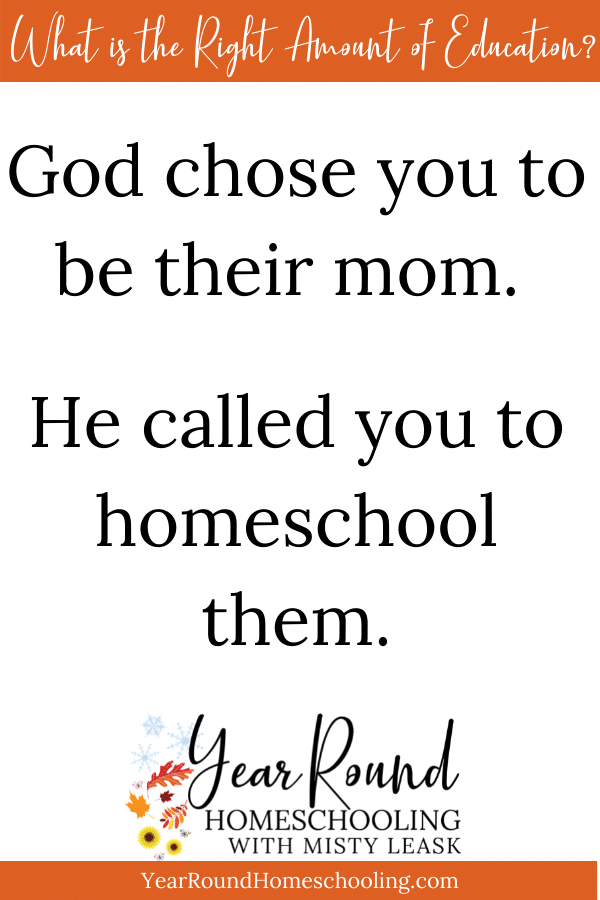 What does the right amount of education look like on a daily basis?
My children completed Math, Reading and Writing all year long every year because these are skills that I know without a doubt that they will need every day of their lives.
It doesn't matter if they become a doctor or are working at their local supermarket. Everyone needs to be able to do basic math and read and write well.
Aside from Math, Reading and Writing, you'll need to look into your state's homeschool laws to see what (if any) requirements they have for specific subjects.
When do I start prepping my kids' education for their future?
This is usually a question that we ask ourselves as we near the high school years. For some reason, those four years seem daunting no matter how long you've been homeschooling.
The answer is simple, you already are. Pssst…don't let that scare you.
God chose you to be their mom. He called you to homeschool them.
His direction is all that you need to provide the right amount of education and prepare your kids for their future.