Have you set your goals for kindergarten yet? Do you even have a goal? Should you have a goal- it is only kindergarten after all? Today I am going to share with you why you need to set goals for any stage of homeschooling and in particular, why you need goals for kindergarten.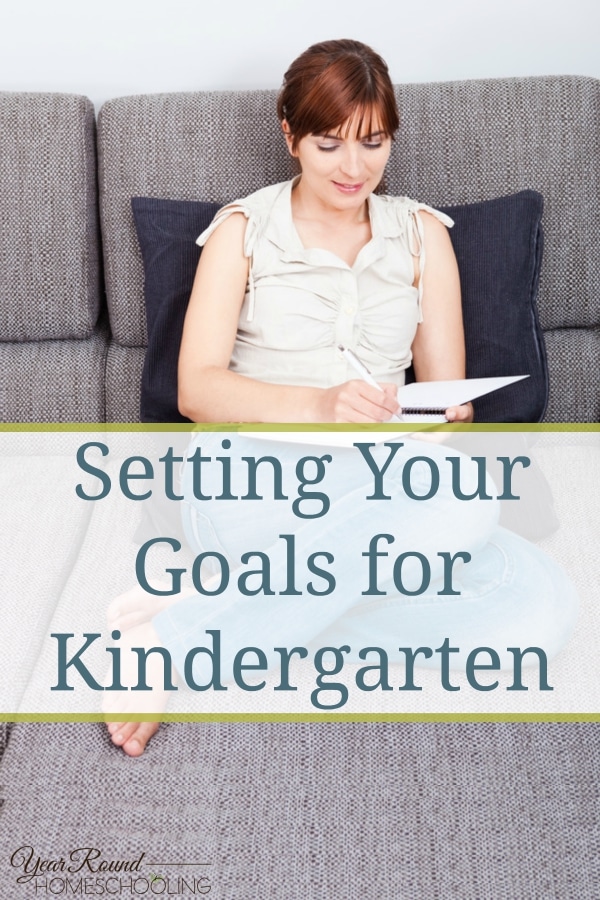 My daughter officially started kindergarten on July 7th. Amidst all the planning, trying to find the correct curricula and worrying if I had everything, I realized that I had not taken the time to set any goals for kindergarten! I was so caught up with everything else that I forgot to focus on what we would be working towards this year.
Now you may be wondering why I should have a goal (or a few) for kindergarten, so I will allow you to enter a corner in my crazy little mind.
HOW AM I GOING TO GET THERE
Our kindergarten goals will give me a clearer picture of what I have to do to get to the finish line.
For example, J is learning how to count to 100. How am I going to help her to do this? What activities and exercises do we have to do to introduce and solidify what I want her to learn?
Having this goal helps me to break it down further into smaller tasks that are far more manageable.
FOCUS FOCUS FOCUS
Having our goals for kindergarten this year allows me to focus on specific tasks and prevents me from bouncing off walls and getting off tangent. Keep in mind, I am not stating that we have to stick to the schedule strictly- but I have a guideline that lets me know that if our aim for science this year is to learn about desert animals, obviously I am not going to be talking about the solar system.
SUCCESS OR FAILURE
Your goals will help you measure if you have succeeded or failed at your homeschooling year. It can be a harsh thing to swallow, but without these goals, how are you going to know if you had a good year or a bad one? How will you know if your child can read: blends, cvc, cvcc, sight words etc if you never took the time to list all the steps needed to learn how to read?
These are just 3 reasons why I believe that you need to have goals this year for your homeschool, even if it is just for kindergarten.
What are some of your goals?

The following two tabs change content below.