September is National Piano & Classical Music month. While I love the piano and classical music and prefer to celebrate these everyday in our homeschool, I want to make September a little more fun and intentional.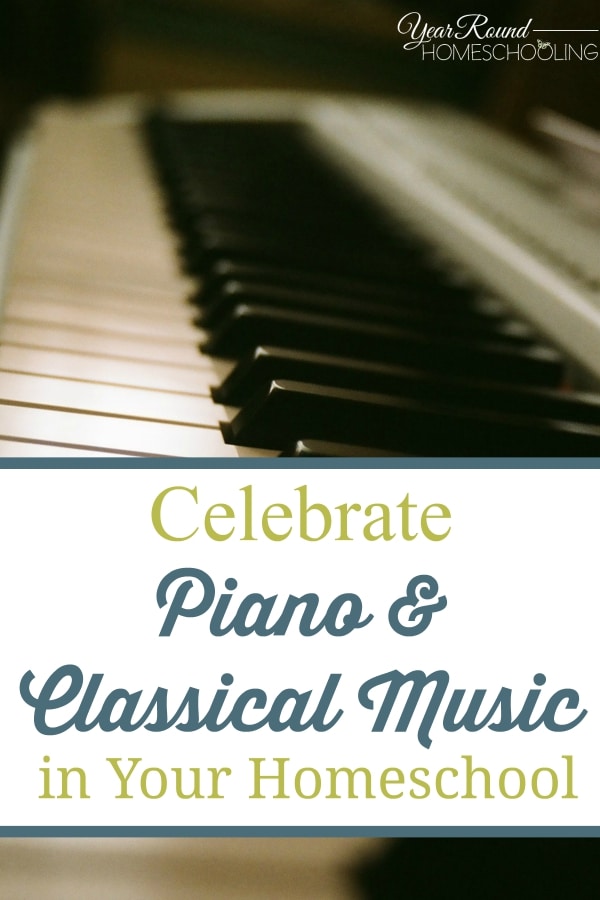 Even if you're not a musical family, you CAN celebrate in September. We have already talked about why music education is important and ways you can integrate it in to your homeschool. So, let's talk about several ways you can make September a little more fun as you celebrate National Piano and Classical Music Month.
Play at least one classical music piece a day as you study or work around the house. I know not everyone can read or study with music going, but if you can it's a great way to gently introduce classical music. If not, try turning on some classical music while you clean the house or have quiet time in the afternoon as the kids play. Not only is it relaxing, provided you don't play Beethoven's 5th Symphony, it is a great motivator for kids while they clean as the music pushes them in to a rhythm and they don't even realize it.
Do SQUILT lessons each day or week as an extra part of your homeschool. Again, while I believe music should be incorporated into your school schedule all the time, I know it's not feasible for everyone. So, why not start with a simple, quick and easy lesson that ANYONE can do and teach – even if you're not musical. SQUILT offers the perfect lessons for all ages. Older kids can do more research as part of history, while younger kids can simply learn how to listen to music and enjoy.
Try online lessons for piano. There are several apps and programs out there that are strictly online. You never have to leave your home. I find this a very good option, since my husband is a minister and often gets called away at a moments notice. Although I have a degree in music education (piano and cello), I am not always the best teacher for my kids. We start with the online lessons and I am there to correct and adjust as needed. It has seemed to work well so far.
Music in the park or Concert under the Stars. Not every one has access to such events, but you can easily re-create these events in your own backyard – especially if you live in the country! Simply gather your picnic blanket, some bug spray (if necessary) and your music selections. Then go outside and watch the sunset or sit out under the stars while listening to classical music. Sounds like a near perfect evening to me!
Listen for songs in well-known movies and try to identify them. Did you know that many and I would dare say most modern songs are based on classical music themes. They have a lot of the same or very similar melodies that you can learn to identify once you know some classical music.
Listen to music and identify the instruments. My youngest brother and I would have competitions to see who could name the most musical instruments in a piece as we listened on the radio. Often times he beat me, I'm sad to say, but it was great fun and good practice!
Listen to a selection of classical music from a specific genre and identify the composer. If you've studied classical music for a while, you might find this activity a little more fun that those just starting out. This is something we had to do in our Music Appreciation classes in college. It is a great way to learn how to identify certain nuances each composer would work in to their pieces.
Sculpt composers out of playdough or clay. Simply get some playdough or clay and start sculpting away as you work through the Monthly Composer Unit Studies we have released so far here on Year Round Homeschooling. Little ones could work on making note shapes out of the playdough as well!
Share music cupcakes! Bake some delicious cupcakes and decorate them with music notes to share with neighbors or family and friends.
Make cardboard instruments and put on a performance. This is a great hands-on learning activity for kids to do. Not only does it stretch their artistic imagination, they will have to use their listening ears when putting on a performance. Which instrument is playing now? How many beats until I come in again? Such a fun way to learn more about music and get everyone involved!
How do you incorporate classical music into your homeschool?