Summer reading is a wonderful pastime, for both young and old alike. Finding quality literature that will teach, challenge and entertain children can be difficult. However, these Summer Reading Lists make it easy for you!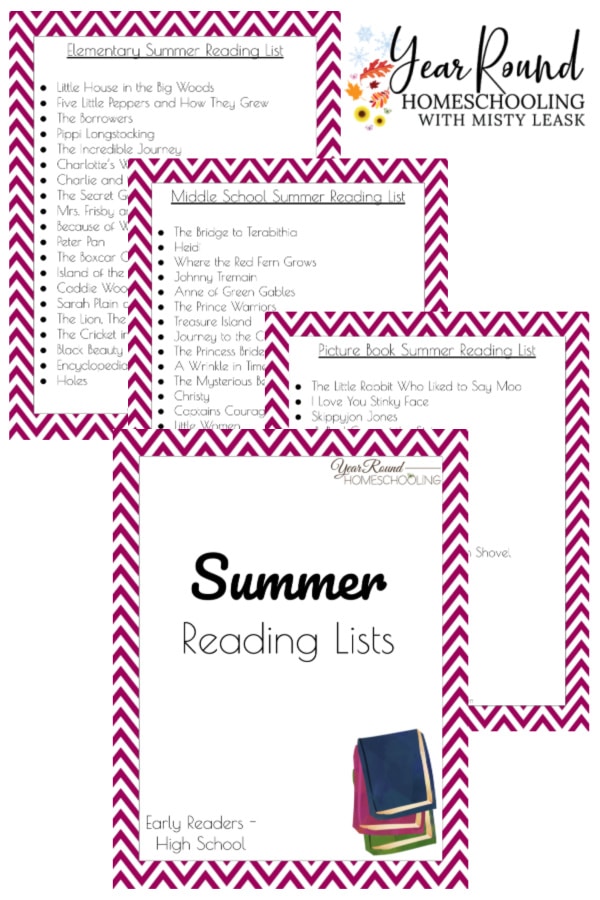 Finding ways to encourage children to read through the summer isn't hard, especially if your kids like a challenge. Assigning a summer reading list might be just what they need!
Each of these Summer Reading Lists contains 20 works of literature for children to enjoy reading throughout the summer months. I've included a list for picture books, elementary students, middle schoolers and high schoolers.
While there are 20 books on each of the lists, I do not recommend that all students should have to read every book on their list.
My recommendation for utilizing these Summer Reading Lists is as follows…
Early readers should be able to read all 20 books
Elementary students should read at least 12 of the books on their list
Middle schoolers should read a minimum of 8 books
High schoolers need to have read 10 of the books listed
Remember, not all children learn the same or at the same time. You know your children's abilities better than anyone. So, be sure that the summer reading assignments you give them are appropriate.
Happy Summer Reading!