Summer is a wonderful time to read! I enjoy grabbing a book and heading outside to read while basking in the sunshine. However, my children don't always agree and often I have had to find ways to encourage summer reading.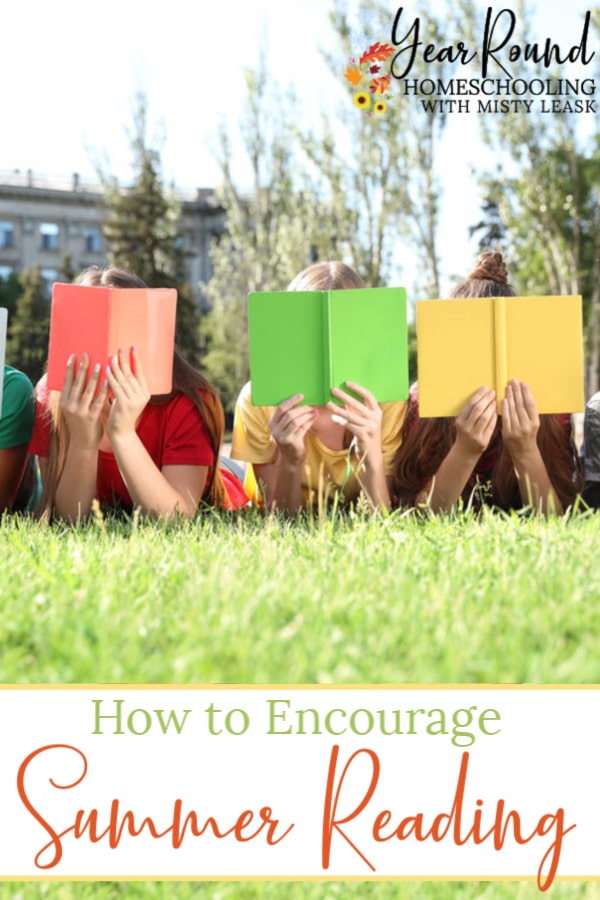 As a year round homeschooler, I've found that summer is the perfect time for children to complete their reading assignments. It allows you to count summer days towards your total required homeschool days and keeps children learning all summer long!
13 Ways to Encourage Summer Reading
There are countless summer reading programs that your children can participate in. You'll likely discover great local options, as well as online programs that your kids will enjoy. These programs often offer fun rewards that can help encourage your children to want to read more.
Visiting the library will expose your child to new books and genres. It is a great place for them to learn to explore possibilities! Allow your children to pick out their own books that interest them. This will encourage them to read on their own time, without being asked.
Set an example for your child
Spend time with a good book yourself on a hot summer day. I promise it will be worth it! Let your children see you reading for enjoyment often and they will be more likely to pick up a book on their own. Children are much more likely to do what they see us do rather than what we tell them to do.
This can be a fun way to get the entire family reading and talking about the books you read. Book discussions are great for improving your children's reading comprehension and allowing your children to gain stronger reading skills. A book club with the entire family is a great way to encourage family bonding. You can make family book club meetings even more fun and exciting for your kids by including fun snacks and learning activities to go with the book you're reading.
Sign your child up for a book club or subscription
Getting new books in the mail is fun and exciting. If you do not wish to sign up for a subscription, start ordering books off Amazon and mailing them in your child's name for a fun surprise!
Offering your child a movie night with popcorn, candy and other treats after they finish a new book is a great way to encourage summer reading. This also opens up the opportunity to talk to your child about the differences and similarities between movies and books.
On a hot summer day, a comfortable place out under the shade of a tree or a comfy bean bag near a nice cold air conditioner is a great way to encourage your child to take a break with a good book.
Limit your child's screen time
If a child has the choice between reading a book or playing a video game most children will choose to play the game. By placing limits on your child's screen time this will encourage them to go outside and play or read a good book. Children learn a lot when they have the opportunity to get bored.
Schedule daily reading time
As kids grow older they do not need naps anymore, but quiet time can still be good for them and you. To help get you some quiet time each day and encourage reading, set a bit of time aside daily for reading.
Think outside the box for reading
Aside from books, there are plenty of other great opportunities to encourage your child to read more each day. Magazine subscriptions are great for teenagers. Younger children can read the restaurant menu to you. You can write letters to your children to encourage them to read more without realizing what they are doing.
Games like Teach Your Monster to Read can turn screen time into reading time. This gives your children the opportunity to work on their reading skills while playing fun games.
I have wonderful memories of my mother reading aloud to me as a child. It was her love of reading to me that I'm certain inspired both my love and my children's love for literature and reading. If you have little ones, you can set them up with playdough or legos for them to enjoy while you spend your time reading aloud to them. This will help build their reading comprehension skill. It can also help your child gain a love of reading long before they are capable of reading larger chapter books themselves.
Like reading aloud to your child another great option for encouraging your child to find a love of books is to take advantage of audiobooks. These can be played while you color together, ride in the car, or spend time relaxing together at the end of the day.
Reading throughout the summer months is a wonderful pastime. Many adventures through history, magic, science, geography and more await inside the pages of literature!
How do you encourage your children to read in the summertime?