Without the Sun, there would be no heat or light on Earth, making it impossible for anything to live. Whether you're completing a unit study or covering the solar system in your science curriculum, these Sun notebooking pages are a fun resource for kids of all ages.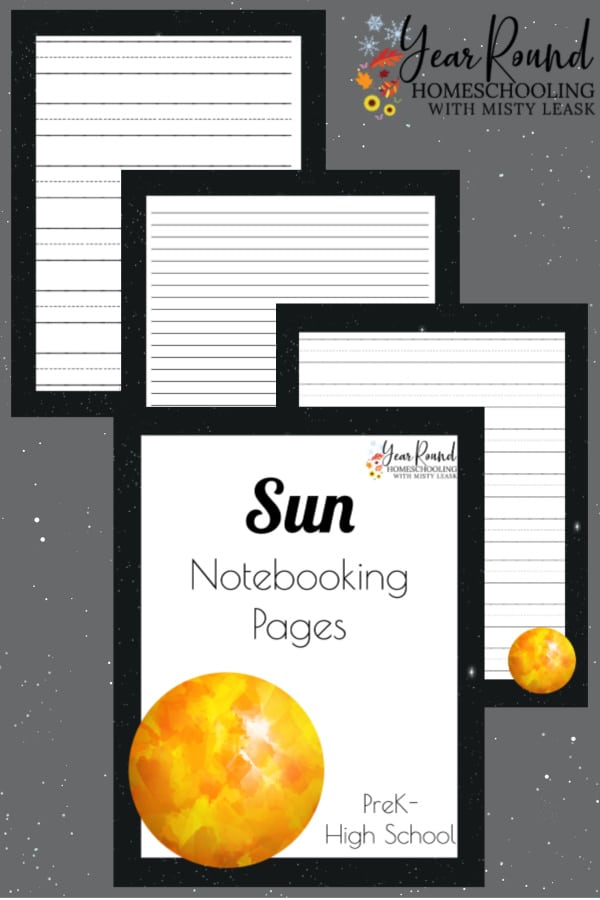 Light and heat. That is what the Sun does right? Yes, but the Sun does much more than that!
Do your kids know that the Sun is responsible for holding the entire solar system together? What about the temperature on the Sun's surface?
If your children haven't studied the Sun yet, now is a good time for them to learn about it.
You don't have to do a lot of work to put together a study on the Sun, in fact, I've done it all for you! My Sun Unit Study features a lesson, videos, online articles, literature options, art and craft projects and much more!
I put it together in such a way that you can pick and choose which you'd like to use. This will allow you to design the perfect study on the Sun for your kids.
These Sun Notebooking Pages are an additional resource that your children can use to share what they've learned, complete research, write stories and much more!
Inside this pack, there are sun-themed lined pages for all your students from Preschool through High School.