If I had a penny for every homeschool myth that I've heard either as a homeschool kid or a homeschool mom, I'd be rich! I love to chat with people about the countless benefits of homeschooling. Often in the midst of the conversations I have at least one homeschool myth thrown at me. I thoroughly enjoy tackling each and everyone!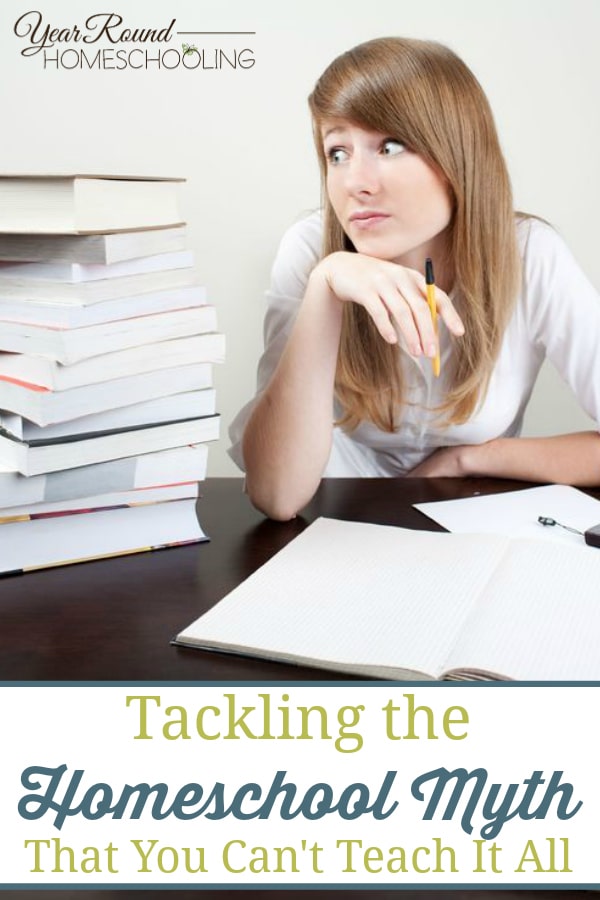 One of my favorite homeschool myths to tackle is that you can't teach it all. I've heard this homeschool myth since my mom was homeschooling my brothers and me. When I first heard it as a homeschool mom, I found myself wondering how I could best answer this to those with a public school background since that is where it was coming from. So, I did what homeschool moms do best. I began to research.
My research to dispel the homeschool myth that you can't teach it all began with looking into public school laws regarding teachers. It seemed like the perfect place to begin since I kept being asked if as a homeschool mom I had to have any type of certification.
While public school teachers in our state are required to have a certificate, substitute teachers aren't! In order to be a substitute teacher you only have to have a high school diploma. 
This was the first piece of real "ammunition" I discovered early in my homeschool years. However, throughout the 10 years I've been homeschooling I've learned just how ridiculous this homeschool myth really is.
Whether you've just begun your homeschooling journey or you've been homeschooling for years, you know that the options for homeschool curriculum and resources abound! Traditional textbooks, online courses, homeschool co-ops and digital homeschool curriculum are just a few of the amazing resources available to homeschoolers.
All of the options that we have for homeschooling our children give us the tools we need to teach it all, but we also have the opportunity to not have to teach it all ourselves if we don't want to.
One of the biggest things that homeschool moms have in common is that they want to give their children the best education possible. That means when we have a subject or even a topic that we aren't comfortable teaching, we look for classes, courses or resources that will teach it for us.
I am not a mathematician, so when my children reached middle school I began looking for a homeschool curriculum that would teach my kids math. I know it is not my strength and because my desire is to provide my children with the best education possible I outsource our math class.
Homeschool moms will do everything they need to do to ensure that their children's education is the best it can be! 
Homeschool myths are just that, myths. They aren't true. They are assumptions. They're typically made by people who don't care to take time to understand. Sometimes they are judgments made simply because homeschoolers believe differently than they do.
It is important that as homeschool moms we do not give into the myths thrown our way. We are fully capable to educate our children. After all, George Washington, Tim Tebow, Andrew Jackson, Venus and Serena Williams, Abraham Lincoln, Theodore Roosevelt and Albert Eistein were homeschooled! They are/were incredibly successful and even — socialized!
What homeschool myth do you enjoy tackling when it is thrown at you?