The first time I actually noticed that my son was a visual learner was during his kindergarten math class. I was trying to teach him how to add and subtract, but I knew that I didn't want him to count using his fingers. I knew that it was a bad habit and I didn't want to have to break it in the future. Yet, he wasn't understanding the process of addition and subtraction. It didn't matter how I tried to describe the process verbally or how many times I gave step by step directions while writing the problem down.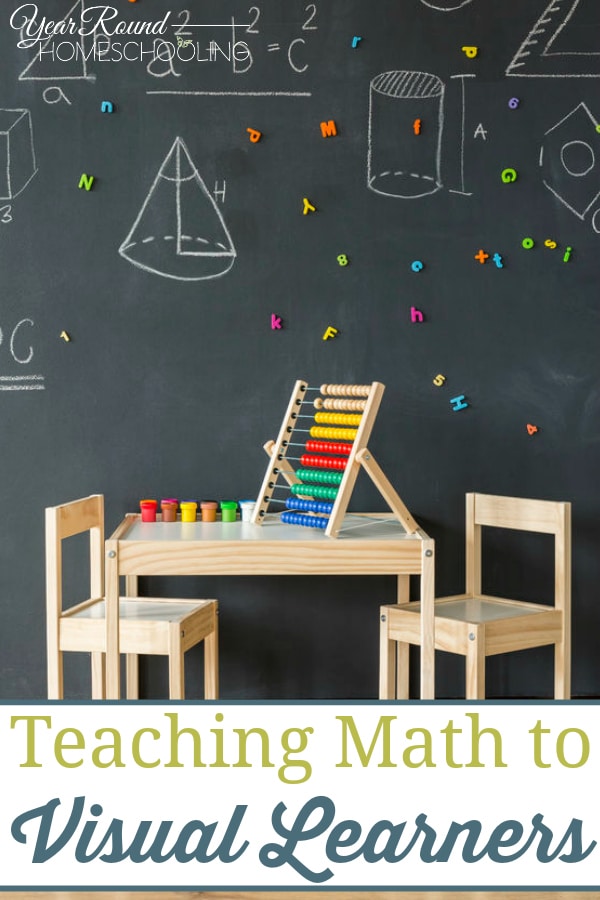 When I recalled my mother using beans while teaching my little brothers math, I decided to try it out. That is when it finally clicked – for him and for me! I realized that my son was a visual learner and he understood what I'd been trying to say all along! Once he had the opportunity to see the addition and subtraction processes visually he was able to understand and complete them on his own.
Throughout his early elementary years anytime he came across a math problem that he didn't understand, we pulled out the beans (or candy!) to help him see the problem in action. This simple solution made a world of difference while teaching elementary math to my son and my daughter – both of them turned out to be visual learners!
The next struggle my son faced learning in math was fractions. Thankfully this time I knew that in order to understand fractions and how they worked together that I needed to come up with a visual solution. Teaching fractions wasn't as easy as a process as addition and subtraction. It took 6 months before we were able to move forward in math class. However, looking back it was time well spent because now he is coming alongside and help his sister who struggles with fractions as well.
I was able to successfully teach math to my visual learners through the 5th grade on my own. When we began encountering Pre-Algebra in 6th grade, the problems became more difficult for me to handle and I was unable to give my children the visual help that they needed. It was at that point that I reached out to fellow homeschool moms for a middle and high school math curriculum that would work for my visual learners. As a non-mathematician, finding Teaching Textbooks was an answer to prayer for both my children and me. I believe it is the best homeschool math curriculum for both non-mathematicians and visual learners from 3rd Grade through High School.
When I first began homeschooling my children I didn't realize how important it was to consider how they actually learned. I didn't know that I needed to consider the fact that they always asked me to show them how to do something before actually taking it on themselves. I didn't recognize that their struggle to follow verbal or written directions was key to planning their education.
Since beginning our homeschool journey I've come to realize that one of the most important facts for a homeschool mom to know about her children is how they learn best. This information is essential to her homeschool planning and her children's education. When homeschool plans are made without considering how children learn best a homeschool mom is more likely to suffer from frustration and burnout. It is also likely that she will need to purchase homeschool curriculum during the school year because the resources that she purchased to begin with weren't right for her children.
Below you'll find a list of my favorite supplies and homeschool math curricula for visual learners. Using each of these has made a world of difference in my life as a homeschool mom and in the lives of my children. Their education has greatly benefited by the use of the correct materials and resources for visual learners.
Supplies for Teaching Math to Visual Learners
The Best Homeschool Math Curricula for Visual Learners
The math activities inside Horizon's Kindergarten course are perfect for visual learners. The pictures are colorful and fun, which encourages students to complete their lesson each day.
When teaching math to younger students that are visual learners the activities included in Rod and Staff's Teacher's Manual are invaluable. While they do take time to put together prior to beginning your homeschool year, the visual activities make math class fun and give visual learners the ability to see what they're learning in their lessons.
While I didn't find Teaching Textbooks until my children were in the 6th grade, I truly believe that switching to their math curriculum would have made several years of struggles in math class disappear.
Teaching Textbooks is a CD-Rom based math curriculum that can be used in conjunction with or without their student textbook. After listening to the lesson students input their answers on the computer. As they complete each problem if they make an error students are able to have the teacher walk them through the problem step by step revealing the correct solution. This process is necessary for teaching math to visual learners. They need to be able to see what they've done wrong, not just be given the correct answer and expected to find their own error.
I encourage you to take time now, no matter how old your children are or how long you've been homeschooling to discover how your children learn best. Then take the necessary steps to ensure that your homeschool year is designed to fit their needs, doing so could make this your best homeschool year yet!
What are your favorite resources or homeschool math curricula for visual learners?