You don't have to be a musician to enjoy music. And, contrary to popular belief, you don't have to be a musician to teach music in your homeschool. In fact, teaching music in your homeschool can awaken a love of music you never knew existed. It can be fun and bring so much joy in to your homeschool.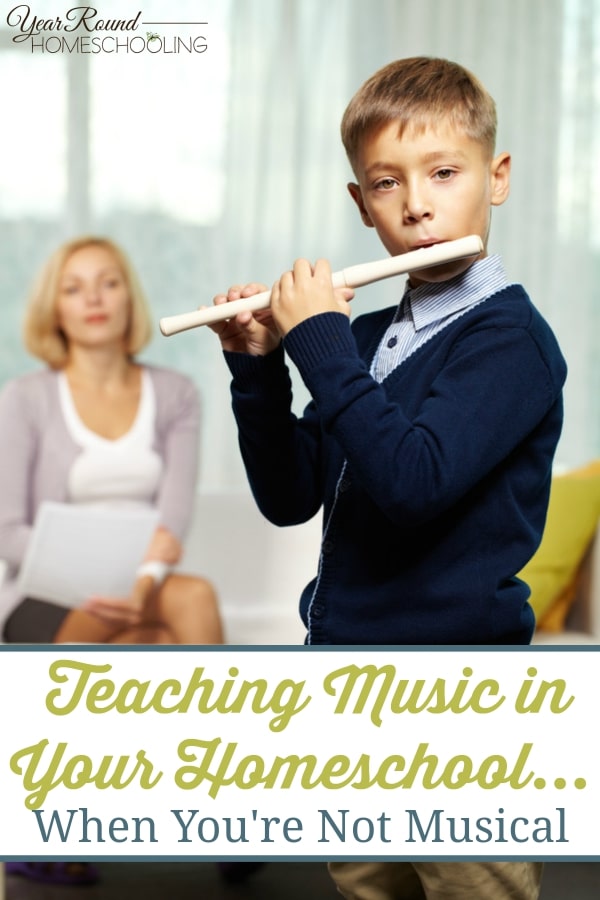 So, how can someone with absolutely no musical abilities teach music? It might seem impossible, because music is something people study for years, but just as with any other subject (math, science, history), you don't have to be an expert – you just have the desire and heart to teach. And if you're homeschooling, I suspect you already have both of those things.
If you think your day is already too full, there are tips and tricks to add music in without much effort and the benefits far outweigh the negatives. So here are some ways, even the most musical illiterate person can teach music.
4 Simple Ways Anyone Can Add Music to their Homeschool
Play Games – There are TONS of games you can play for rhythm and learning the names of symbols and notes. Games are always a great way to sneak in learning without the stress. Plus, Moms can learn right alongside the kids and no one will be any the wiser.
Outsource your lessons – Use online tools, online lessons or send your child for private lessons somewhere. Who says YOU have to teach your child music? It's not a law, so don't be afraid to find someone who can. As a musician, I recommend finding someone who teaches theory alongside their lessons. This is the best way to learn and really understand music.
Monthly Composer Studies – The monthly composer studies I put out each month are a great way to not only learn about composers, but different musical periods. These are easy lessons to add with history as you study different time periods. The lessons are simple and short, so they don't take much planning or time, which is nice when you already have a full homeschool day. Look for new lessons toward the end of each month!
SQUILT – Another easy music curriculum, that we LOVE to use! This one is simple enough to do in the morning during breakfast, at lunch or during quiet time in the afternoon. Simple lessons that don't need much planning and work that is completed fairly quickly. Of course, they can learn more about the composer and/or time period as they want, but these lessons give a great starting point.
With these tools at your disposal, music learning can occur in any homeschool – regardless of experience or expertise.
How would you add music to your homeschool?