There are so many different subjects and requirements to focus on during the high school years. It can seem like they're all mandatory, and if you don't work them in, you'll somehow ruin their chances at college and career. In the middle of all that, where does worldview fit in?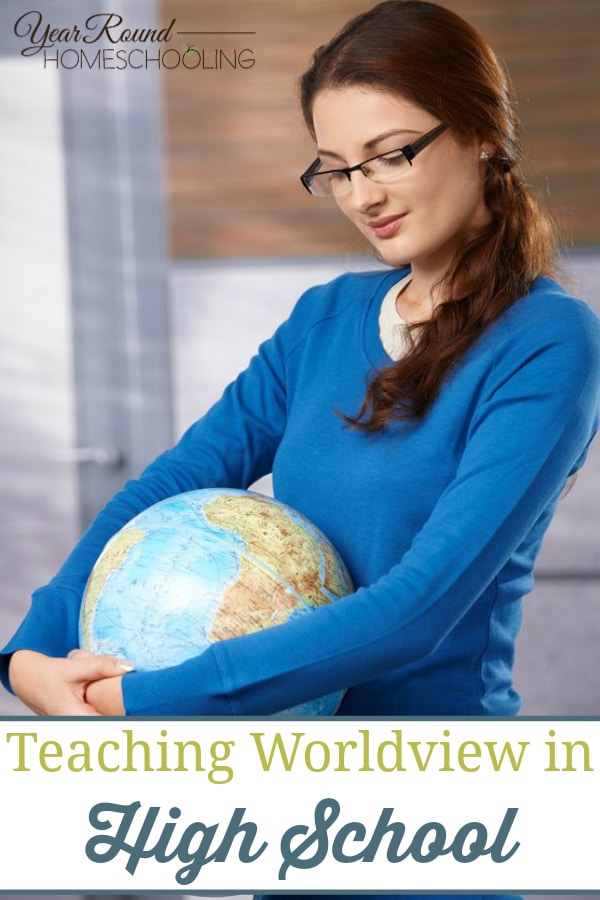 Having been down that route, I found out something that surprised me. Worldview was actually one of the most important classes my son took in high school!
We tend to focus a lot on making sure our kids understand our family's belief system, but we don't always fill in the other side of the equation.
Once our kids are outside of our four walls (and our care), they are going to come across a lot of different views and perspectives. They will be exposed to political ideologies, thought patterns in literature, art, and media, economic viewpoints and more.
If they're only trained in their own point of view – or worse, only in ours – how can they be expected to navigate this world of ideas?
What Is Worldview?
Simply put, "worldview" is the way you see the world. This sounds simple, right?
Well, it is…and it isn't.
Every person has a worldview, even if they haven't taken the time to think through it.
Our worldview – the lens through which we understand everything around us – determines a lot of what we do.
It determines how we vote, which church we attend and how we interpret scripture. Our worldview determines how we approach dating and marriage, as well as how we parent our children.
It determines the movies we see, the books we read, and the artists we enjoy. It even plays into our educational philosophy and which curriculum options we choose!
Teaching Worldview in High School
Since worldview is such a broad subject, how can it be narrowed down into a course for credit?
The good news is, you've probably been teaching part of this subject for quite a while now. If your child understands your family's beliefs, you have laid a good foundation.
However, there's a lot more to it. In order to both wade through conflicting ideas and to communicate with people who hold different views, it is necessary to understand where these views come from.
That is the point of a worldview course!
How do You Teach Worldview?
There are a few different ways to teach a worldview course, and which one you choose will depend on a few different things:
Your comfort level with the material – do you want something that's already laid out for you, or do you want more freedom to put your own units together?
Your student's learning style – does your student prefer something structured, or more of a unit study or literature approach?
Age and maturity level – in most cases, an older student will able to work through a more rigorous course than a younger student.
There are also some factors to consider on your end, as the teacher.
It's important to realize that worldview is not a subject that your student should study independently. This is the time for research, discussion and digging into different ideas. They will likely do a lot of the reading and coursework themselves, but you will need to be available to discuss it with them.
They are forming how they see the world. As their parent, it's important that you are involved in this process!
It is also important to realize that your child will be learning about viewpoints that you (and they) do not agree with. This can be difficult to work with. After all, we want our kids to be strong in their own beliefs.
The fact remains, though…our kids are going encounter conflicting belief systems, and this is going to happen once they're no longer under our care. We can't protect them from this (nor should we, as they approach adulthood), but we can prepare them.
Isn't that one of the main reasons most of us homeschool our children to begin with?
Worldview Courses
There are a lot of great worldview courses that are already written, designed, and scheduled for you. Since many of us were not trained in this subject ourselves, this is a great thing! You can see some of my favorites here.
One that I've recently become aware of (and am really impressed with) is History and Philosophy of the Western World by 7Sisters Homeschool. This course is written by a veteran homeschool mom and her son, a professor of philosophy.
I've taught this subject in a number of settings, and I would be happy to use this course!
Worldview through Literature
Another way to teach this course is through the use of literature. If you have a child that loves to read and analyze, this may be a perfect solution!
This option does require you to have a fairly solid understanding of the different worldviews up front. If this is something you haven't studied before (or if it's been a while), I do recommend that you do some reading beforehand.
If this is a method that appeals to you though, it's actually really fun!
Literature is a terrific way to learn about different worldviews. Every novel is written from a different perspective or set of ideas, so it's a great way to learn about a mindset from that person's point of view.
Training up Our Children
Whichever method you choose, my hope is that you find this to be a valuable subject for your student to learn about. It's one that has been incredibly beneficial to my son, both in college and in the workplace.
What are your thoughts on teaching worldview? If you have any questions about it, please comment below – I'll be happy to help!
________________________________
Jennifer Duncan is a Jesus-loving wife and on-the-go homeschool mom who loves writing and tries to keep up with her guys. She is also the founder of A Helping Hand Homeschool, providing support, resources, unit studies, and consulting for homeschool families. You can follow her on Facebook, Pinterest, Instagram, and Twitter!