When I first began homeschooling, the plan was to homeschool until my youngest child was school-aged. At that point, I planned to return to teaching at the small Christian school that I had taught in until I had children, and have all the kids enrolled in that school with me. However…our lives often take a different path than the one we first intended. By the time my youngest child was turning five, the small Christian school was closing. So, we decided to keep on for the long haul – homeschooling through high school.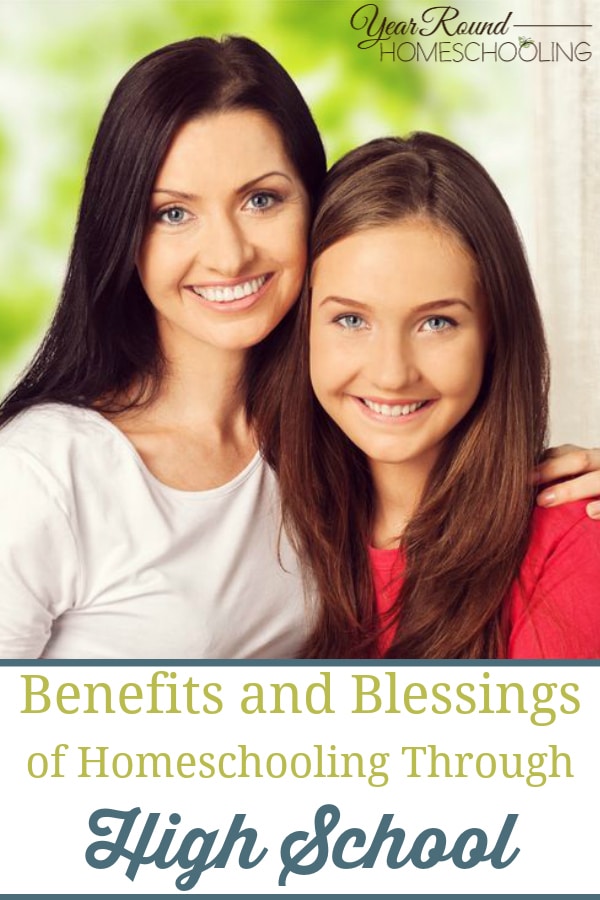 I didn't really worry about high school at the time. My oldest child was nearing middle school, but I was still fully entrenched in the elementary and preschool years. We were having fun with unit studies and hands-on learning.
Middle school approached, and I began to get a little worried. How was I going to figure out this high school thing? I heard homeschool moms talking about SATs, ACTs, transcripts and college plans. My head was spinning! I also saw many homeschool moms enrolling their kids in public school for the high school years.
With prayer, thought and lots of discussion, we decided to press on. I love homeschooling my kids, and I didn't want to give it up for high school even though I knew that it wouldn't always be easy. I believed, though, that homeschooling through high school would be beneficial. It would be worth the hassle, worry and struggles to provide math, science classes and electives- things that weren't my strong suit.
I've now graduated two children and have two more in middle school. I can say without a doubt that there are so many benefits and blessings of homeschooling kids through the high school years. In fact, there are three awesome benefits that I didn't expect, but that have come from homeschooling through high school.
I know my kids.
So many times I've heard parents bemoan the fact that they lose touch with their kids when they become teenagers. They no longer know what their kids enjoy or who their best friends are. Homeschooling has given me the opportunity to know my kids.
When you spend all day, every day together, it's pretty easy to get to know each other. We've had time to spend together. We've learned and played together. We've struggled over difficult subjects together. I know what they like or don't like. I know who they're hanging out with. I know how they're doing in their schoolwork. The key is that because of the time we're together, I have the privilege of knowing my kids.
My kids talk to me.
Often teens become a little quiet, a little withdrawn from the family. They are stretching their wings and finding some independence. Sometimes communication can become difficult.
Through homeschooling, I've had the opportunity to keep communication with my kids open. The most important reason for this is that because we are homeschooling and are together so much, important communication can happen at any time.
Deep topics don't always come along at convenient times. Instead they may come as a question thrown out while we're making lunch. Important conversations may happen when I pop into a kid's room to check on schoolwork. Since we're together, those conversations can happen naturally and more frequently.
We have strong family relationships.
Kids in traditional high school have long days. I taught in a public high school for a time. By the time school was out, it was almost 4 o'clock. If kids had any sports or other after school activities, they weren't finished until 5:30 or so. After that, they headed home to work on homework. I was amazed at the amount of homework that the kids had when I taught! It's likely that kids spent the rest of the night in their rooms completing homework. Then it was time to go to bed, only to wake up to do it all again the next day. With this schedule, families had very little time to actually see each other.
Having the kids home through high school has given us the opportunity to build strong family bonds. The kids spend time with me, and I get to know them. They spend time with each other and build strong sibling relationships. We can get busy- even though we homeschool. Yet we do at least have our school days at home together. That time together has been so important because it's allowed us to build those strong family bonds.
You may notice that none of my three most important benefits have anything to do with academics. There have been some academic benefits to homeschooling in high school as well. My kids have done well academically. One has an almost full ride scholarship for college. The other knows that he wants to attend a tech school. He's got an extremely strong work ethic, loves his job and wants to explore how that will fit into a long term plan.
The most important benefits of homeschooling through high school aren't academic.
As we've homeschooled high school the most important benefits  have been the relationship benefits, the opportunities we've had to be together as a family and to strengthen our family bonds. Those are the blessings of homeschooling through high school. These things have made any struggle or difficulty worth it.
_________________________________
Leah Courtney is a homeschooling mom of four. Her days are filled with being a mom, homemaker, and teacher. In her (very rare) free time, she enjoys blogging, reading, and reviewing books and curricula. These days she's learning the joys of being a mom of teens. You can read about her family and homeschooling life at As We Walk Along the Road.