It's one of those old traditions that is beginning to fall by the wayside, but a good thank you note is still appreciated by every one who receives one. Texts and emails might get the words across, but they just can't convey quite the same sentiment as a hand-written note. This time of year is perfect for teaching children how to write thank you notes, helping them learn to make writing thank you notes a life-long habit, while brushing up on handwriting and grammar skills at the same time.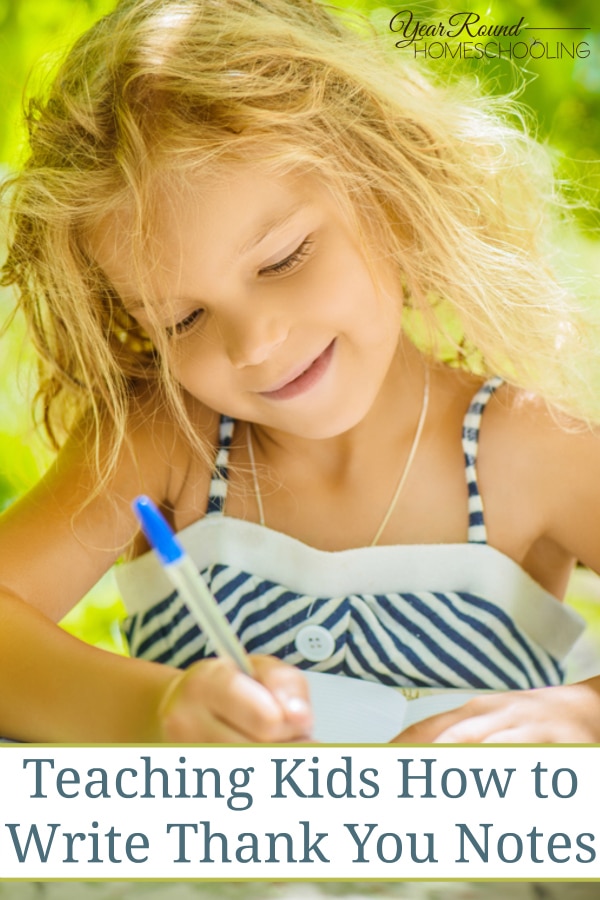 If you're just getting started teaching your kids how to write thank you notes, remember that it is not too late for Christmas thank you cards. There are varying etiquette rules out there, but up to six months after a gift is still considered acceptable. Christmas is often a less formal gift-giving occasion, so a hug and a hearty 'thank-you' is often enough, though traditions may vary in different areas. For family far away, a thank you note or letter is a sweet way to bridge the miles and make that 'thank-you' more personal.
Helping young children write thank you notes
When they are too young for writing, they can still join you in sending a thank you note. When they are tiny, children can help stick stamps on the envelopes or even scribble a "signature" as you write the note and tell them what you're writing. Help them catch the enthusiasm and the purpose for the project by saying, "Grandma and Grandpa are going to be so excited to know that you like the gift they gave you!"
As they get a bit older, but are perhaps not writing, let them participate in the composing of the letter as you write for them. As they begin to write, a fun way to help them participate is to create a "fill-in-the-blank" card. These start very simply, with a blank for the recipient's name, the item given, and their signature. They evolve to provide a bit more expression as children are more able to handle the assignment.
Keep in mind that different personalities will react to this assignment with varying perspectives. For children who hate to write or who need work on muscle tone in the hands, this can be an exhausting activity, particularly if there are 10 cards to fill out. For children with concerns about perfection, this can be a downright stressful assignment. Pace the assignment to a few per day if needed.
As they get older, transition into copywork for thank you notes. It may take an extra few minutes at the beginning, but it saves much time in erasing and starting over when you realize their spelling and grammar need corrections. Have them dictate while you type or write a card and then have them copy it.
Once they are ready to move to the next step, just sit beside them and keep an eye on their work as you both dictate the card together.
Important Note #1
By the teen years, they need to be able to write their own thank you notes. Make this a goal. I once ran across a fill-in-the-blank thank you card online that was intended to be used for wedding presents. No. Just no. If you are not old enough to write a proper thank you note, you are not old enough to get married. Help your children not be those people. When they are younger, keep it fun and casual. Get them on board with sharing appreciation for gifts. Make it a painless habit. Keep it up and they will be writing thank you notes with ease as adults.
Important Note #2
Mail the cards. I am an utter failure at this. Don't be like me. I can't tell you how many times my children have discovered a stack of thank you cards in my closet. After they put so much effort into writing them, it is very disappointing to realize they were never seen by the intended recipient. I don't know why I have an apparent allergy to the post office, but I do. If you share this allergy, keep in mind that you can purchase postage stamps at many big-box-store checkout registers. Create a basket with envelopes, cards, good pens, and stamps. Make it attractive and easy to sit down and get things in the mail. I confess, I have done all of this, but I still fail to mail things.
I've collected some great free printables you can use for thank you cards. Be sure to check out my Thank You Pinterest board for more ideas.
While you're browsing, be sure to follow my Writing Board, full of great ideas and tips to encourage writers through every stage and skill level of the writing process, from beginning copywork to full-fledged author.