Lapbooks can be completed on the road, giving your kids some fun and educational activities to do on long car trips. That's why Thanksgiving Lapbooks are the perfect on-the-go learning resource for holiday travel!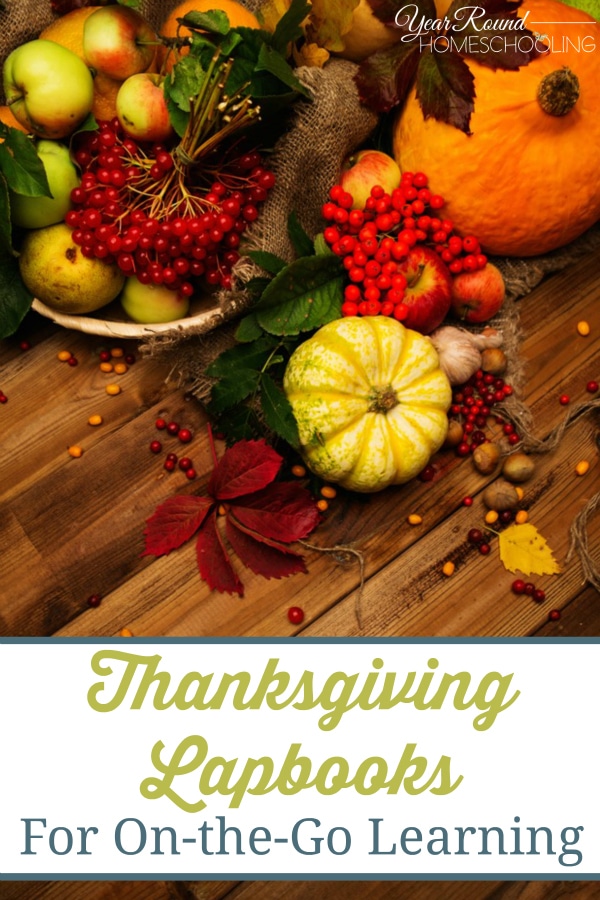 As you're gearing up for Thanksgiving, if you're looking for something that is educational, yet still allows for a little craft time and creativity, be sure to check out the Thanksgiving lapbooks listed below.
The beauty of lapbooks is that all you have to do is gather your supplies, print, and go!
Whether you'll be traveling or staying at home for Thanksgiving, a lapbook can be a great way to celebrate the holiday with fun learning time!
Thanksgiving Lapbooks for On-the-Go Learning
A Journey through Learning has a fun resource for your Thanksgiving on-the-go learning!
With the included study guide, you don't even have to worry about looking for other resources if you're pressed for time or traveling. All of the answers to complete the lapbook can be found right there. Just print and go! It's geared for grades 2-7, so it's adjustable for several children in the family to do together.
In the Hands of a Child offers a few different Thanksgiving Lapbooks for On-the-Go Learning.
Includes a 10-day planning guide for Elementary through High School students, related reading list, 20 hands-on activities, 11 page research guide and an answer key. In the Hands of a Child's resources are available as digital eBooks or printed resources.
It has a 13-page research guide and 17 hands-on activities to learn about the Pilgrims and the traditional symbols of Thanksgiving. There are even recipes to try. The activities are for the PreK through 7th grade age range, so again it's one the whole family can do together.
This resource is designed for PreK-1st grade students. Inside you'll find a full supply list, a research guide, questions for discussion and 15 hands-on activities!
Knowledge Box Central has two lapbooks to choose from for Thanksgiving learning.
Your K-6th grade students will enjoy putting together this eBook lapbook featuring interactive folders, a student study guide and instructions.
Inside this downloadable eBook resource you'll find a memory game, a kitchen rules booklet, a Mayflower compact foldable and more!
Homeschool Helper Online has a free lapbook for your Thanksgiving studies.
Through this lapbook your children will learn about the struggles and triumphs of the Pilgrims. There are 10 activities included in this resource and you'll need the own or borrow 2 books to complete it.
Homeschool Share has a free lapbook that coordinates with this Thanksgiving Unit Study
This resource includes lapbooking elements organized by each day of this month-long Thanksgiving unit study.
Lapbooking On-the-Go Tip
I recommend using a three-prong folder with pockets or a plastic file folder with a flap to store your lapbooks pages. This will allow you to cut out pieces and keep everything safely together if you're working on it in the car.
Lapbooks are a great activity for kids that enjoy hands-on activities. If you've never tried using them in your homeschool and need help getting started start here!
What Thanksgiving lapbooks have you created with your kids?