Many year round homeschooling families like to take a lighter schedule around the holidays. That's one of the great things about year round homeschooling, we can afford to take a slower pace or even take a break altogether with no fear of getting behind schedule.
As we're gearing up for Thanksgiving, you might be looking for something that is educational, yet still allows for a little craft time and creativity. Lapbooks can be a perfect solution for this time of year!
If you'll be traveling this Thanksgiving like so many families around the country, lapbooks can even be completed on the road, giving your kids some fun and educational activities to do on long car trips.
I've compiled a list of our favorite Thanksgiving lapbooks so all you have to do is gather your supplies, print, and go!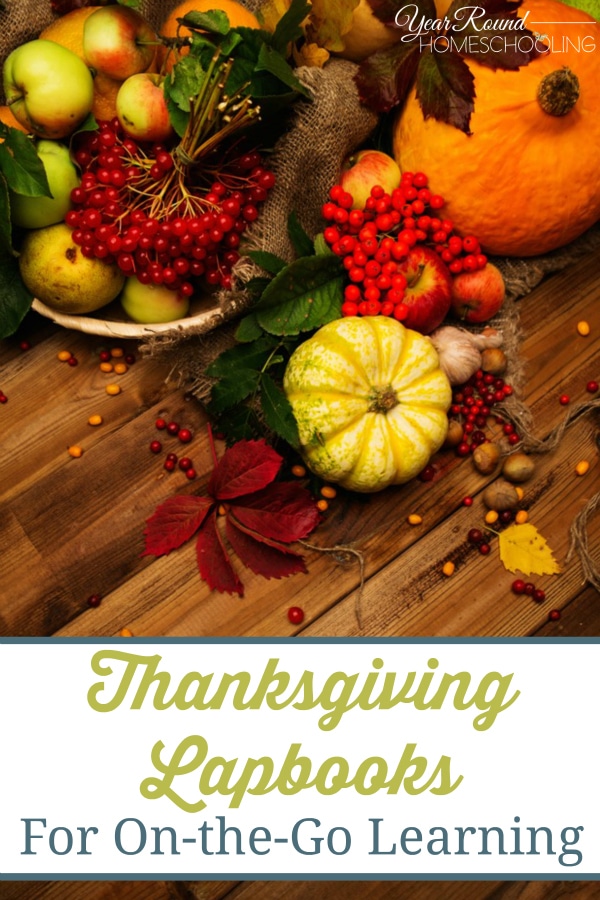 Thanksgiving Lapbooks for On-the-Go Learning
A Journey through Learning has a Thanksgiving lapbook complete with study guide. With the included study guide, you don't even have to worry about looking for other resources if you're pressed for time or traveling. All of the answers to complete the lapbook can be found right there. Just print and go! It's geared for grades 2-7, so it's adjustable for several children in the family to do together.
In the Hands of a Child also offers a downloadable Thanksgiving lapbook project pack. It has a 13-page research guide and 17 hands-on activities to learn about the Pilgrims and the traditional symbols of Thanksgiving. There are even recipes to try. The activities are for the PreK through 7th grade age range, so again it's one the whole family can do together.
As we study our country's history and the trials and triumphs of the Pilgrims, we also need to take time to count our own blessings. This Thanksgiving "Count Your Blessings" lapbook can help with that. It takes about 10-14 days to complete. Kids learn a hymn and put together a record of the blessings in their own lives in lapbook format. It can be a keepsake for years to come!
Are you familiar with Abraham Lincoln's Thanksgiving Proclamation when he declared Thanksgiving a holiday? Have your kids read The Mayflower Compact? Copies of these historical documents, as well as Bible verses, coloring pages, and Thanksgiving hymns, are included in this Thanksgiving lapbook.
Here is a list of additional Thanksgiving lapbook resources. They are all very affordable and some are even free:
Thanksgiving Lapbook from Knowledge Box Central
25 Days of Thanksgiving lapbook
Thanksgiving on Thursday lapbook to go along with the Magic Tree House book.
Thanksgiving Primary Lapbook for the littlest learners in the family.
Thanksgiving Day Speedy Lapbook designed to use only one file folder and completed in one day.
I recommend using a three-prong folder with pockets or a plastic file folder with a flap to store your lapbooks pages and cut out pieces to keep everything safely together if you're working on it in the car. Even at home sometimes the smaller pieces of a lapbook can get lost in the shuffle of paper if you don't have some way to store them until you can completely assemble the lapbook.
Whether you'll be traveling or staying at home for Thanksgiving, a lapbook can be a great way to celebrate the holiday with fun learning time!
There are some great lapbooking ideas and free lapbooks out there! Check out all things lapbooking on our Pinterest board below.
Follow Misty Leask's board Homeschool: Lapbooking on Pinterest.



The following two tabs change content below.
Inspired by her lifelong passion for writing, Sara began her blog at 
Embracing Destiny
in 2008 to detail their homeschool adventure, mixed with faith, encouragement, and book reviews. Sara recently became the owner/editor of 
The Homeschool Post
, home of the annual Homeschool Blog Awards. You can find her on
Facebook
,
Twitter
,
Pinterest
and
Blog Lovin